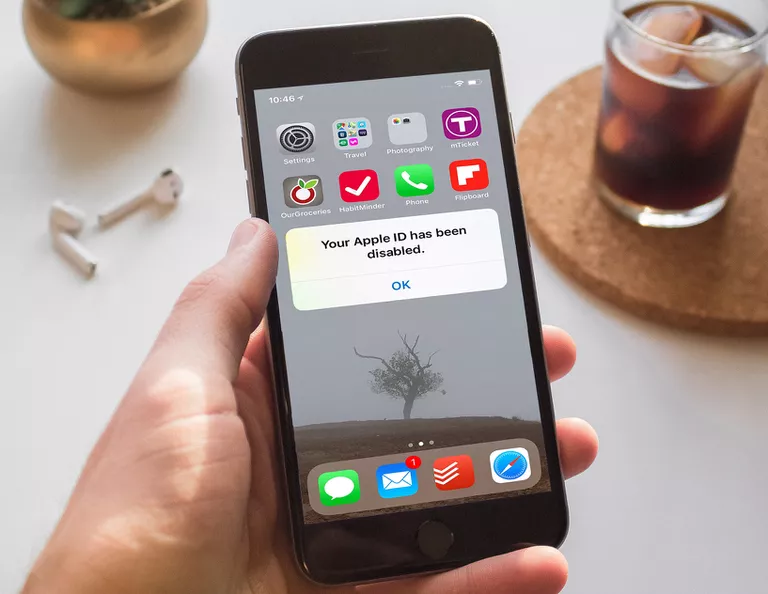 Having a working Apple ID is essential to using your iPhone (or any other Apple device), so turning off your Apple ID is a real hassle. In that case, you won't be able to do things like buy apps from the App Store or update your Apple ID subscription or billing information. A disabled Apple ID might seem like a big problem, but it's actually quite easy to fix.
How to know if your Apple ID has been deactivated
When your Apple ID is disabled, your Apple device will let you know. Not only will you not be able to perform any actions that require your Apple ID, but you will also see a message on the screen informing you of the problem. The exact message you see may be different, but the most common are:
"This Apple ID has been disabled for security reasons"
"You can't log in because your account has been disabled for security reasons"
"This Apple ID has been blocked for security reasons."
If you see any of these alerts, you can be sure that your Apple ID is disabled.
Why your Apple ID has been deactivated
At this point, the most important question is, of course, why is your Apple ID disabled? Basically there is one answer: for your safety. Apple automatically deactivates Apple IDs when someone tries to access them too many times using the wrong password, security questions, or other account information.
This can happen just because you are forgetful or because you accidentally typed the wrong password too many times. Most likely, however, someone is trying to gain unauthorized access to your Apple ID.
A standard hacking technique is trying to access an account with all sorts of guesswork for things like passwords. Rather than allow that to happen, and potentially put your account at risk, Apple deactivates the Apple ID account that may be hacked after a few bad entries. Then only the user who actually owns the account and knows the correct information can reactivate it.
When your Apple ID is deactivated, you can't sign in, even with the correct password, until you reactivate the account.
How to fix a disabled Apple ID
Re-enabling your disabled Apple ID is very easy. If you're using two-factor authentication to protect your account, skip to the next section. If not, follow these steps:
Start by going to the Apple website to reset your Apple ID: https://iforgot.apple.com/
Try signing in to your account with your Apple ID username (email address) and the correct password.
If this doesn't work, or if you don't remember your password, you can choose to reset your Apple ID password.
Whichever option you choose, follow the on-screen instructions to unlock your account or reset your password.
For complete, detailed, step-by-step instructions on how to reset your Apple ID, see How to Reset Your Apple ID Password in a Few Easy Steps . This also covers resetting your account if you use Two-Factor Authentication, a technique discussed in the next section.
Have your trusted device handy for two-factor authentication
Some people prefer to add additional security to their accounts by using two-factor authentication with their Apple ID. With this method, you can only access your Apple ID if you have your username and password, as well as a randomly generated code that Apple gives you when you try to sign in.
In that case, the process of fixing your disabled Apple ID is quite similar. The only difference is that you need to access one of the trusted devices that you designated when you originally set up two-factor authentication. Apple will send the random code to that device during the process of unlocking or resetting your Apple ID.
If you've re-enabled your Apple ID by changing your password, you'll likely need to sign in to your Apple ID with your new password on all your devices, including iCloud, FaceTime, and others.
Contact Apple for additional support
If you followed the instructions to sign in to your Apple ID again or to reset your Apple ID password and your Apple ID is still not enabled, you should contact Apple for assistance. You can go to your local Apple Store for in-person support (but be sure to make an appointment in advance!) or you can get online support from Apple.