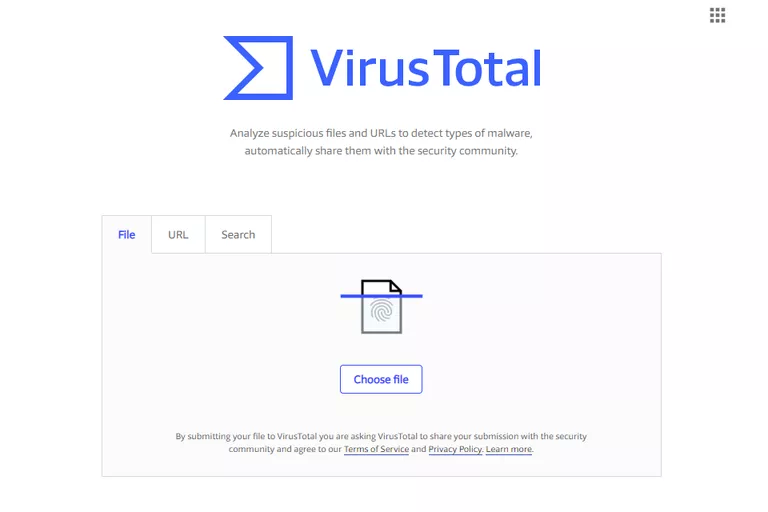 VirusTotal is the best online virus scanner because in addition to scanning URLs, IP addresses, and files on several different antivirus engines, it can also be used via email or from a desktop to scan running processes.
Dozens of different antivirus engines are used to analyze files submitted to VirusTotal, which means several different perspectives are used to determine whether or not a file is malicious.
Visit VirusTotal
pros
Scan any type of file up to 256 MB
Enter a URL to scan an entire web page
Scan IP addresses
You can upload more than one file using the desktop program
Sharing the results of a virus scan using a public link
Works as a browser extension for Firefox, Chrome and Internet Explorer
Scan email attachments
Can be used on Android devices with an app
Find previous scan results using the hash of a file
Cons
Only one file can be scanned at a time using the web interface
Permitted for personal, non-commercial use only
Scans of email attachments have a lower priority than using the web interface
Files sent via email or the desktop program are limited to 32MB
Send files to VirusTotal via email
Instead of uploading files to the VirusTotal website or using the desktop program, you can send email attachments containing the files you want to scan. This means that you can also forward files that contain attachments that you suspect may be malicious.
Use the following information to scan email attachments with VirusTotal:
Address: Send the email to: [email protected]
Subject: Enter SCAN or SCAN+XML
Entering SCAN will cause the scan results to be returned to you in painful text, while SCAN+XML will create a response with the results in XML format.
Attachment :[Any
Any file format is allowed when submitting files to VirusTotal. You can send more than one file by creating an archive with as many files as you like, as long as the total size does not exceed 32MB.
Check out these free compression and decompression programs for information on some free programs that will make a file acceptable for submission to VirusTotal.
You can read more about VirusTotal's email feature on its Email Submissions page.
Thoughts on VirusTotal
Not all online virus scanners are compatible with the large number of scanning engines used by VirusTotal. Of course, sheer numbers don't make VirusTotal the best online scanner, but it helps to see that it uses antivirus engines from popular companies like AVG Technologies, Baidu, Comodo, Malwarebytes Corporation, and SUPERAntiSpyware. There are many more on the Contributors page.
It's great that you can send files to VirusTotal in different media. Email attachments are a common way of spreading viruses, so it is very helpful that you can also use the website via email. Also, because it is an online scanner, any browser and operating system is supported, be it Mac, Windows, Linux, etc. Also, it's probably easier to use the dedicated desktop program that allows you to send local files to the website. It really couldn't be easier to use these methods.
While it's important to have a dedicated offline virus scanner on hand that's always ready to scan files, VirusTotal is a great way to get a second opinion on certain occasions. Given the many different engines used to perform a scan, you're actually getting several different opinions at once, which is great.
Visit VirusTotal