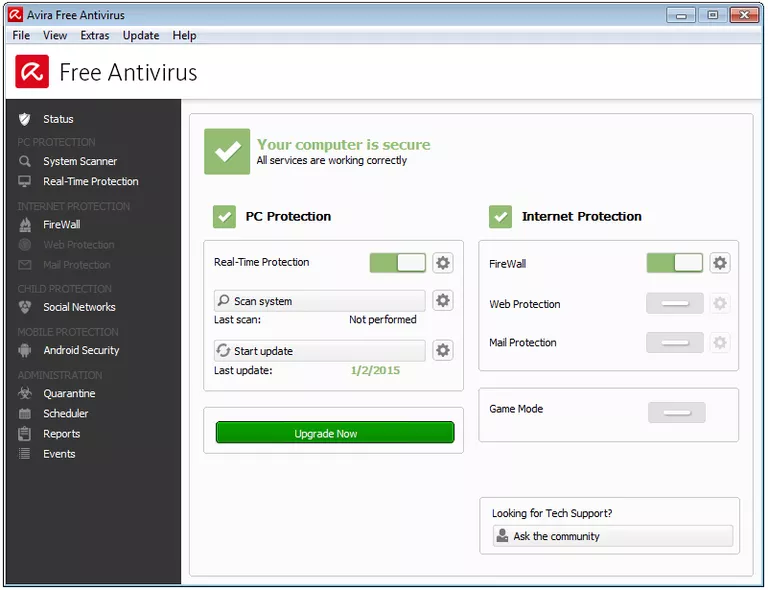 Avira Free Antivirus is one of the best free antivirus programs on the market for several reasons, the least of which is because it's free.
My favorite feature of Avira Free Antivirus is the wide range of malware threats it protects you from. I also like how simple the interface is.
Download Avira Free Antivirus 2019
What we like
Protects from many types of malware, not just traditional viruses
Contains advanced heuristic tools
Works on Windows 10, 8, 7, Vista, XP and Mac OS
Virus definition updates are automatic
What we don't like
Only domestic use is allowed
The setup wizard can be intimidating
The download part of the installation process took longer than with other programs
The installation program makes changes to the browser unless it is not selected
Asks for a toolbar to be installed during installation
Description
Avira Free Antivirus protects you from viruses, adware, spyware, backdoor programs, autodialers, rogue software, phishing, and more.
The ability to choose when to start the antivirus program during the boot process is a valuable addition that I haven't seen anywhere else
.
Avira Free Antivirus has an advanced heuristic engine (detects malware you don't know about) that you don't always see in free antivirus tools
.
Windows 10, Windows 8, Windows 7, Windows Vista and Windows XP are supported operating systems
Automatic updates keep Avira Free Antivirus up to date with the latest threat information
Thoughts on Avira Free Antivirus
Avira Free Antivirus is an excellent free antivirus option. Although it's not my favorite (I prefer AVG or avast!), it certainly has its advantages.
As I mentioned earlier, the best thing about Avira Free Antivirus is the range of protection – everything from the old-fashioned phone dialers that used to rack up the phone bill to the more advanced Trojans.
Although this may seem strange to mention, the setup wizard, which I've listed as a con, is actually very helpful as long as you know what you're selecting. For example, one option allows you to choose between starting Avira Free Antivirus early in the Windows boot process, which gives you more protection, or later in the process, providing slightly less protection but speeding up startup. Options are always good, right?
Download Avira Free Antivirus 2019
You will be prompted to register after Avira Free Antivirus installation, but this is optional. Also, if you want to prevent changes to the toolbar and browser settings, choose the Custom Installation option and deselect those options.