A few months ago Huawei introduced the latest in the Watch Fit series, the Huawei Watch Fit mini . Due to its features and affordable price, we think it can be a good gift for Valentine's Day . As much for him as for her.
First of all, it must be said that it is a smartwatch that is quite light and has a smooth design. The Huawei Watch Fit mini not only inherits the features of long battery life, accurate health monitoring, and comprehensive fitness functions of Huawei's wearable family , but also comes with a brand new design language. to offer a smooth and lightweight watch body in a rectangular shape, allowing users to better manage their health, and explore various smart functions, all from their wrist.
Comfort that can be worn all day
The meticulously polished, lightweight watch frame is elegant and premium, and blends seamlessly with each of the straps for a consistently comfortable fit. The watch case and lugs of the Huawei Watch Fit mini are engraved with aluminum alloy, which is lighter than titanium alloy, stainless steel, ceramic and other materials.
The Huawei Watch Fit mini keeps the weight at 20g (excluding the strap) while ensuring the strength of the watch body, which is light as if you don't wear anything on your wrist. Whether it is a leather strap or a soft and anti-allergy fluoroelastomer watch strap, it is dirt-resistant and comfortable to wear. Also, it is able to maintain a good wearing experience if there is sweat.
The surface of the watch body, the edge of the strap and the surfaces that come into contact with users have been carefully processed. The sleek and curved design ensures a comfortable touch when wearing it.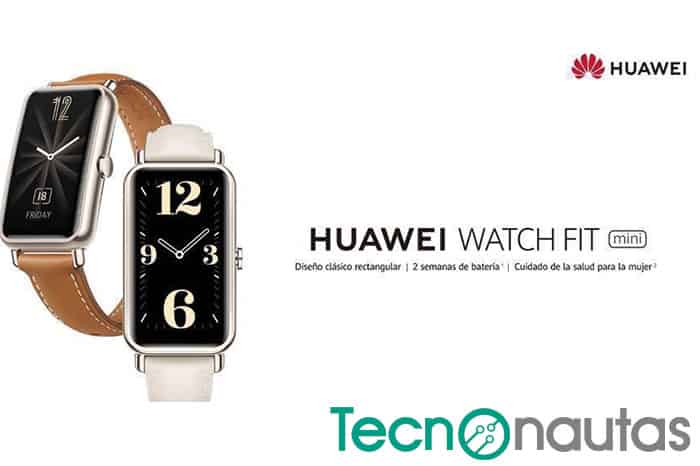 Modern design
The square light gold case is paired with the classic watch strap in three different colours, Frost White (leather), Mocha Brown (leather) and Taro Purple (fluoroelastomer), giving wearers more freedom to choose. The combination of different colors meets the different style needs of each user. Whether it is for leisure, business or sports, the Huawei Watch Fit mini can always meet the different fashion needs of the user and become the finishing touch of the outfit.
Not only does it come with a trendy selection of watch straps, but users can also customize the smartwatch using a range of watch faces. The watch face market has unique watch faces with a variety of styles and themes for users to change at will, meeting the needs of wearing in different scenarios, and creating an elegant and extraordinary style on the wrist.
Huawei Watch Fit mini – an expert in health management
As an expert in health management, the Huawei Watch Fit mini has a comprehensive 96 training modes and training incentive systems to help users develop good training habits. Through automatic workout detection, accurate workout data monitoring and professional workout guidance, it helps users adjust their plans in time to better manage their fitness level.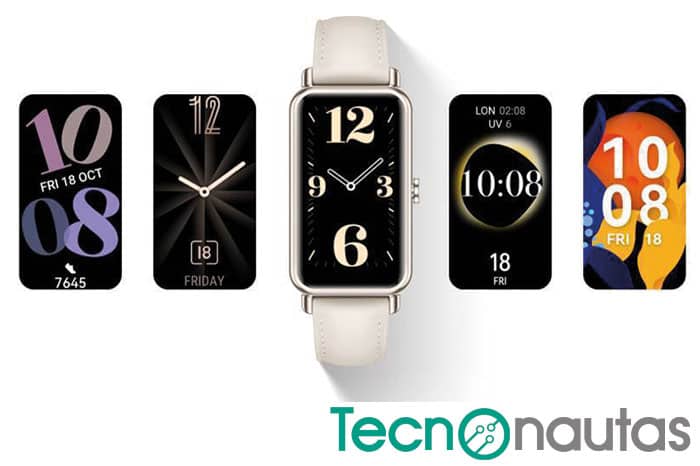 In addition to 11 professional training modes, including indoor and outdoor running, cycling, jumping rope, elliptical machine, rowing machine, etc., there are also 85 training modes including fitness, ball games, dance, training leisure and extreme sports.
Huawei Watch Fit mini also supports functions such as real-time heart rate monitoring, training effect evaluation, and suggestions to help users understand their own training efficiency and health conditions. Users can set different heart rate zones, such as fat loss and endurance improvement, according to their training goals in the Huawei Health app.
The Huawei Watch Fit mini can monitor your heart rate zone in real time during workouts and provide notifications. When the heart rate exceeds the preset zone, the smartwatch will send a reminder automatically. Each heart rate zone has its respective training effect, and users can adjust their training status in time according to their goals.
Long duration battery
The Huawei Watch Fit mini inherits the long battery life characteristics of Huawei's wearable family, providing continuous and comprehensive health management throughout the day. It also supports menstrual cycle reminders, helping users understand their own health conditions, with all-day care.
Under typical use, it supports a battery life of 14 days and 10 days of battery life in heavy use. The ultra-long battery life allows users to wear the smartwatch all day, even when sleeping. In addition, the Huawei Watch Fit mini is compatible with Huawei's fast charging technology. A five-minute charge can sustain the watch for two days of typical use, providing users with a connected experience when exercising, meeting and sleeping.
All-new AMOLED display
The Huawei Watch Fit mini adopts the FullView display of Huawei's wearable family, with a 1.47-inch flexible AMOLED screen with accurate colors to deliver high definition and sharp viewing effects. AMOLED screen not only has a wider color gamut than LCD screen, but it is also lighter and thinner, so it can achieve fuller color, higher contrast and more colorful display effects, offering users the best viewing experience. The new AMOLED screen offers a comfortable viewing experience and smooth touch control.