Numerous users are currently reporting on Windows update error 0x80240022 . We also noticed this error a few days ago on a Windows 10 version 1709 when we wanted to update to the Spring Creators Update version 1803 . Below we show you the original error message of error 0x80240022 .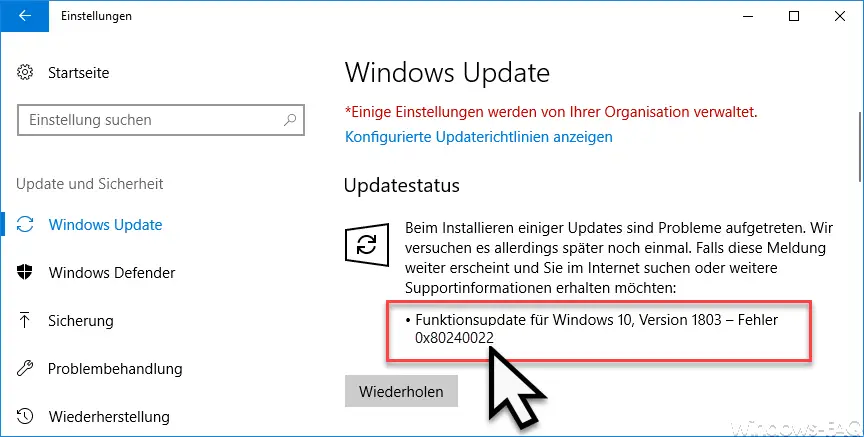 Unfortunately, Microsoft doesn't provide much information about update error 0x80240022 . Due to numerous forum entries, the error seems to have to do with the Windows Defender Security Center  or the Microsoft Security Essentials . You should try the following solutions to eliminate the update error.
Disable the Windows Defender Security Center
In our article " Deactivating the Windows Defender Security Center " we described exactly how you can deactivate this Windows security component. After restarting the system, you should then check whether the update error 0x80240022 continues to occur. If the problems are resolved, we naturally advise you to reactivate the Windows Defender Securty Center.
Tuning or cleaning tools
The error code 0x80240022 often occurs  even if you are using Windows tuning or cleaning tools that constantly try to achieve performance improvements in the background or to clean the registry. You should deactivate these tools via or completely uninstall them via " appwiz.cp l".
Update Microsoft Security Essentials manually
In any case, you should try to update the Microsoft Security Essentials app manually. To do this, you must download the latest definition updates for Microsoft Security Essentials directly from the Microsoft website " Windows Update Catalog ". Your best search term is:
Definition update for Microsoft Security Essentials

After downloading, simply install the latest definition update and restart the Windows PC if necessary. Then the update error code 0x80240022 should no longer occur.
You can also find out about other Windows Update error codes here.
– 0x1900107 Windows Update error code
– 0x80070bc2 error code for Windows Update
– Windows Update error code 0x80244007
– 0x800f081e error code for Windows Updates
– 0xC000000F Windows
boot error code – 0x80245002 Error code for Windows Update
– 0x8024200D Windows Update error code
– Windows Update error code 0xC1900101 – 0x30018
– 0x2009001 could not be installed
– 0x80D05001 error code during Windows 10 update
– 0x80070035 error code "The network path was not found"
– 0x80242006 error code during Windows update