The Windows Update error code 8024400A is very common and can have different reasons. Below you can see the original error message that occurred here on a Windows 7 system.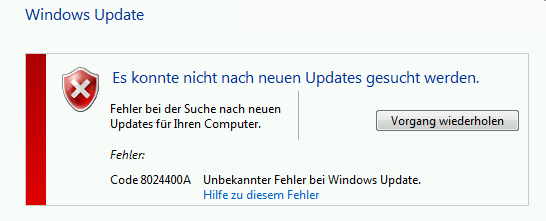 Failed to check for new updates.
Failed to find new updates for your computer.
Error: Code 8024400A Unknown error with Windows Update.
WSUS configuration failed
The error 0x8024400A often occurs in connection with a Windows Server Update Services (WSUS). The reason for this may be that the WSUS configuration was not carried out correctly or the settings were not correctly distributed via global group policy .
You can check this very easily in the registry by changing to the following key.
HKEY_LOCAL_MACHINE SOFTWARE Policies Microsoft Windows WindowsUpdate
Perhaps you are not yet familiar with the free Regjump tool. So you can jump to any registry key very easily and quickly .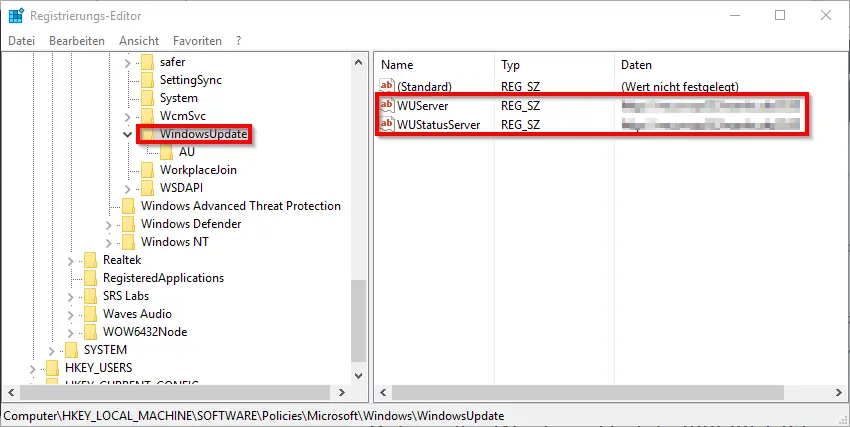 Check the settings here and adjust them if necessary. After that, the update problems should be eliminated. However, if the problem persists, simply try to download and install the updates online directly from the Microsoft servers.
Reset Windows Update folder
Another possibility is that the Windows system folder with the name "software distribution" contains incorrect update data . You can solve this very easily by stopping the following services via Windows Services Management (services.msc).
Background Intelligent Transfer Service (BITS)
Windows Update (WUAUSERV)
Cryptographic Service (CRYPTSVC)
Then delete or rename the folder "% WINDIR% Softwaredistribution" and then restart your Windows system. Then you start the update process again and the error  8024400A should no longer occur because Windows downloads all missing update files from scratch .
Below we have listed other interesting articles about Windows Update errors .
– 0xc1900200 error code during Windows upgrade
– 0x80240017 Windows Update error code
– 0x80070490 Windows Update error code
– 0x80070003 error code during Windows Update
– 0x80248007 error code with Windows Update
– 0x8000ffff Windows error code
– 0x80072ee7 error code with Anniversary Download
– Windows Update error code 0x80245006
– Windows Update error code 0x80240fff