The all new Windows Update KB3210137 (Security Update for .NET Framework from December 13th, 2016) brings big problems with Veritas (Symantec) Backup Exec on a Windows Server 2012 R2 . After installing this update, the Backup Exec Management Console displays the following error message .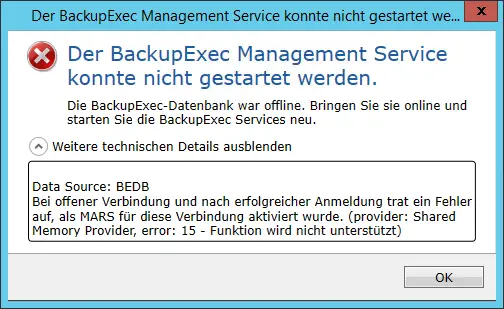 The BackupExec Management Service could not be started .
The BackupExec database was offline. Bring them online and restart BackupExec Services.
Data Source: BEDB
An error occurred when the connection was open and after successful login when MARS was activated for this connection. (provider: Shared Memory Provider, error: 15 – function is not supported)
Before the Windows updates were installed , Backup Exec worked perfectly; after installing the Windows updates and restarting the system, this error message appeared. So the problem is with one of these updates.
We then gradually uninstalled the updates again via Programs and Features , Installed Updates (appwiz.cpl). Ultimately, it was the update
KB3210137 (Security update for the .NET Framework dated 12/13/2016).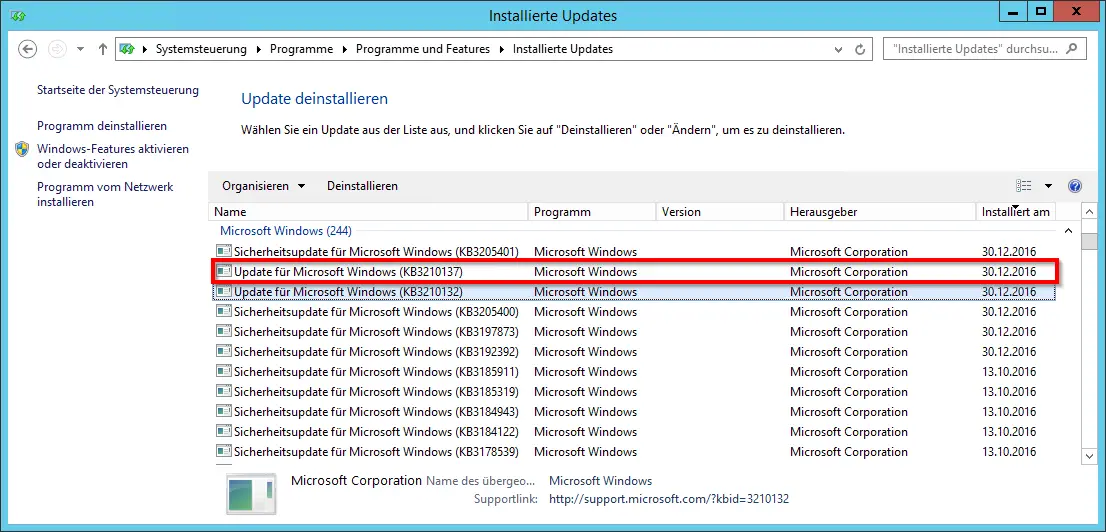 After uninstalling this update KB3210137 and restarting it, Backup Exec was working properly again . In the description of the update at Microsoft there is also a note of a change that is displayed in the error message (provider: shared memory provider, error: 15 – function is not supported ).
Apparently the problem has been around for a long time, because the update KB3195387 (November 2016 preview of the security update for the .NET Framework 4.6 and 4.6.1 on Windows 8.1 and Windows Server 2012 R2 (KB3195387) from November 15, 2016) also seems to be affected to be. It is currently not known whether other updates will be affected. Even future updates that deal with security updates for .NET Framework deal can, therefore Backup Exec negatively.
Note from January 4th, 2017: Apparently, further updates are to blame for this problem, including updates KB3210132 and KB3205404 . We were able to determine this on live systems today. 
Below we have listed other interesting articles about Veritas Backup Exec .
– Backup Exec 16 from Veritas available
– FP5 for Backup Exec 15 released (revision 1180)
– Hyper-V .AVHD problem with Backup Exec 15 FP3
– Copy backup job at Symantec (Veritas) Backup Exec
– Backup Exec – Create SDR disk – Part 1
– Backup Exec preparation for SDR disk – Part 2
– Backup Exec – Create SDR disk – Part 3
– Symantec (Veritas) Backup Exec Error V-79-57344-33932
– Symantec (Veritas) Backup Exec error message (FIXEDB2DDevice, memory could not be deleted)