The Windows error code 0x80073715 can unfortunately occur with 2 different actions. On the one hand with a Windows update and also when installing or updating programs such as iTunes, which are based on Microsoft Visual C ++.
Below is the error message 0x80073715 when installing a current iTunes version.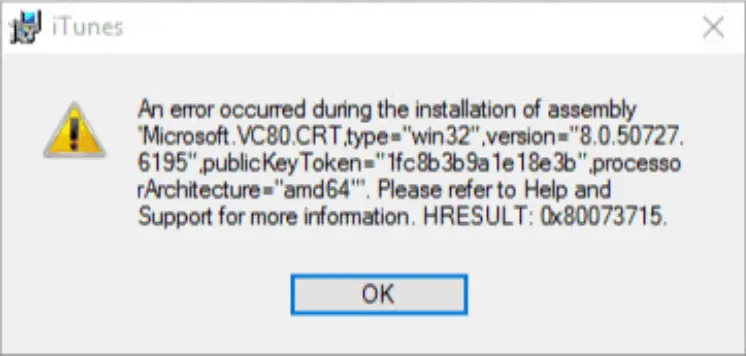 The exact error message is:
An error occurred during the installation of assembly "Microsoft.VC80.CRT.type =" Win32 ", version =" 8.0.50727.6195 ", publicKey Token =" 1fc8b 3b 9a 1e 18e 3b ", processorArchivtecture =" amd64 ". Please refer to Help and Support for more information, HRESULT: 0x80073715.
This error message 0x80073715 occurs because of a conflict between the * x86_x64.msm file and the Vcredist_x64.exe file. Because of this conflict, the installation attempt will fail.
Microsoft has already reported on this in a separate article. You can find it under "UPDATE:" HRESULT: 0x80073715 ″ Error when installing an application with the file with merge modules Visual C ++ 2005 runtime library merged into an MSI file ".
In this document, Microsoft offers a corresponding patch or fixit tool , which can be downloaded from Microsoft on request. This patch is not freely available.
A second possibility is that you look in the update history of your Windows PC and check whether you have  installed the update KB4058258 . If so, you should uninstall this update and then restart your PC.
Now when trying to install again, the error code 0x80073715 should no longer appear . Afterwards you should bring your Windows system up to date by importing all missing Windows updates.
0x80073715 during Windows update
If the error 0x80073715 occurs during the Windows update, you should clean up the Windows update store. We have described in detail how this works in the entry " 0x80240034 error code during Windows update ".
You can also find help on other Windows error codes in these articles.
– 0x80070652 error code in Windows Update
– Windows Update error code 0x80240022
– 0x1900107 Windows Update error code
– 0x80070bc2 error code in Windows Update
– Windows Update error code 0x80244007
– 0x800f081e error code in Windows Updates
– 0xc000000f Windows Boot Error code
– 0x80245002 error code in Windows Update
– 0x8024200D Windows Update Error Code
– Windows Update error code 0xC1900101 – 0x30018
– 0xC1900101 – 0x20017 Windows 10 could not be installed