We have already reported on the error code 0x80072f8f in the past, because it can occur not only when activating Windows , but also within Windows updates. The error 0x80072f8f with the Windows updates, we already have in our article " 0x80072f8f error code in Windows Update fix discussed in detail."
Today we want to go into error code 0x80072f8f when activating Windows . Below you can see the original error message from Activation Error 0x80072f8f .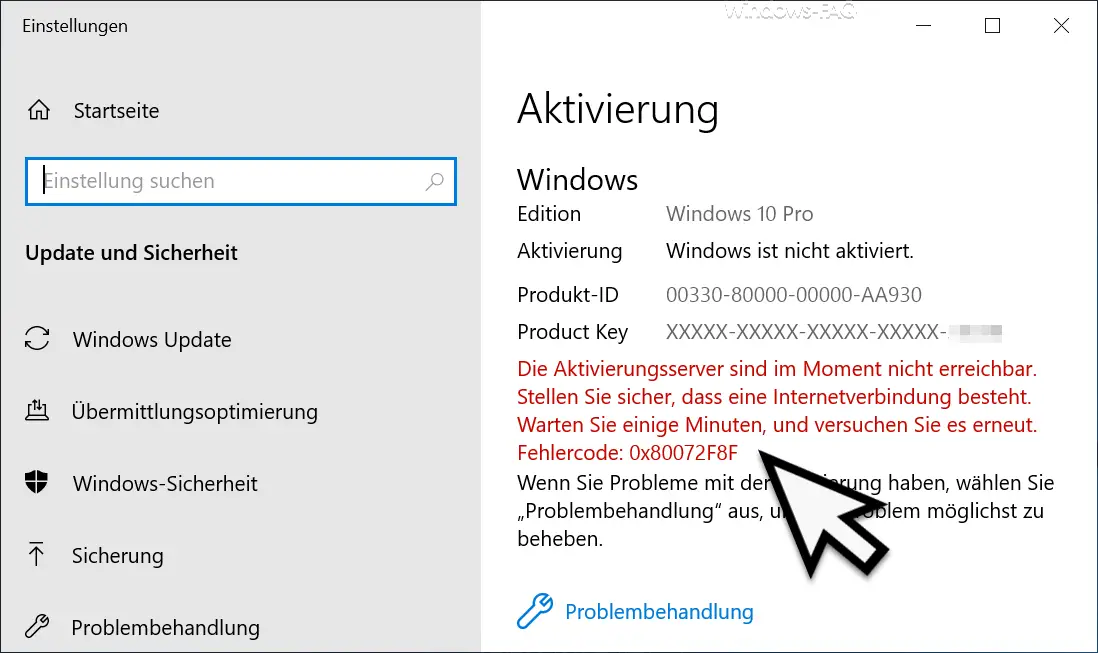 The exact error message is:
The activation servers are currently unavailable. Make sure you have an internet connection. Wait a few minutes and try again. Error code: 0x80072f8f
Eliminate activation error 0x80072f8f
To eliminate the error code 0x80072f8f when performing the Windows activation, you should try the following options.
Set Windows date and time correctly
Numerous users have reported this error code if the Windows system date or time differs during the activation process . So please check your date and time settings on the Windows client and adjust them if necessary.
Then you should perform a new Windows activation and check whether the activation error 0x80072f8 f continues to occur.
Check internet connection
As already indicated in the error description above, you should check whether the client really has a working internet connection. Usually the Microsoft activation servers are not the cause of the activation problem , but are usually a local problem with the internet connection .
Deactivate third-party software firewall
If the internet access works and the error code 0x80072f8f continues to appear when activating Windows, the problem could also be due to a third-party firewall . If you use a firewall other than the normal Windows firewall, you should deactivate it briefly if necessary and then check whether the activation error 0x80072f8f continues to occur.
If you are interested in further information about other Windows activation errors , we recommend the following articles.
– Windows 10 activation error 0x803FA067
– Windows activation error 0xC004F034
– Office 365 activation error code 0x80004005
– Windows activation error 0x8007000D
– Activation of Windows error code 0xc004e003
– 0xc004e016 Windows activation error
– Code 0xC004C008 Windows activation error
– Windows 10 activation check
– 0x0004FE50 Windows activation error
– 0x0004FE50 Windows activation error – 0x0004FE50 Windows activation error – 0x0004FE50 Windows activation error – 0x0004FE50 Windows activation error – 0x0004FE50 Windows activation error – 0x0004FE50 Windows activation error – 0x0004FE50 Windows activation error – 0x0004FE50 Windows activation error – 0x0004FE50 Windows activation error – 0x0004F050 Activation failed