Previously, the proxy settings had to be entered directly in Internet Explorer or using the "inetcpl.cpl" command , but Microsoft has now transferred this to the Windows 10 settings app.
Although it still works today to enter the proxy information via " inetcpl.cpl " and the " Connections " tab and then " LAN settings " , this option will be deactivated by Microsoft shortly. Microsoft is still trying to transfer all the necessary settings to the settings app, which you can call up using the following key combination .

In the search field that follows, the easiest way to enter the following search term.
Proxy
as you can see below.

Here you then choose the following option
Change proxy settings
Then the proxy settings are visible in the settings app. We have also mapped these settings for you here.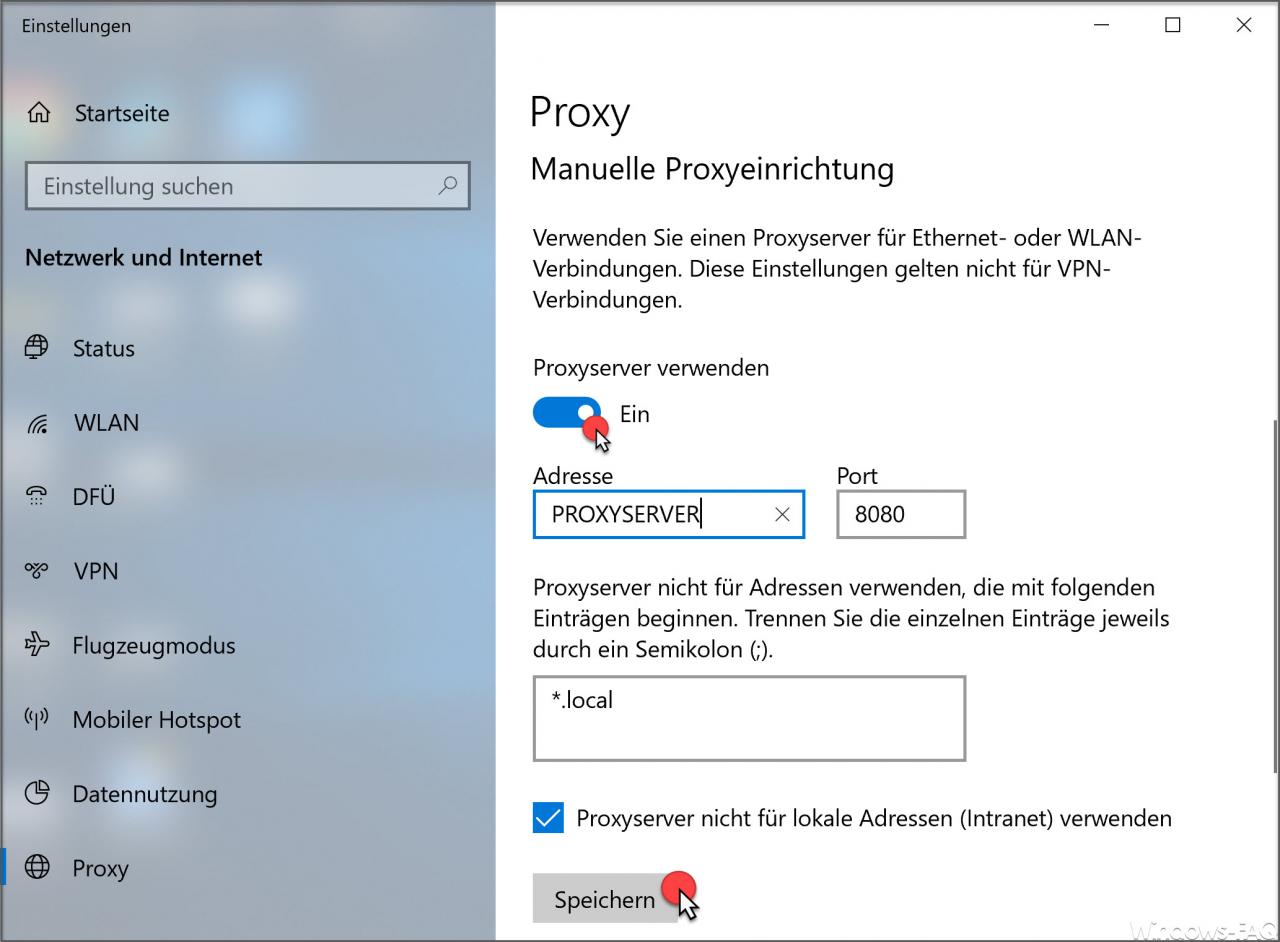 Here you can first activate the proxy settings at all by setting the slide switch for the proxy server to " On ".
Then you can enter the server name or the IP address of your proxy server and the port via which the Windows clients should communicate with the proxy server . As a rule, this is usually port 8080 .
You can also specify the proxy exceptions . These exceptions do not use the proxy server for communication. If you specify several exception addresses here, they must be separated with a semicolon.
Furthermore, you can tick the box that local addresses (intranet) are also not addressed via the proxy.
The necessary proxy information is now also available in the Windows 10 Settings app.
If you are interested in further Windows tips and tricks , we also recommend the following posts here on Windows FAQ.
– Install RSAT Tools in Windows 10 version 1809 using the Windows Settings app
– Hide or remove pages and options from the Windows 10 Settings app – Delete
Windows swap file
using a security policy when shutting down – Activate Godmode under Windows 10
– Lock Workstation (Windows lock) Deactivate with the Windows key + "L"
– query Windows version from the USB installation stick
– deactivate autoplay in Windows 10
– display or adjust Windows 10 indexing settings (options)
– install new fonts under Windows 10
– point and print problems when installing printer drivers under Windows 10
– Windows 10 defer installation of feature updates via group policy