Some new functions have been introduced with the Windows Fall Creators Update Version 1709 , we have already reported about them in the past. Today we would like to deal with an innovation in the area of ​​Windows updates, which is called as follows.
Operating system build info
Below we have shown you an original image from the Windows Update window of a Windows 10 Fall Creators installation, which you can also see this new operating system build info .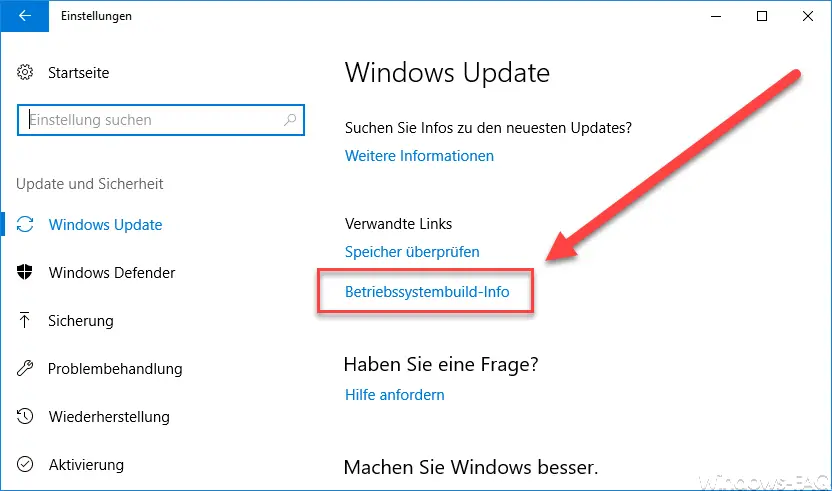 As you can see here in the next figure, this link opens another Windows 10 settings window , which reveals various information and device specifications for your PC. The following safety information is displayed in the " Info " area .
Virus & threat protection
Firewall and network protection
Device performance and integrity
App and browser control
Through the corresponding representation, you can see at a glance in which area your Windows installation may have weak points and where, if necessary, something still needs to be done. In our example, it concerns virus protection and firewall and network protection .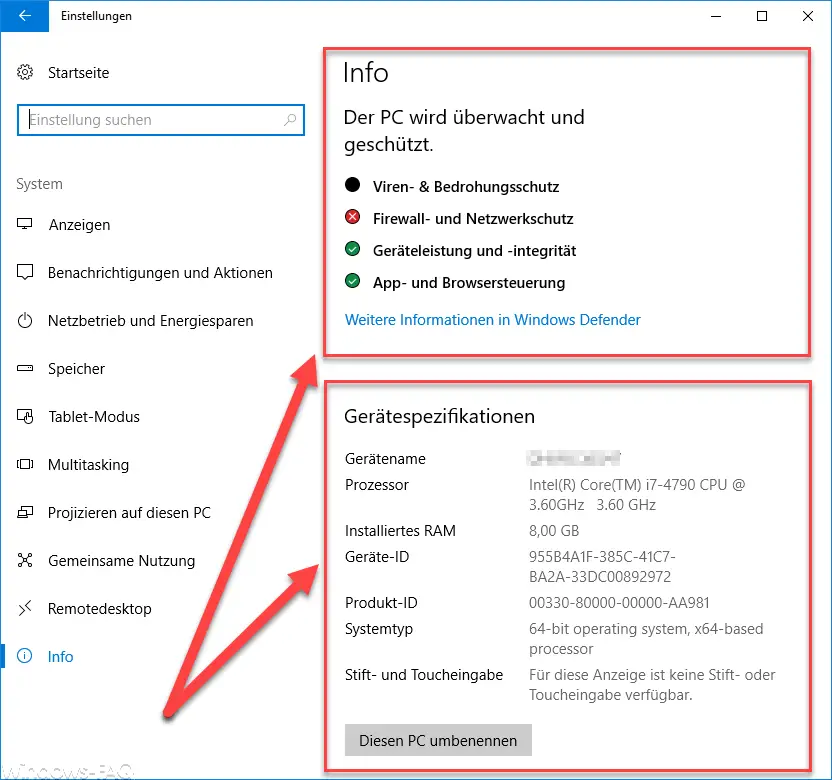 In the " Device Specifications " area, important system information about your Windows 10 installation is shown. These are as follows:
Device name (computer name)
Processor (type and clock speed)
Installed RAM
Device ID
Product ID
Syst e mtyp (32 or 64 bit installation)
Pen and touch input
At the end of this " Windows Information " you will find the item " Rename this PC ". This point was also present in the Windows 10 Creators Update Version 1703 in this notification area .
If you do not want to take the detour via the Windows Update window to get this information, simply enter the term " Info " in the search field of the Settings app, as you can see below. All of these 4 framed access options will bring you to the info and device specifications display.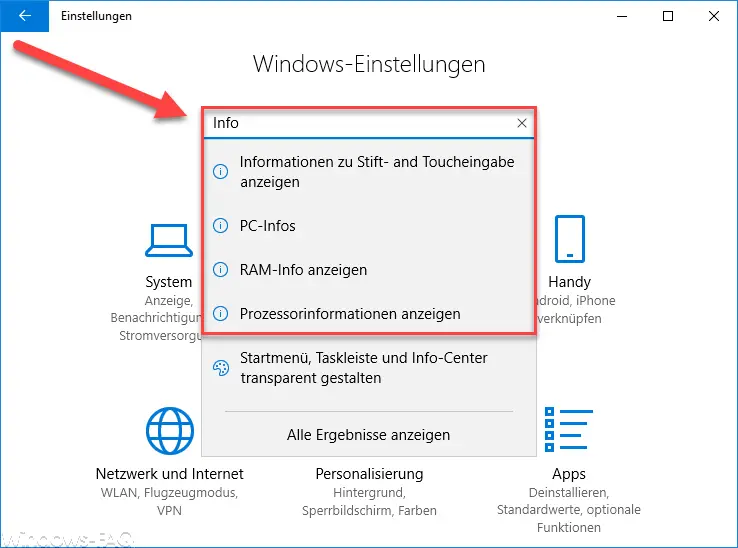 You can also find many more tips and tricks for the Fall Creators Update here.
–
Uninstall Fall Creators Update Version 1709 – RSAT Tools for Windows 10 Fall Creatos Update for download
– Free up space in Windows 10 Fall Creators Update Version 1709
– Remote desktop settings now also in Windows 10 Settings app (Fall Creators Update 1709)
– Administrative ADMX Templates for Windows 10 Fall Creators Update 1709 – Download
– Download
settings and upload limit for Windows updates for Fall Creators Update – KB4043961 Update for Windows 10 Version 1703 Fall Creators Update Build 16299.19
– Feature update to Windows 10 Version 1709 Fall Creators Update (Build 16299.15 )