With Windows 10, Microsoft provides a tool for creating PDF files . Unfortunately, this was not the case in previous Windows versions. Today we would like to show you how you can activate this tool or this Windows feature very easily if it is not yet activated by default on your Windows system. To do this, you first have to open the " Programs and Features " tool (appwiz.cpl) and there the item
Enable or disable Windows features
You can also have it easier by using the key combination

presses and then enter the following command.
% windir% System32 OptionalFeatures.exe
The following setting window then appears, in which all Windows features are listed.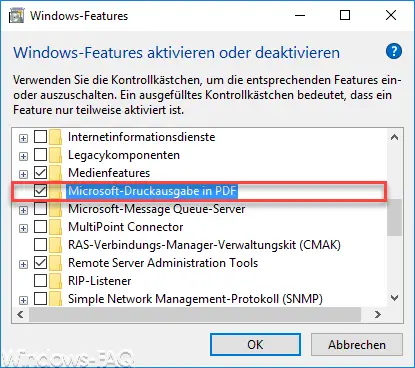 In this case you have to activate the following option.
Microsoft print version in PDF
After confirming the OK button, Windows 10 then begins installing the " Microsoft Print to PDF " tool. The installation takes only a few seconds and there is no need to restart the Windows system. Then you can see the added PDF printer in your Windows 10 settings app in the " Printers & Scanners " area.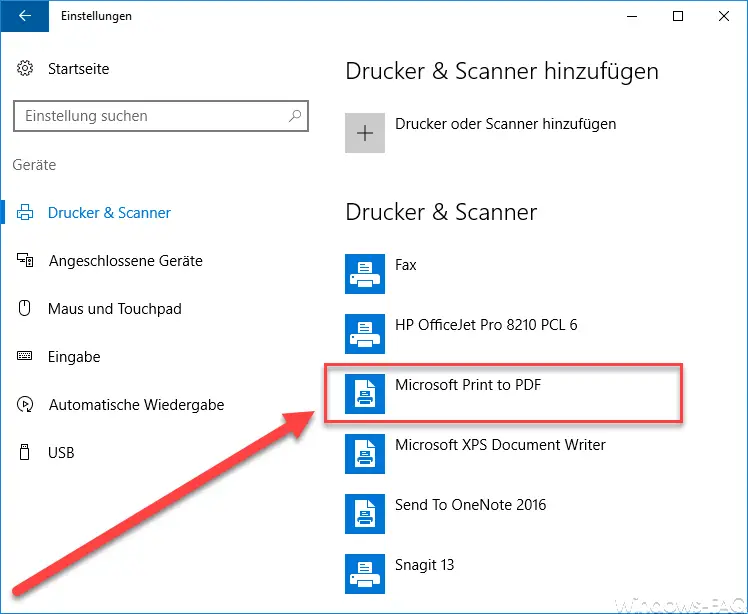 Operation is very easy. All you have to do is print the document you want to convert into a PDF on this printer. Then you will be asked for the file name and the folder in which you want to save the PDF document . Then the PDF is generated by Windows 10 and stored in the folder with the desired name.
Overall, a very nice tool , which Microsoft now ships with Windows 10 and you no longer have to rely on third-party providers of PDF tools .
If you want to find out more useful Windows tools , please take a look at these articles.
– RSAT Tools for Windows 10 Fall Creatos Update for download
– List DHCP reservations comfortably and clearly incl. Remark
– Start Sysinternal Tools over the Internet – Query
Windows system information with "System info"