Today we want to report a serious Windows 10 error called 0x800b0101 . Below you can see the original error message of our Windows 10 version 1607 system, which we received today during the day.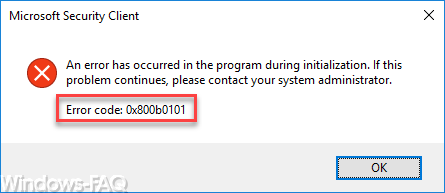 The error message appeared to us immediately after restarting the Windows 10 PC. No Windows updates were installed before, it was a pure Windows restart. The exact error message is:
Microsoft Security Client
An error has occured in the program during initialization. If this problem continues, please contect your system administrator.
Error code: 0x800b0101
The error is very unpleasant because this message appears immediately after the user logs in and further work with the PC is impossible. The CPU seems to run permanently at 100% , because the construction of the desktop symbols alone takes several minutes. It is not possible to start an installed software program or to call up the task manager; the event log can also be retrieved from a remote PC over the network with a timeout .
Even restarting the system and calling up the Windows 10 repair functions did not bring any success. Neither the reactivation of a saved system image nor an " sfc / scannow " via the command prompt brought any success. Even restarting in " safe mode " without network cards brought no improvement.
Windows Defender
Ultimately, we restarted the PC again, registered and waited about 2 hours until the PC was finally booted up and the CPU came down to a tolerable level. Then we could not work 100% with the PC, but it was at least possible to call the task manager . Through this we could see that the Windows Defender apparently used the CPU extremely heavily. We then called the Windows Registry Editor with administrator rights via the Task Manager (File / Execute New Task) .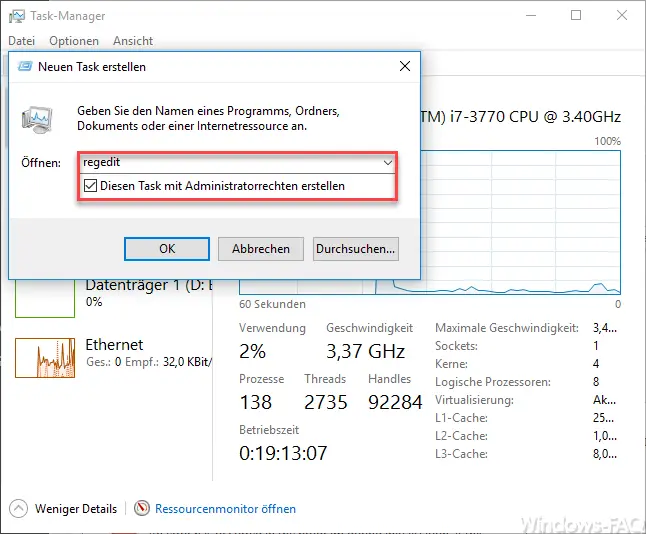 In the registry editor we switched off the Defender completely according to the instructions " Deactivate Windows Defender completely " and after a restart the system ran so well that we could at least back up the data properly.
Windows 10 re-installation
Nevertheless, we cannot avoid a complete reinstallation of the system, because all repair mechanisms were ultimately unsuccessful. It is also astonishing that we could not even read the reason for the error code 0x800b0101 from the event log and we did not find any useful information about this error message on the Internet either.
Below we have  listed further Windows error codes including their possible solutions for you .
– Error code 0x00000709 when setting the Windows standard
printer – 0x800700c1 Windows Update error code
– 0x80070490 Windows Update error code
– 0x8000ffff Windows error code
– 0x80240031 Windows Update error
– 0x8e5e03fa Windows 10 Update error code
– 0x80070003 error code during Windows Update
– Windows App Store error code 0x8024500c
– Windows Update error code 0x80240fff
– 0xc1900201 error code for Windows 10 Anniversary Update
– 0x80248007 error code for Windows Update
– Windows Update error code 0x80245006
– 0x80072ee7 error code for Anniversary Download
– 0xc004f014 error code for Windows 10 Upgrade Home -> Pro