Most users are probably familiar with the term " VPN ". It means " virtual private network " and is therefore referred to as a short term for a virtual private network .
A VPN is thus a self-contained communication network between different PCs in order to exchange data securely via a data tunnel.
VPN connections are also very often used in company networks, so that field or home office employees can dial into the company network. By establishing a VPN tunnel, the external employee can then, for example, access the network resources of the opposite VPN connection from his home network and exchange data.
Nowadays, the VPN tunnels are usually all encrypted using SSL and thus offer a high level of data security when transmitting the data.
Anonymous surfing via VPN
VPN connections are often also used to make the VPN user surf the internet anonymously. All sent and received data are encrypted via a VPN and thus anonymized , so that the sender and recipient can only be determined with great difficulty.
Furthermore, the anonymity of a VPN user is increased by the fact that all users of a VPN service provider use the same VPN server on the Internet. This means that all VPN users use the same IP address range and therefore no single user can be permanently assigned to a single IP.
Geoblocking via VPN
So-called geo – blocking can also be avoided by using a VPN . Geoblocking is used to regionally block content on the Internet , for example to allow certain films or music only in certain countries.
For example, providers such as Sky, Spotify or NetFlix are set so that their content is not available in certain European countries. This block can be circumvented if necessary with a VPN provider, because the VPN user then receives a public IP from a country in which these services can be accessed and thus geoblocking is avoided.
VPN on Windows 10
Windows 10 also includes a VPN client. You can find all the necessary VPN settings in the Windows 10 Settings app, which you can use the key combination
Windows key + I
Can call. Then you switch to the area
Network and Internet (WLAN, airplane mode, VPN …)
make all necessary settings and VPN profiles .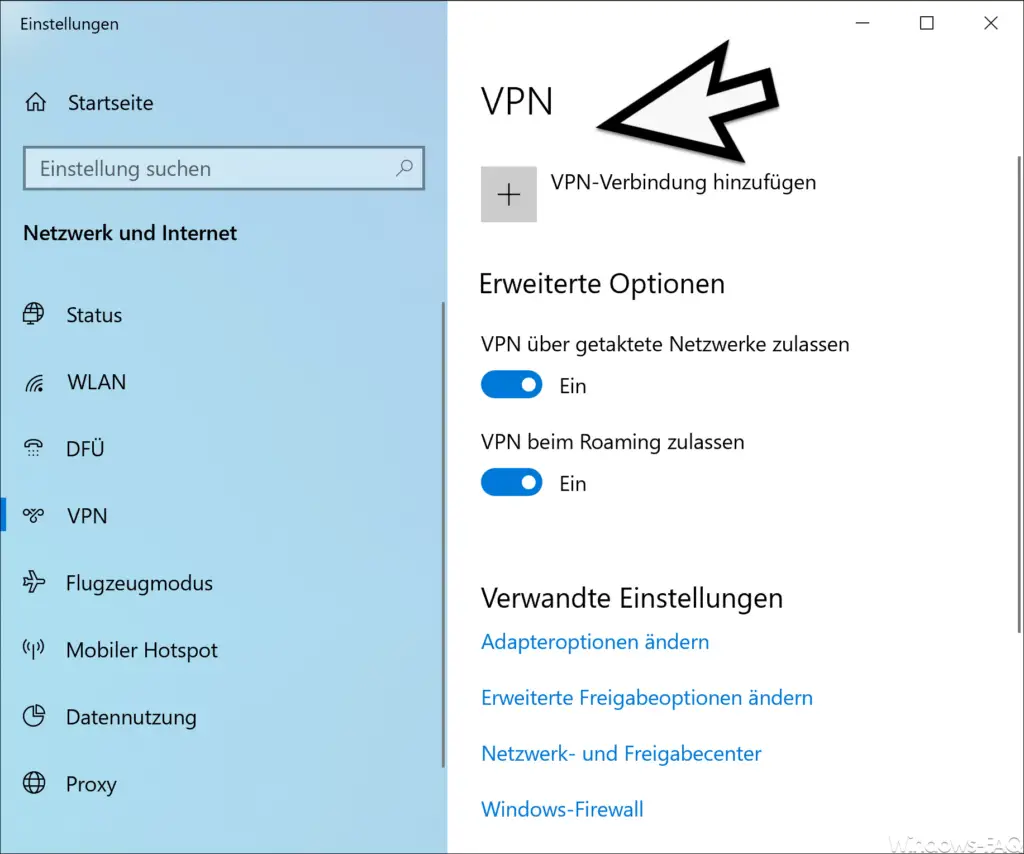 Here you can create VPN connections and also determine whether VPN connections are also permitted over clocked networks or when roaming.
VPN software – which are the best VPN providers
Of course, you can also fall back on VPN service providers who offer you VPN access as well as all services related to VPN. There are free or paid VPN providers here .
Depending on the region and area of application, there are a large number of VPN providers and there are VPN products of different quality for different purposes.
You can find a very good overview of the best VPN software products and VPN service providers at VPNPro.com .
There you will find VPN software for Windows, Linux, Mac, Android, iOS, but also for the most diverse regions and countries.
The topic of geoblocking is also dealt with with the corresponding VPN providers for the services Netflix, Torrenting, Gaming etc.