The Windows clipboard certainly use most Windows users. Because with this clipboard you have the possibility, for example, to save text excerpts and then retrieve them at the push of a button. No matter whether you use the mouse function
Mark / copy 
uses or the well-known key combinations "CTRL +" C " for copying the data to the clipboard and" CTRL + "V" for pasting the clipboard.
If you use Office 365 or Office 2016 or Office 2019 , you can enjoy the Office clipboard. However, many users are still using the clipboard key combination

Windows key + "V" unknown. Because with these  2 buttons you have the possibility to display the contents of the clipboard . Immediately after pressing the Windows key & "V" keys at the same time , a small window appears in which you can see the contents of the last 2 clipboards.
If you should see the following window, then you must first
Clipboard history 
activate as shown in the next picture.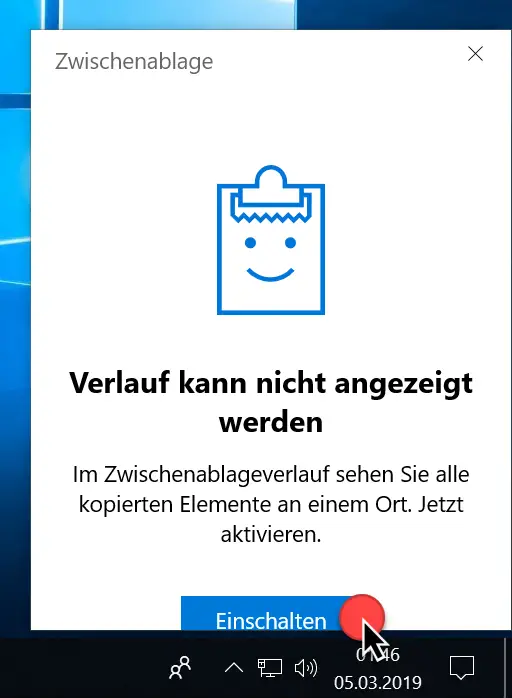 If you now transfer values ​​to the clipboard and then press the key combination Windows key & "V" again, then it looks like this.
But that is by no means all of the content, because it is the total
last 24 clipboards
visible in this little box. On the right edge of the small clipboard window you can see a narrow scroll bar , which you can use to access the last 24 contents of the clipboard .
To call up the content of a specific clipboard, you can simply click on the corresponding clipboard box and the selected clipboard is inserted at the cursor position.
Freeze the contents of the clipboard
But there are more options in this clipboard box. Via the button
Fix
you can record the contents of the clipboard in such a way that they are not deleted when the clipboard is deleted and are not overwritten by new contents of the clipboard .
With the same button you can also remove clipboard content and thus remove the protection of the clipboard texts . Thus, the texts can be overwritten or deleted if you click the button, for example
Clear all
activated.
This key combination gives you a good little tool for editing your Windows clipboard. Incidentally, the fixed clipboard entries remain even after a Windows restart and can be called up again afterwards.
Below you will find a few more articles in which we have introduced helpful Windows tools .
– Windows system evaluation tool WinSAT (measure PC performance)
– Find open files under Windows
–
Extract MSI file – Open command prompt on remote Windows PC with PsExec