Veritas has recently released the new version of Backup Exec 16 . It can now be downloaded from the Veritas portal "myveritas.com". We already downloaded Backup Exec 16 as a test last night and want to inform you about the new features of the Backup Exec 2016 version.
The download of the ZIP installation file is almost 1.7 GB. The ISO file it contains is just over 2 GB in size. After starting the installation program, it immediately becomes apparent that Veritas has changed something in the graphic display and user interface.
After the installation has started, the Backup Exec 16 installation program begins with the installation.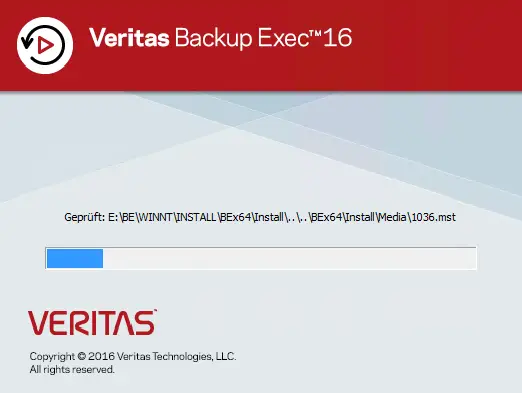 Below you can see which components the installation program additionally requires in order for Backup Exec 16 to function properly. The components are:
Symantec LiveUpdate
Microsoft SQL Express
Microsoft VC ++ Redistrubutables (x64)
Microsoft VC ++ Redistributables (x86)
.Net Framework 4.5.2
Microsoft Report Viewer Redistributable 2010
Veritas Backup Exec
The entire installation took about 15 minutes in our backup test environment . The entire installation program was carried out on a newly installed Windows Server 2012 R2 , no Windows roles or features had to be preinstalled beforehand.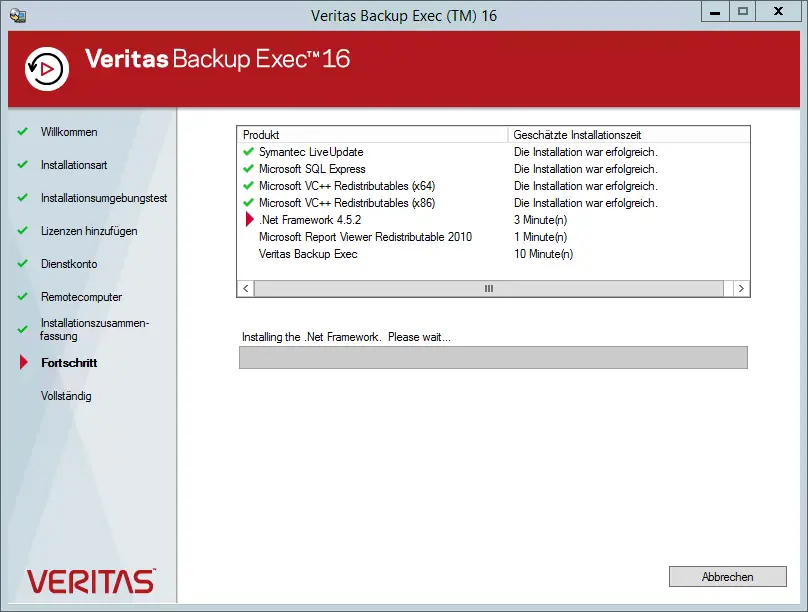 After completing the installation, you will also see the new Windows desktop icon from Backup Exec 16.

After that we were able to start the new Backup Exec and here too the appearance has changed, as you can see below.
Backup Exec 16 home page
As you can see, a lot has changed compared to Backup Exec 15 . Above all, everything is now shown in a subtle blue, the Symantec colors have almost completely disappeared.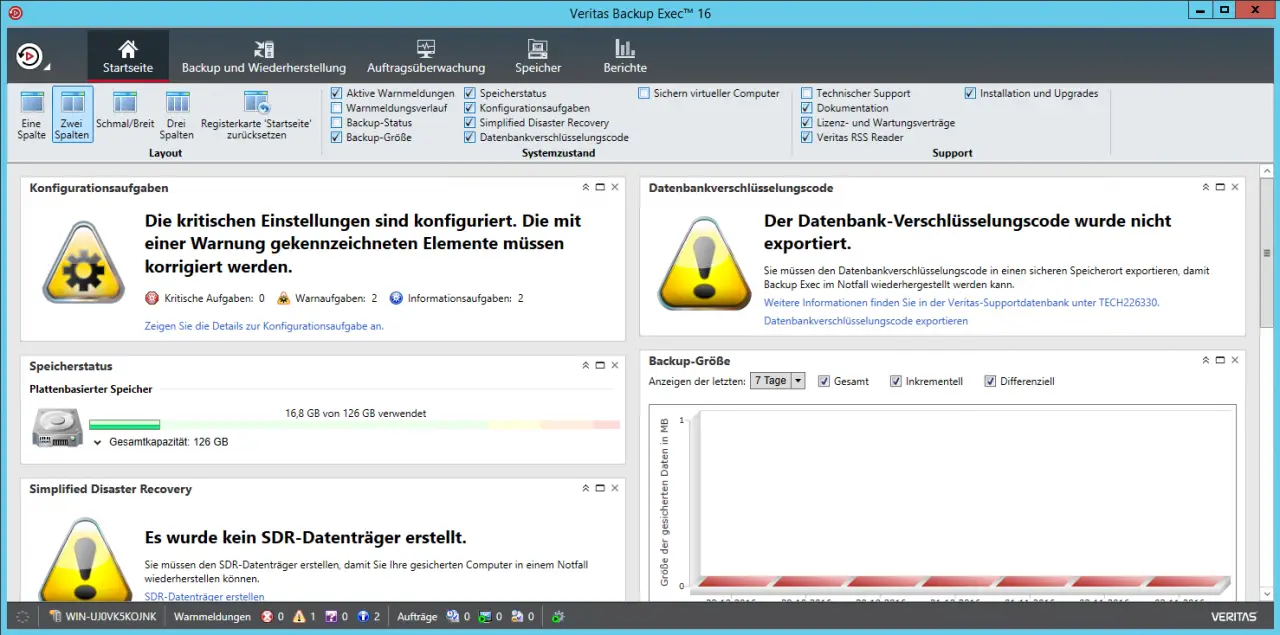 Backup Exec 16 backup and restore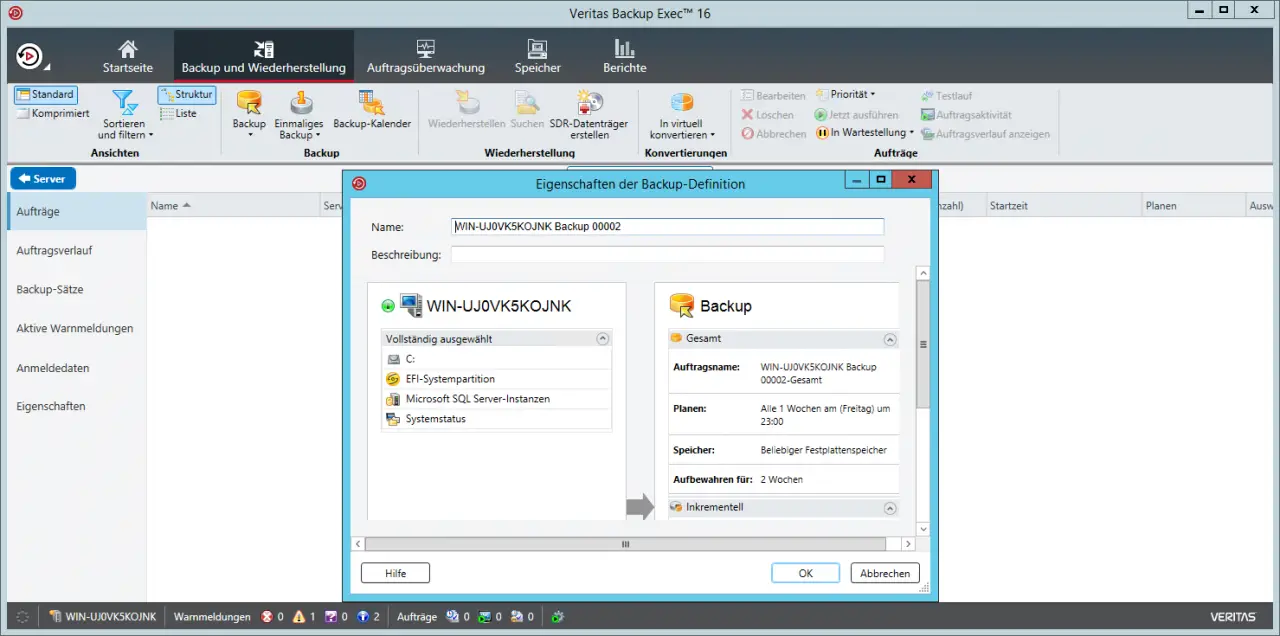 Backup Exec 16 job monitoring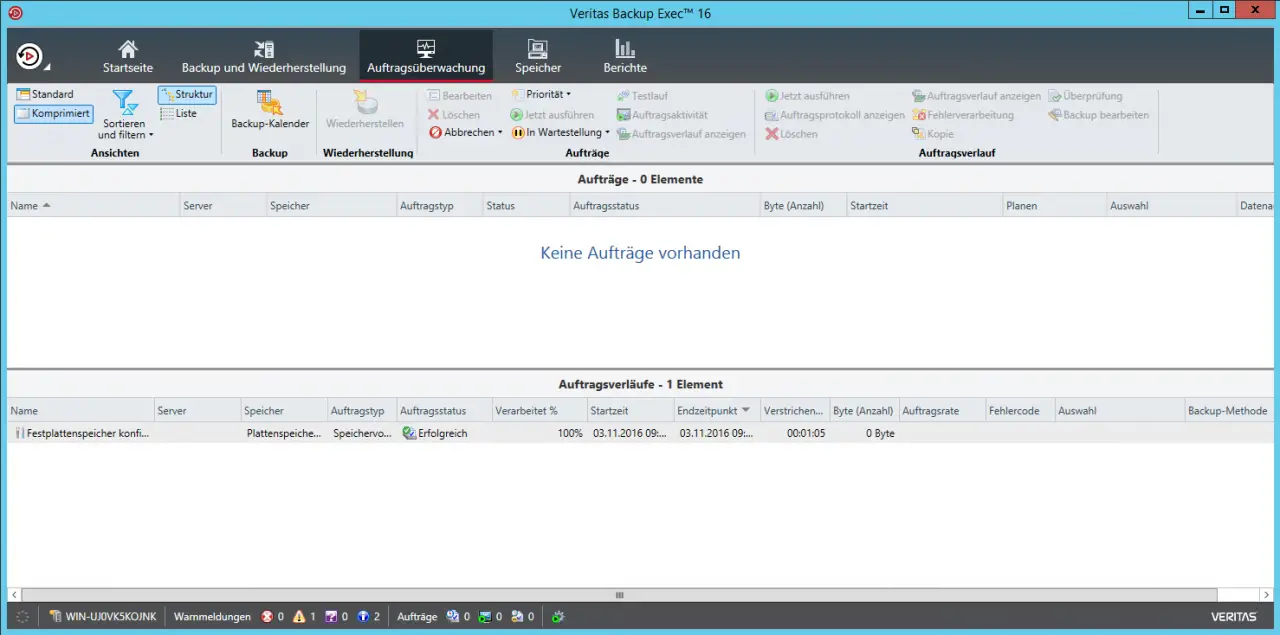 Backup Exec 16 storage
Backup Exec 16 reports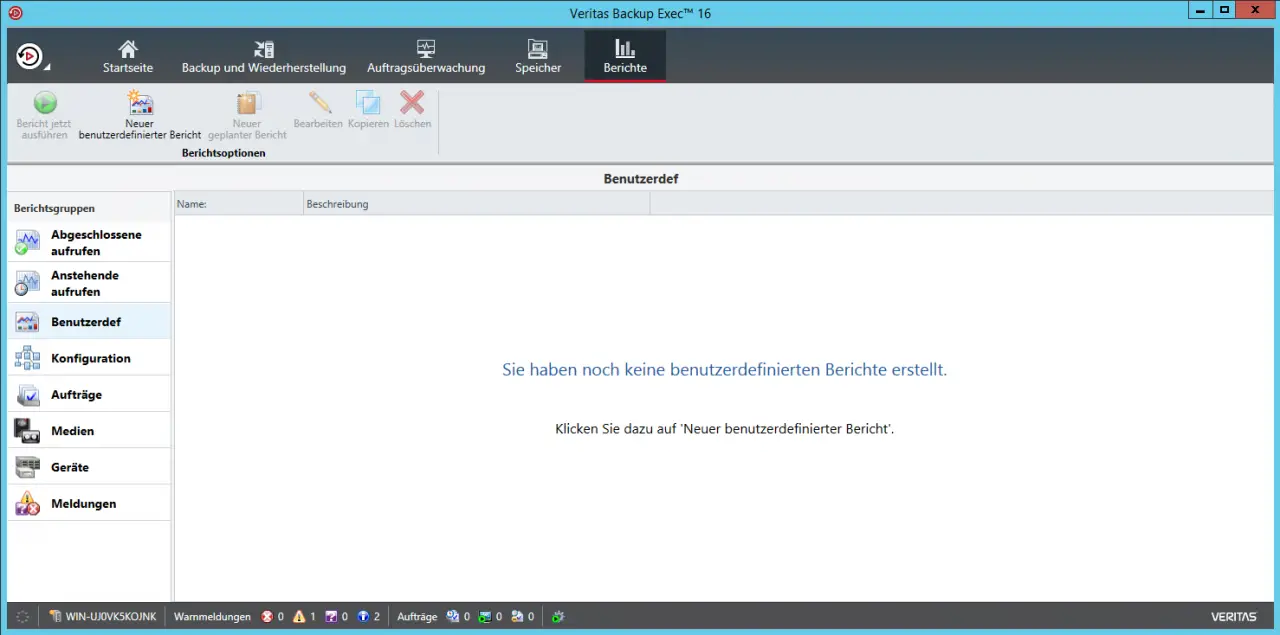 Below we want to go into the changes that Veritas has now incorporated into this brand new Backup Exec 16 version .
| Changes to Backup Exec 16 | Description of the changes |
| --- | --- |
| Backup Exec 16 user interface | Veritas has updated the rebranding for Veritas Backup Exec 16 . |
| Microsoft Azure cloud storage support | Backup Exec 16 now supports Microsoft Azure cloud storage as a backup destination. It supports the storage and restoration of backup data in or from the "Microsoft Azure Blob" storage. For more information about the requirements and the exact configuration of the cloud storage "Microsoft Azure", see "About Cloud-Based Storage Devices" in the Backup Exec 16 Administrator's Guide . You can find an overview of the supported cloud providers in the hardware compatibility list for Backup Exec at the following URL: https://www.veritas.com/support/de_DE/article.000024527 |
| Support from Windows 2016 server | Backup Exec 16 now supports the Windows 2016 server . All operating system functions supported by Backup Exec on a Windows 2012 R2 server are now also supported on a Windows 2016 server. This includes agent-based backups of a Windows 2016 server, including Hyper-V virtual machines. |
| VMware vSphere 16 support | Backup Exec 2016 now supports VMware vSphere 16. |
Overall, we could not find any major problems with the new Backup Exec version in the test phase . However, experience has shown that new versions of Backup Exec have to be handled with care in production systems, because there are usually still a few bugs that are gradually eliminated with feature packs .
Note February 2017: Incidentally, there is no feature pack for Backup Exec 16 until mid-February 2017. We will report as soon as Veritas releases the first feature pack for Backup Exec 16.
If you are looking for more interesting information about Backup Exec , the following reports may be interesting for you.
– FP5 for Backup Exec 15 released (revision 1180)
– Hyper-V .AVHD problem with Backup Exec 15 FP3
– Backup Exec – Create SDR disk – Part 1
– Copy backup job at Symantec (Veritas) Copy Backup Exec
– Symantec (Veritas) backup Exec Error V-79-57344-33932
– Symantec (Veritas) Backup Exec error message (FIXEDB2DDevice, memory could not be deleted)
– Deduplication Option Error with Symantec Backup Exec 2014 Upgrade
– Backup Exec 2012 Snaphot Error 0xe0008526 (V-79-57344- 34086)
– Symantec Backup Exec error message 0xe0008488 – Access denied
– The BackupExec Management Service could not be started – .NET Framework update error