Roaming profiles or " roaming profiles " are basically a great thing. Especially when users or employees in companies have changing PC workstations . Because with the roaming profiles, all user profile settings that have been made for the user are stored in the server- stored profile and reloaded when logging in. Any changes to the settings are then saved in the roaming profiles in a central storage location during the Windows logout process .
In connection with folder redirection , these roaming profiles are a very fine thing and it makes work a lot easier for users.
Unfortunately, there is the problem that Microsoft comes up with a new profile structure with each new version of Windows . That started with Windows XP with the first user profile and we have now arrived at version .V6 after the Windows 10 Anniversary Update .
Here is the complete list of Roaming Profiles versions :
| Roaming Profile Version | Operating systems |
| --- | --- |
| | Windows XP and Windows Server 2003 |
|  .V2 | Windows Vista, Windows 7, Windows Server 2008 and 2008 R2 |
|   .V3 | Windows 8 and Windows Server 2012 |
|  .V4 | Windows 8.1 and Windows Server 2012 R2 |
|  .V5 | Windows 10 RTM, Windows 10 version 1511 |
|  .V6 | Windows 10 Anniversary (1607), 1703 Creators Update, 1709 Fall Creators Update, 1803, 1809 and 1903, 1909 |
The version number of the roaming profile version is then appended to the folder in which the user profile is stored. This can then look like this, for example.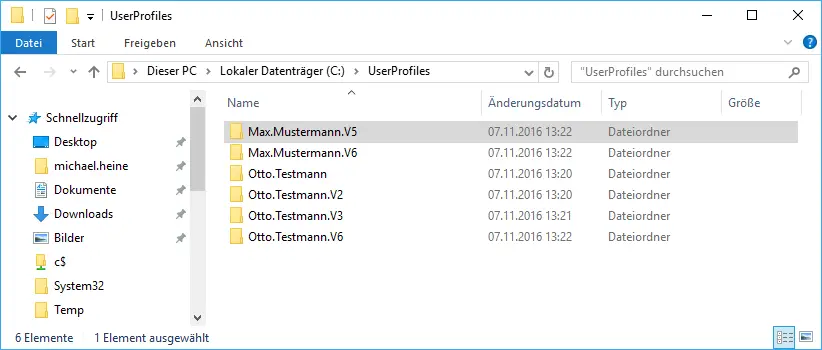 As can be seen, there can now be several user profile folders for one user in the folder in which the roaming user profiles are stored . This is generally very unattractive, because each user profile is not compatible with the other. This means that a separate or new user profile must be created for each Windows version , settings made, files copied, favorites transferred, etc.
Actually an unbearable condition, because which company has all PCs on the same Windows version ? To be honest, Microsoft has not completely thought through the roaming profiles and every new version of Windows brings a new profile version. And if Microsoft continues to play the game and equips each feature update  (such as Windows 10 1703 Creators Update) or major release of Windows 10 with its own roaming profile version , then we have a lot of work to do.
Below we want to bring you a few more interesting articles about Windows Profiles :
– Server-saved profiles available on file server (without logging in)
– Set security permissions for server-saved profile directories correctly
– Profile error message "You were logged in with a temporary profile."
– Takeown and parameters – Ownership of folders and files
– Administrator access to .V2 profiles
– Only TEMP Profile directory available after login (Error 1515)