Microsoft has just released update KB4524570 for Windows 10 version 1903 and version 1909 . This cumulative update  KB4524570 is responsible for both Windows 10 version 1903 and 1909 and, depending on the version used, increases the build number to  build 18362.476 or 18363.476 .
Since Windows 10 Version 1909 is only a service pack for Windows 10 Version 1903, the updates for Windows 10 Version 1903 that are now available are also responsible for Windows 10 Version 1909. There will be no more distinctions here in the future.
All bug fixes also apply to both versions. Microsoft has integrated the following content into the update KB4524570 .
The KB4524570 update fixes a problem in the keyboard lock subsystem where the key input may not be filtered properly.
It helps protect against the vulnerability "Intel® processor machine check" (CVE-2018-12207). Use the registry setting as described in the KB Guide. (This registry setting is disabled by default.)
It also provides protection from the Intel® TSX (Transactional Synchronization Extensions) vulnerability when transaction is aborted asynchronously (CVE-2019-11135). Use the registry settings as described in the Windows Client and Windows Server articles. (These registry settings are enabled by default for Windows Client OS editions and Windows Server OS editions.)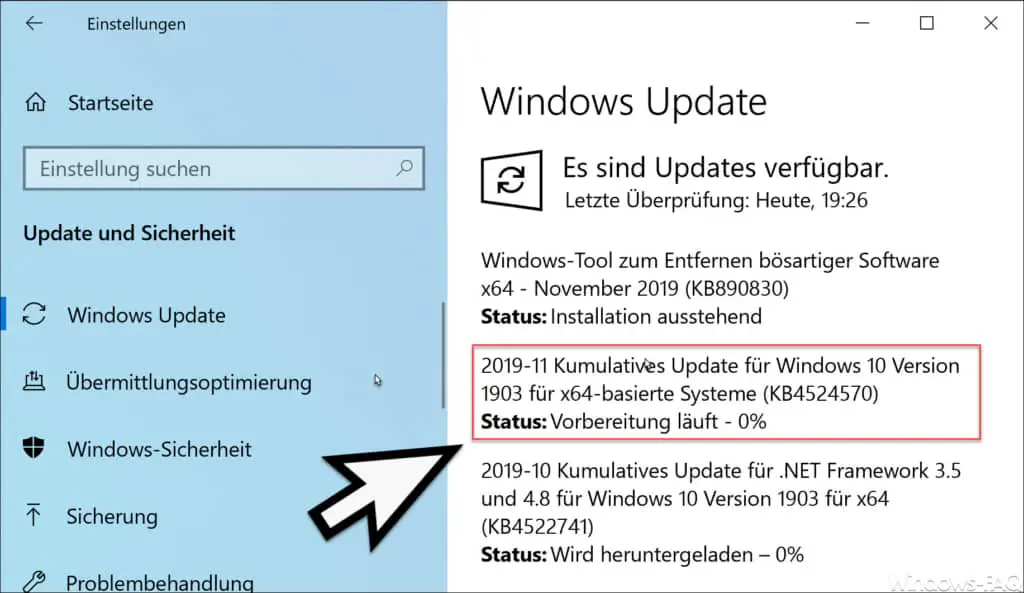 In this update KB4524570 there are also numerous security updates for Microsoft Scripting Engine, Internet Explorer, Windows App Platform and Frameworks, Microsoft Edge, Windows Basics, Windows Cryptography, Windows Virtualization, Windows Linux, Windows Kernel, Windows Datacenter Networking and Microsoft JET Database engine included.
Unfortunately there are already known problems with the update KB4524570. These apply to 1903 and 1909:
Problem with update KB4524570:
When setting up a new Windows device in the out-of-box environment (OOBE) , you may not be able to create a local user using the Input Method Editor (IME) . This problem may affect you if you use the IME for Chinese , Japanese, or Korean.
NOTE: This problem does not affect using a Microsoft account during OOBE.
Possible solution:
To fix this problem, set the keyboard language to English during user creation, or use a Microsoft account to complete OOBE. You can reset the keyboard language to your preferred language after user creation. Once the OOBE is complete and you are on the desktop, you can rename the current user using these instructions. If you want to create a new local user, see KB4026923 .
Microsoft is working on a solution and will provide an update in an upcoming version.
Below you will find the direct KB4524570 download links :
Windows 10 version 1903:
– 2019-11 Cumulative Update for Windows 10 Version 1903 for x64-based Systems (KB4524570)
– 2019-11 Cumulative Update for Windows 10 Version 1903 for x86-based Systems (KB4524570)
– 2019-11 Cumulative Update for Windows Server 2019 Version 1903 for x64-based systems (KB4524570)
Windows 10 version 1909:
– 2019-11 Cumulative Update for Windows 10 Version 1909 for x64-based Systems (KB4524570)
– 2019-11 Cumulative Update for Windows 10 Version 1909 for x86-based Systems (KB4524570)
– 2019-11 Cumulative Update for Windows Server 2019 Version 1909 for x64-based systems (KB4524570)