Microsoft released update KB4015552 for Windows 7 and Windows Server 2008 R2 tonight . This is the " April 2017 – Preview of the monthly quality rollup for Windows 7 and Windows Server 2008 R2 " update, as you can see below.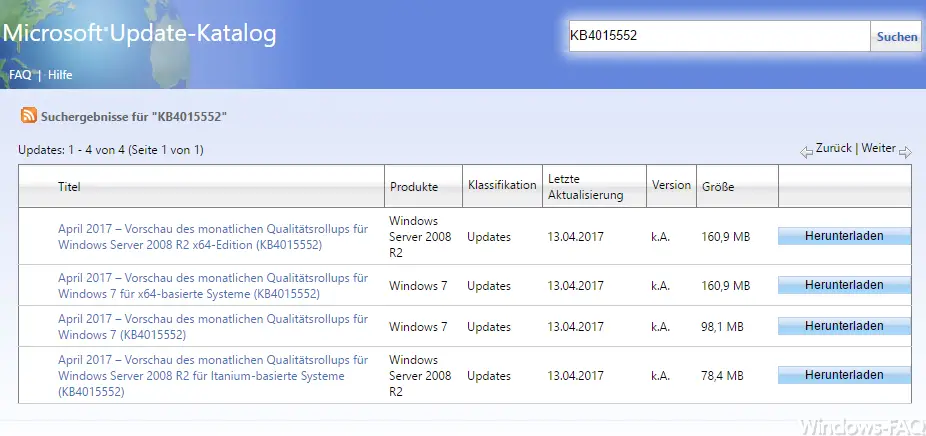 The update KB4015552 is an update rollup and contains some quality improvements and is a preview of the next monthly rollup update from May 2017. Before you can install this update KB4015552 , you must have installed the update KB976932 , which is Service Pack 1 for Windows 7 and Windows Server 2008 R2 is. A Service Pack 2 for Windows 7 has never officially been released, the update KB3125574 takes over this task as a so-called " convenience rollup ".
This new update is relatively small and, depending on the operating system version, ranges between 78 – 161MB . The update KB4015552 is distributed via the normal Windows Update function or you can download it via the link at the end of this entry via the Windows Update Catalog .
The following bugs have been fixed in this update:
Improve the reliability of dual controller storage systems .
Addressed issue with V2 Message Queuing (MSMQ) counters returning data after a clustered resource failure or failover.
Problems with updating  time zone information have been fixed.
However, there are still problems with this update in connection with AMD Carrizo DDR processors. Microsoft is currently working on a solution and should publish this with the next update.
You can download the appropriate update KB4015552 here below:
– Download April 2017 – Preview of the monthly quality rollup for Windows 7 and Windows Server 2008 R2 KB4015552