Today (April 18th , 2017 ) TrendMicro has released the new, critical patch 11.0.6325 for the OfficeScan 11 Service Pack 1 virus scanner . This critical patch appears to be available for all OfficeScan language versions, because the file name of the patch is as follows:
osce-11-sp1-patch1-win-all-criticalpatch-6325.exe

The update is relatively small and has a size of just under 15MB. Apparently this patch is so current that there is no information about it yet. The readme file , which can be found under the " Documentation & Support " area, does not currently work. We suspect TrendMicro will release the necessary information about this OfficeScan patch 6325 shortly.
Nevertheless, we have already downloaded the installation program and installed this hotfix 11.0.6325 on our test system, as you can see below.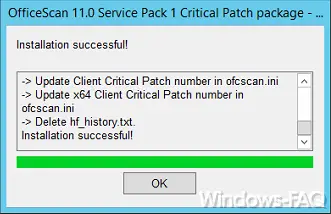 Due to the relatively small file size, the installation runs very quickly. There are no queries to be answered during the installation. It was also not necessary to restart the OfficeScan 11 server . The server immediately started updating the corresponding OfficeScan clients to the latest OfficeScan version "11.0.6325 Service Pack 1" . A corresponding hard copy of the latest OfficeScan client can be seen here below.

We cannot yet say exactly whether this update has anything to do with the appearance of the Windows 10 Creators Update . We were also unable to find any new settings within the OfficeScan server console . As soon as TrendMicro has provided the appropriate patch information, we will report it here and tell you which bugs have been fixed and new features have been added. The corresponding download link can be found at the top of this post when you click on the file name.
Comments from April 19, 2017:
TrendMicro has now fixed the error regarding the readme file. The following information about update 6325 has been released. 
Adjustments in patch 6325:
Some security issues have been fixed in this patch. Among other things, the update ensures that encrypted passwords are secure during web console sessions. So far, it was probably the case that encrypted passwords for the use of the OfficeScan console could be read and thus unauthorized persons could gain access to the server console. Furthermore, the Web Repuation Service (WRS) could lead to incorrect website blocking and incorrect warning pages were displayed accordingly.
As already suspected, there is no information about the Windows 10 Creators Update .
If you are interested in further information about Trend Micro OfficeScan , please take a look at the following amounts here on Windows FAQ.
– OfficeScan 11 SP1 German version with patch to version 6245
– OfficeScan XG server installation and OfficeScan client 12.0.1222
– OfficeScan XG
– OfficeScan patch 6134 released
– OfficeScan patch 6242 build 11.0.6242 SP1 with anniversary support
– OfficeScan client 11.0.6178 Service Pack 1 – Anniversary Patch
– Error 0x7FFA528670E3 ANOMALY use of REX.w is meaningless – TrendMicro OfficeScan
– OfficeScan Patch 6125 has problems with Windows 10 Clean Installation
– KB3189866 fixes OfficeScan problem with Windows 10
– OfficeScan Critical Patch Installation 5010, 6054 and 6125
– TrendMicro OfficeScan Update 6125 for Windows 10 Anniversary