When calling the latest Windows updates , error code 0x800700c1 can occur under certain circumstances , as you can see here in the following image. The update error code 0x800700c1 and its explanation are very general and it cannot be exactly recognized why the problem is and why this error code appears.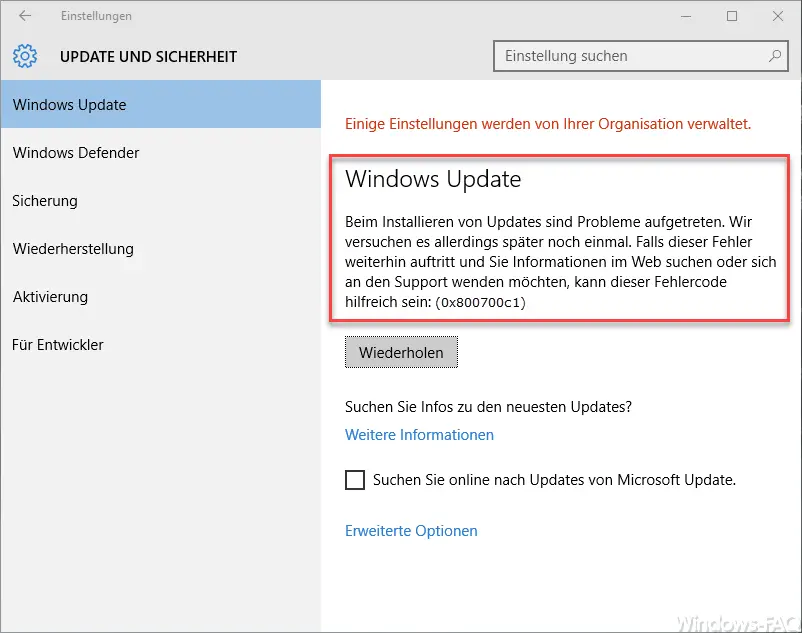 In any case, the update error code 0x800700c1 translates to the following:
This means that the downloaded Windows Update is faulty and therefore not consistent . Either something went wrong during the download or security software is running on your PC , which negatively influences the download of the update or changes the file. As a rule, this is very often caused by antivirus programs, which are said to have discovered malware in the download of the update and thus lead to the incorrect file format.
For this reason, you should briefly deactivate the antivirus program and then start the download again. Of course, you should not forget to reactivate the virus software after the successful installation .
Reset Windows Update Store
Another sensible step would be to reset the Windows Update Store completely if the error 0x800700c1 still occurs. We have already described this in detail in our article " 0xC1900101 – 0x20017 Windows 10 could not be installed " in the section " Reset Windows Update Files ". You should definitely do this, restart the PC once and then carry out the Windows update again. Now the error code 0x800700c1 should no longer occur.
In the past we have already reported numerous Windows Update error codes , maybe the following articles are also interesting for you.
– 0x80070490 Windows Update error code
– 0x8000ffff Windows error code
– 0x80240031 Windows Update error
– 0x8e5e03fa Windows 10 Update error code
– 0x80070003 error code during Windows update
– Windows App Store error code 0x8024500c
– Windows Update error code 0x80240fff
– 0xc1900201 error code for Windows 10 Anniversary Update
– 0x80248007 error code for Windows Update
– Windows Update error code 0x80245006
– 0x80072ee7 error code for Anniversary Download
– 0xc004f014 error code for Windows 10 Upgrade Home -> Pro