If you want to upgrade Windows 10 to the next or a newer Windows 10 feature update, the following error message may occur.
This PC cannot be upgraded to Windows 10.
Your PC is not yet supported by this version of Windows 10. No action is required. This version of Windows 10 will automatically be offered by Windows Update once the problem is resolved.
Below you can see the original error message that we received today during a Windows 10 upgrade from Windows 10 version 1803 to 1903 .
Unfortunately, this error message does not explain why this error message occurs with Windows 10 Upgrade. Some system component prevents the update from 1803 to 1903. However, we have heard of numerous cases on the Internet that this error message occurs again and again when upgrading from other Windows 10 versions.
Software checked
First, we checked whether special software could prevent a Windows 10 upgrade. This was not the case since no special software was installed on the PC, it was a clean installation of 1803 .
Hardware components checked
It was the same with the connected hardware. There were no special devices connected via USB that could have negatively affected a Windows 10 upgrade.
Windows update and last SSU update installed
Subsequently, the still missing updates were installed within the installed feature update 1803 and additionally installed the currently available SSU update (Service Stack Update) for 1803. In case of upgrade problems, it is generally advisable to install the last service stack update of the installed Windows 10 version before upgrading to a newer feature release . In our case, it was the SSU update " 2019-07 Servicing Stack Update for Windows 10 Version 1803 for x64-based Systems (KB4509094) ".
Windows 10 feature update without Windows updates
We then upgraded to Windows 10 directly from a downloaded ISO file from Windows 10 version 1903. In doing so, we did not search for updates during the installation process, as you can see below.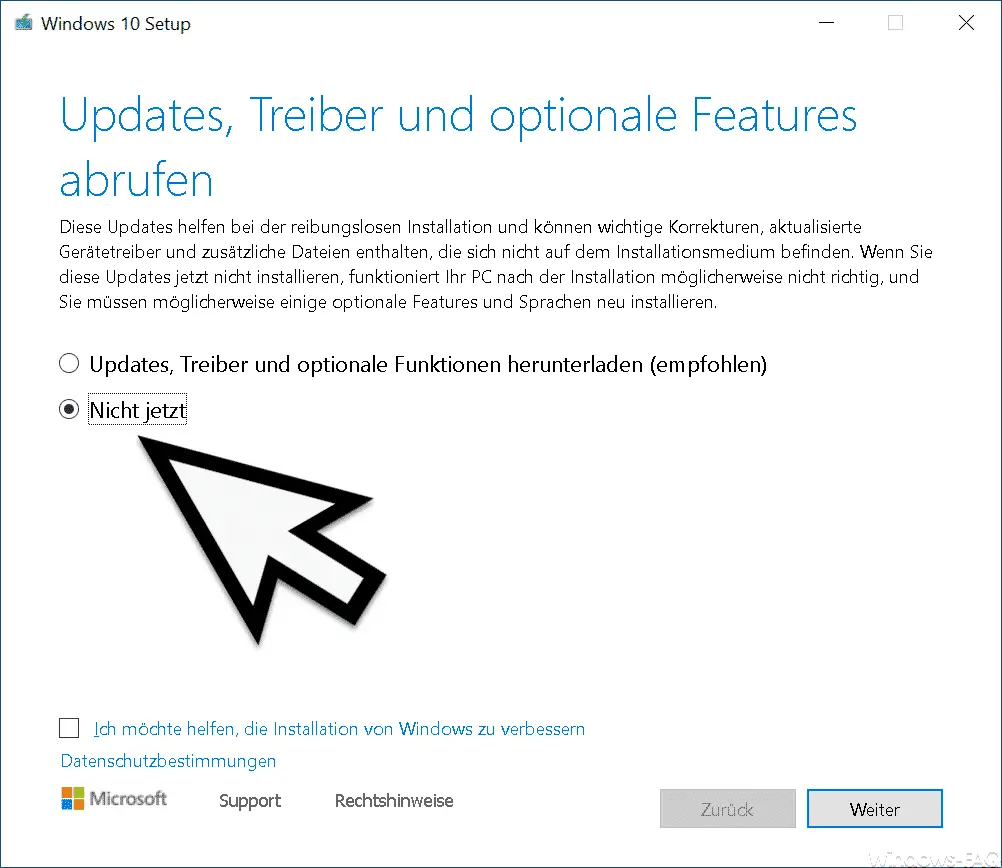 Now the upgrade to Windows 10 version 1903 could also be installed without any problems and the above error message no longer appeared.
You can find more information about many other Windows Update error codes here.
– Windows Update error code 0x8024001f
– Error code 0x80246017 with Windows Update
– Error code 0x80246008 with Windows Update
– Windows Update error code 0x80070BC9
– Error code 0x80072EFE when installing .Net Framework 3.5
– Windows Update error code 8007000E
– Error code 0x80246001 with Windows Update
– Windows Update error code 0x800c0002
– Windows Update error code 0x80070157
– 0x8024000E error code with Windows Update – XML Data Error
– Windows Update error code 0x8007007e
– Windows error code 0x80070570
– Windows 10 Upgrade error code 0x80190001
– 0x800704B3 error code with Windows Update
– Windows Update error code 0x8024a20617
– 0x80070017 error code with Windows Update
– The Windows Store- Cache may be corrupted
– Windows Update error code 0x80072F76 – 0x20017 when running the Media Creation Tool
– 0x8024a223 error code during Windows Update