Microsoft has unfortunately built in Windows 10 in Windows Explorer and when using third-party browsers a kind of advertising window , which most users find unnecessary and annoying. An advertisement for the extension of OneDrive is displayed in Windows Explorer, as you can see below.

The exact message is:
Get the best deal on your cloud storage with OneDrive
For $ 6.99 a month, an Office 365 subscription gets you 1 TB (1000 GB) of OneDrive cloud storage as well as Word, Excel to PowerPoint.
This advertising display is just as annoying as the advertising that is partially displayed when you use an Internet browser other than the Edge browser . Here is an example when using the Google Chrome browser under Window 10 Version 1607 Anniversary.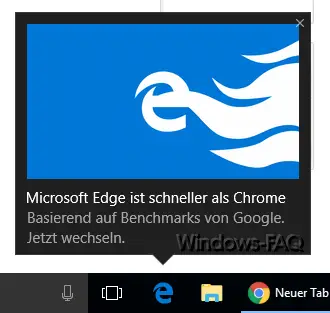 " Microsoft Edge is faster than Chrome. Based on Google benchmarks. Change now. "
It is not understandable why Microsoft expects users to do this. In our opinion, this type of advertising is unbearable and should definitely be switched off.
Turn off Edge Browser advertising
We would like to show you below how you can switch off the advertisements for the Windows 10 Edge browser . To do this, you have to open the " Windows Settings " app using the Windows key + "I", then click on " System " and go to " Notifications and Actions " in the left area . Then the following settings window for the Windows notifications appears .
Relatively far below you will find the setting marked in the picture.
Get tips, tricks and suggestions when using Windows. 
By default, this option is set to " On ". If you set this option to " Off ", the Edge advertising windows will no longer be shown. The changes take effect immediately; a restart or new registration is not necessary.
Disable OneDrive advertising in Explorer
If you also want to deactivate the advertisements regarding OneDrive in Windows Explorer , you have to change a setting directly in Explorer. To do this, you have to select the " View " and " Options " items and switch to the View tab, as can be seen in the image below.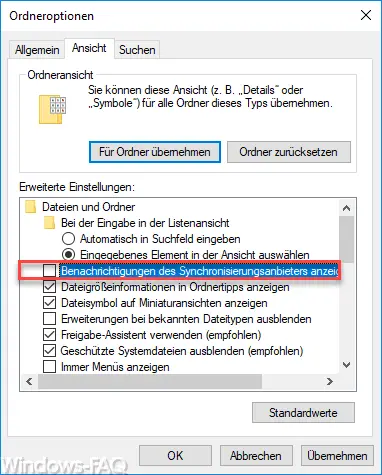 There is the setting point
View notifications from the synchronization provider.
This setting is enabled by default. As soon as you have deactivated this, the annoying advertising messages for Microsoft OneDrive will no longer be displayed.