Anyone who has forgotten their WiFi password does not have to despair or set a new one in their WiFi router or smartphone. We reported a while ago about a tool that you can use to display your existing WiFi password.
Today we want to show you that this even works with Windows board tools and a simple command. To do this, you should open the DOS prompt (Windows key + "X") with administrator rights and then enter the following command:
netsh wlan show profile name = WLANNAME key = clear
It is important that you replace the variable "WLANNAME" with the name of your WLAN. After sending the DOS command, the following display appears: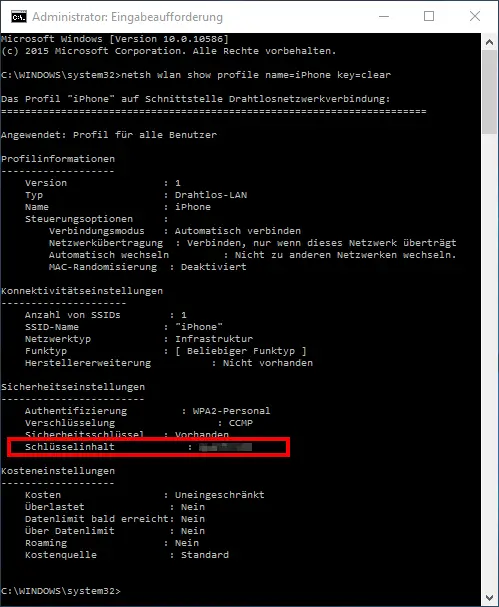 As you can see, the most varied information about your WLAN is revealed here.
Profile information (version, type, name, control options, connection mode, network transmission, MAC randomization)
Connectivity settings (number of SSIDs, SSID name, network type, radio type, manufacturer extension)
Security settings (authentication, encryption, security key, key content)
Cost settings (costs, overloaded, data limit reached soon, over data limit, roaming, cost source).
In the " Security Settings " area there is the item " Key content ". We marked it red in the picture above. The WLAN key set is displayed in plain text here. As we find a very easy way to get your own WiFi password.
You can find more interesting articles on the subject of "passwords" and security here:
– Reset administrator password
– Reset Windows password of a Hyper-V VM
– Security check for passwords
Below we want to bring you a few more interesting DOS commands:
– Find out the Windows product
key via DOS command or PowerShell – Rundll32 command – Parameters and explanations – List
Windows drivers with the Driverquery.exe
command – Quickly deactivate the Windows firewall
– "Sticky Notes" for Windows 7, 8 and Windows 10