The Windows 10 update problems just don't stop , even with the KB3194798 update released yesterday, there is another problem with the installation. Today we installed a Windows 10 1607 Anniversay system for test purposes and then immediately installed the already popular  KB3197356 update . This worked flawlessly and easily.
Then we called the Windows Update function and the following error message appeared: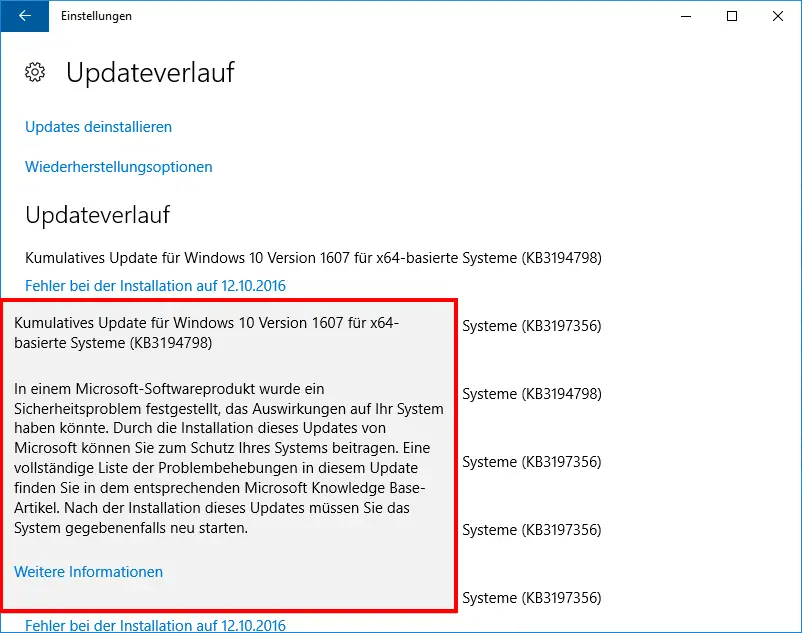 Cumulative Update for Windows 10 Version 1607 for x64-based System (KB3194798)
A security issue has been identified in a Microsoft software product that could affect your system. By installing this update from Microsoft, you can help protect your system. For a complete list of the fixes in this update, see the corresponding Microsoft Knowledge Base article. After installing this update, you may have to restart the system.
It is still completely unclear why this error message occurred. Strangely enough, you can also see in the picture that he tried several times to install the update KB3197356, but each time the same error message occurred. After restarting the Windows 10 system, the following error message appeared:

"Cumulative Update for Windows 10 Version 1607 for x64-based Systems (KB3194798) – Error 0x80070002"
As already reported, it is unfortunately still completely unclear why and why the problems arise. However, we received the message from some readers that there are problems again when downloading the update and that the download simply gets stuck at different% rates .
We will report again as soon as we have learned more.