The update error code 0x80070643 occurs very often when downloading and installing the Windows updates. Many users have to struggle with the error again and again and we want to show you today what the problem may be.
Here is the exact error message that occurs when installing the Windows 10 updates.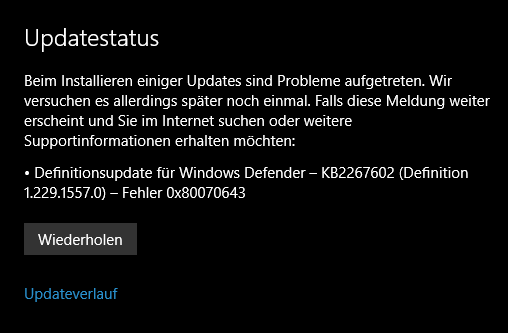 The exact error message is:
 Update status – There were problems installing some updates, but we'll try again later. If this message continues to appear and you want to search the Internet or receive additional support information:
Definition update for Defender – KB2267602 (definition 1.229.1557.0) – error 0x80070643
Solution to error 0x80070643
First, we tried the entire standard program to fix the bug. So PC restarted, Windows Temp folder deleted, Temp folder of the user in Appdata Local deleted, Windows Update Store (folder software distribution) emptied etc.
None of these measures were successful, and no instructions that could be found in forums were promising.
Finally, we looked at the status of Windows Defender and found that it was disabled .

We then simply restarted it via " Activate " and carried out the Windows update again. And lo and behold, the update was easy to install.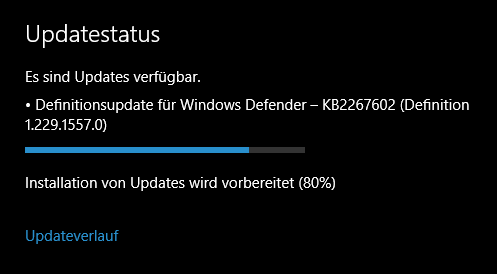 We cannot understand why the update cannot be installed when Windows Defender is deactivated . Once again an unnecessary problem that already plagued Windows 10 users are struggling.
Note from 02/28/2017: Apparently Microsoft has enormous problems distributing the current Defender updates to the clients today. A large number of users report problems and the error message 0x80070643 when installing the Defender updates.
Below we have listed some more interesting information about other Windows Update errors:
– 0xc1900201 error code for Windows 10 Anniversary Update
– 0xc004f014 error code for Windows 10 Upgrade Home -> Pro
– 0x80072f8f error code for Windows Update fix
– 0x80072efd error code for Windows 10 solution
– Error code 0x80240020 when upgrading Windows 10
– 0x80072ee7 error code when downloading Anniversary