As a rule, every Windows user can select , activate or deactivate his or her screen saver . However, it is sometimes desirable that all network users use the same screen saver and that it cannot be changed.
Microsoft also provides a suitable screensaver GPO, which you can find in the GPO path
User Configuration / Administrative Templates / Control Panel / Customization  
finds. The name for this GPO is
Force certain screensavers
We have shown you this GPO completely below.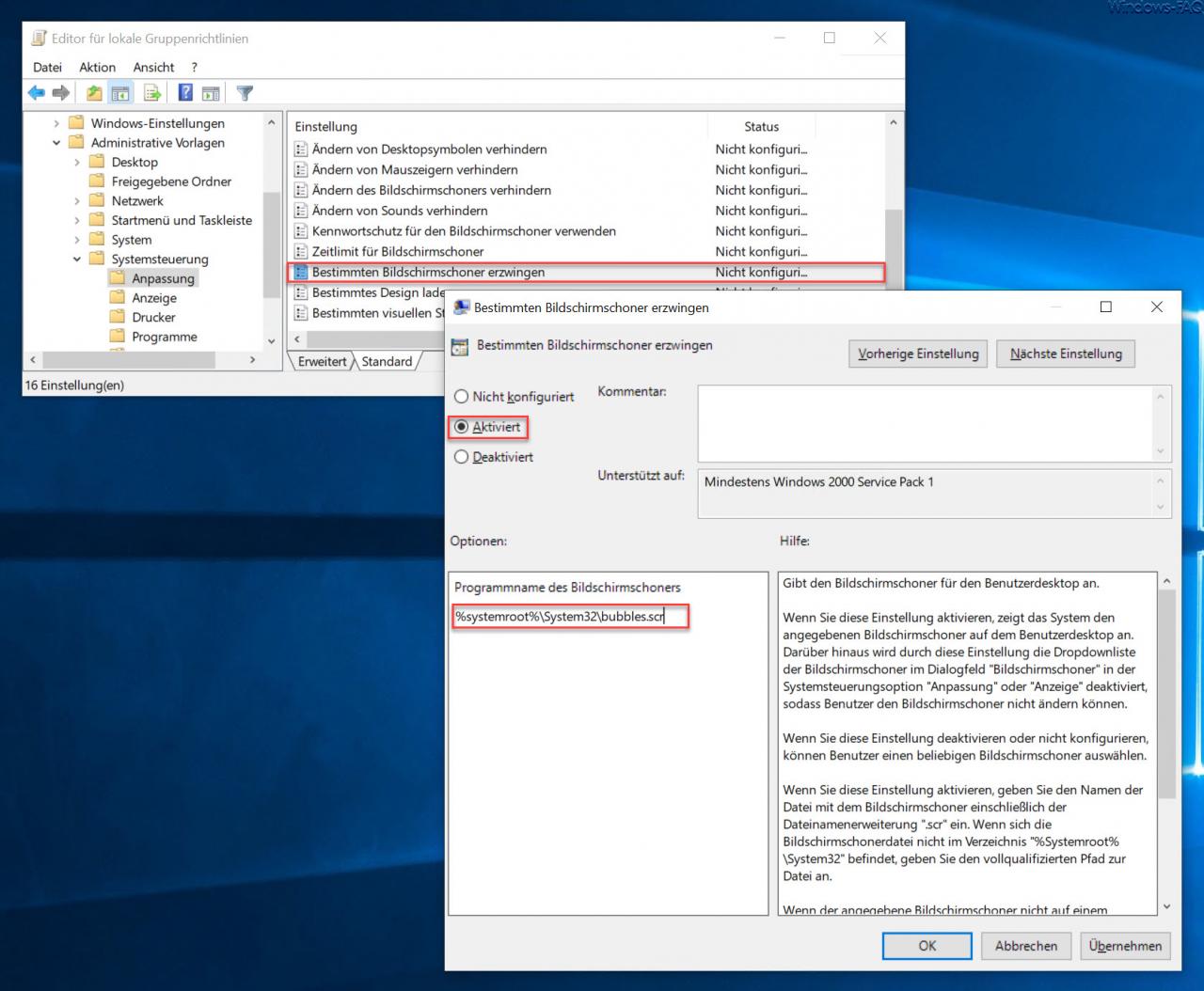 If you activate this GPO, the exact path of the
.SCR
File can be specified. These ".scr" files are the special screensaver files that Microsoft also ships with every version of Windows. These are all in the Windows system directory
& Systemroot% System32
as you can see here in the picture below.

The following .SCR files are available.
Bubbles.scr – soap bubbles
Mystify.scr – Mystify
PhotoScreensaver.scr – Photo screensaver with slide show function
Ribbons.scr – grinding
Scrnsave.scr – black screen
ssText3D.scr – 3D text display
Of course, you can also download other .SCR files from the Internet and make them available on a network share in order to then integrate them with the clients.
Microsoft has released the following information about this screensaver group policy .
Specifies the screensaver for the user desktop.
If you activate this setting, the system displays the specified screen saver on the user desktop. In addition, the drop-down list of screen saver in the dialog box "is the setting screen saver " in the Control Panel option " adjustment " or " display " disabled so that users can not change the screen saver.
If you disable or do not configure this setting, users can select any screen saver.
If you activate this setting, enter the name of the file with the screen saver including the file extension ".scr" . If the screensaver file is not in the % Systemroot% System32 directory , provide the fully qualified path to the file.
If the specified screen saver is not installed on a computer to which the setting applies, the setting is ignored.
Note: The setting " Activate screen saver " has priority over this setting. If the Enable Screen Saver setting is disabled, this setting is ignored and no screen savers are run.
In another post here on Windows FAQ, we also described how you can " prevent changing the screen saver in Windows ".