Outlook is an integral part of everyday email communication. Nevertheless, we often get questions such as how an email including all attached files can be printed . This is particularly useful when there are many files attached to the email and it is not necessary to open and print each individual attachment.
In this short guide we would like to show you how you can print out an email and all file attachments such as PDF, Word or Excel documents, images, text files, etc. in one process .
Print out email and all attachments
First of all, it is best to call the Outlook printing process with the key combination

CTRL + P on. If you click on " Print " here , only the content of the email will be output on the set printer. But if you want to print all file attachments , you also have to click the button
Print options
press as shown in the following picture.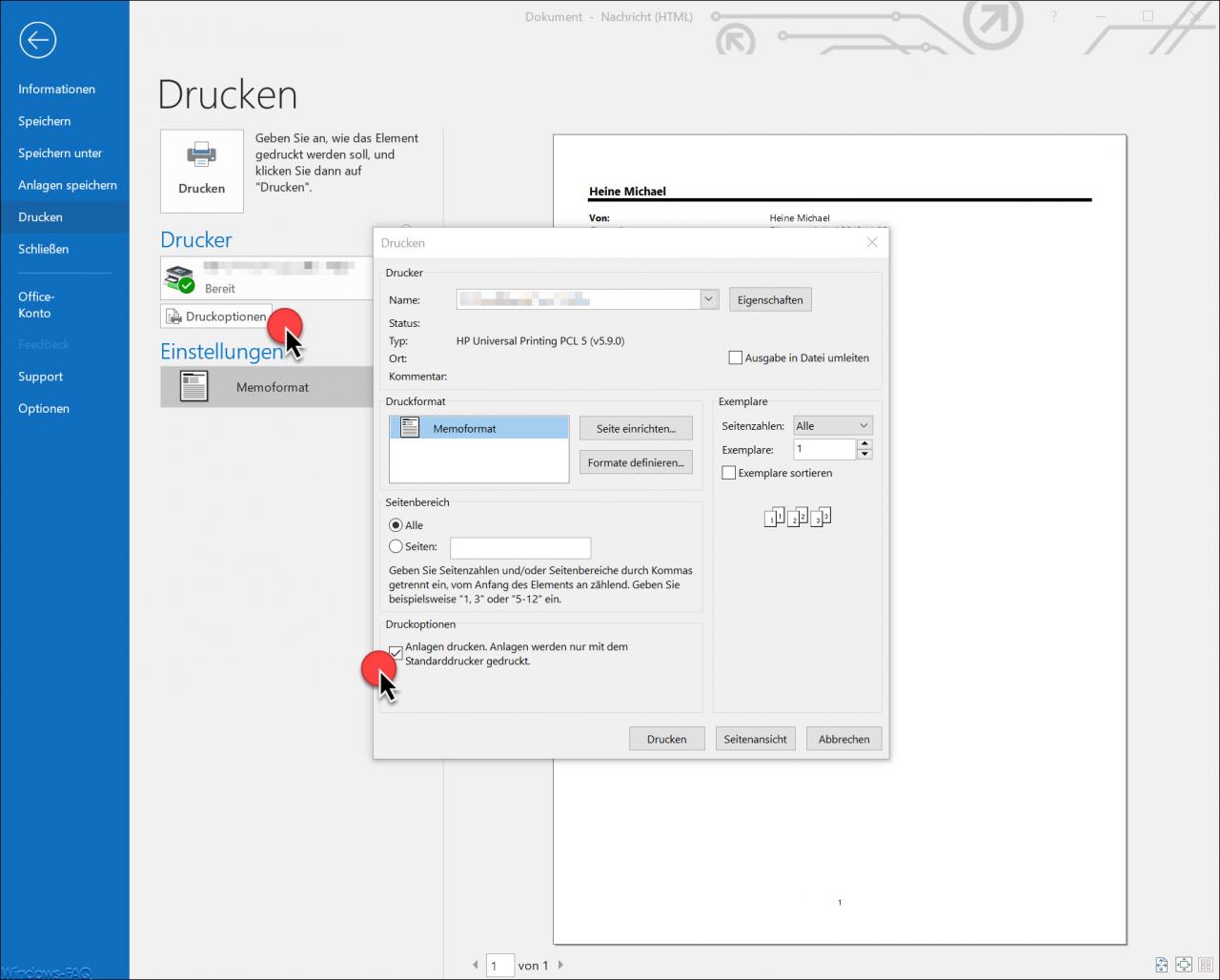 Then another print window appears in which several functions are available. On the one hand , you can specify the print format for printing , you can enter the page numbers to be printed or you can also determine how many copies of the email should be printed out.
The option that the attachments also print out is at the bottom of this mask and is called
Print options Print
attachment. Attachments are only printed on the standard printer.
In this case, of course, this option must be " activated ". If you now start printing, not only the content of the email is printed, but also all file attachments . It can happen that Windows opens programs that are defined as standard programs for the respective file types, for example, for PDF files, the Adobe Acrobat Reader is opened. By the way, these programs remain open after printing and you have to close them manually.
Then you will find a few more articles on the topic " Microsoft Outlook ".
– Call E-mail features in Outlook 2016 / Office 365
– In Outlook size determine the mailbox or individual folders
– In the Outlook e-mail delivery delay
– Useful keyboard shortcuts for Outlook
– Sent email to retrieve Microsoft Outlook
– A client operation failed – Microsoft Outlook
– shrink or compress Outlook PST file –
activate spell check in Outlook
– create backup of Outlook PST file
– convert Outlook OST file to PST file with OST2
– mailbox export to PST files at Exchange Server
– Exchange 2007 mailboxes in
Export PST file – SCANPST – Outlook .PST file repair tool
– Outlook error messages 0x800CCC90 and 0x800CCC92
– Outlook error message "The Operation failed. An object cannot be found. "