Emails are an integral part of everyday PC use. Many of us send numerous emails a day. The large number of emails can also lead to errors or oversights , so that the sender would like to retrieve or delete the email just sent .
This retrieval of emails is also relatively easy in Outlook and we would like to show you how you can do this.
Retrieve emails in Outlook
To do this, simply open the email again in the " Sent Items " folder and click on the tab
message
on the icon
Further move actions
We have illustrated the process in the e-mail here below.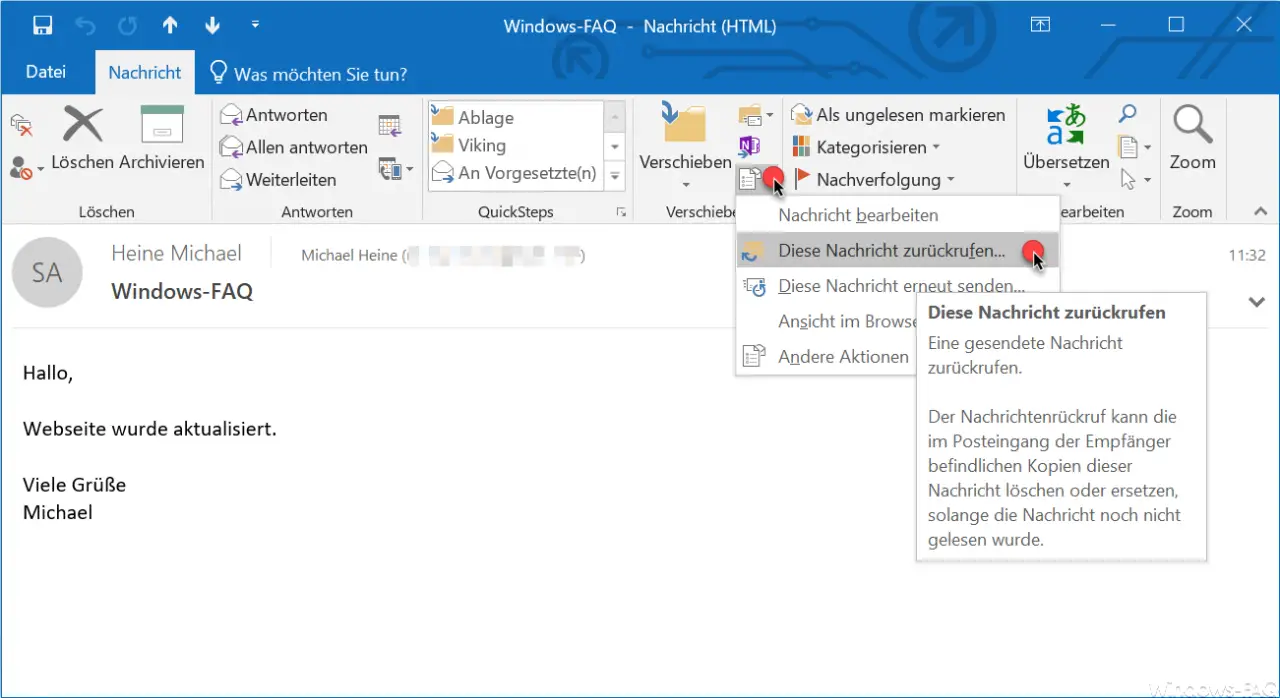 After you have clicked on the icon , you have to call the following option.
Call this message back …
So that you are able to recall the email . This message recall can delete or replace the copies of this message in the recipient's inbox, but only as long as the message has not yet been read. Then the following window appears with the title " Some recipients may have already read this message. ".
Here you can now choose between the following options :
Delete unread copies of this message.
Replace unread copies with a new message.
As an additional option, you can then tick the box whether the result of the message recall should be communicated to the recipients.
Whether the recall of the email is successful, however, cannot be answered in advance because the recipient (s) may have already read the email. The faster you try to retrieve the faulty emails, the greater the success rate .
You can find more articles on the topic of "Microsoft Outlook" here:
– A client process failed – Microsoft Outlook
– Outlook PST file reduced or compressed
– Activate spell check in Outlook
– Backup the Outlook PST file
– Convert Outlook OST file to a PST file with OST2
– Mailbox export to PST files on the Exchange Server
–
Export Exchange 2007 mailboxes to PST file – SCANPST – Tool to repair Outlook .PST files
– Outlook error messages 0x800CCC90 and 0x800CCC92
– Outlook error message "The Operation failed. An object cannot be found. "