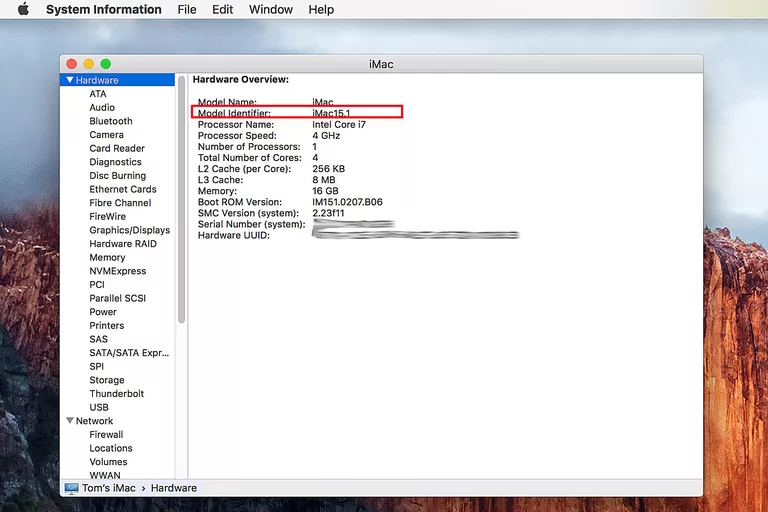 The CD firmware restore process applies to certain older Intel-based Macs equipped with built-in CD/DVD drives.
Restoring Mac firmware is the process of restoring your Mac's internal firmware to a known good state. This is a basic method to fix an update that is having problems, is corrupted or does not complete.
Apple does supply updates from time to time, and while few people have trouble installing them, problems do occur. The most common problems are encountering a power outage during the installation process or shutting down your Mac during installation.
Many Intel Macs that include a built-in CD/DVD drive can restore corrupted firmware to a known good state using a Firmware Restore CD available from Apple. Apple supplies the firmware as a download. You supply the CD.
Get the Model Identifier of your Mac
There are six different firmware restore files that cover various Mac models. Before you can use the downloadable file, you must copy it to a CD or DVD. So if something goes wrong during an update, restart your Mac from the Firmware Restore CD, and your Mac replaces the corrupted firmware with the known good version.
To match your Mac to the correct file, you need to know your Mac's Model Identifier, which you can find by following the steps below.
From the Apple menu, select About This Mac .
Click the More Info button .
If you're using OS X Lion or later, click the System Report button to open the System Information window. If you're using an earlier version of OS X, it's already open at this point.
In the left pane, select Hardware
Locate the Model Identifier near the top of the right pane under Hardware Overview .
Type in the Model Identifier and use it to find the correct Firmware Restore file for your Mac.
Which Mac firmware restore file to download?
Depending on the Model Identifier you have registered, select the correct firmware download:
Firmware Restore 1.9: Use with MacPro5,1 Model Identifier
Firmware Restore 1.8: Use with Model Identifier MacPro4,1, Xserve3,1
Firmware Restore 1.7: Use with iMac4,1, iMac4,2, MacMini1,1, MacBook1,1 Model Identifiers: MacBookPro1,1, MacBookPro1,2, MacBookPro3,1
Firmware Restore 1.6: Use with Model Identifiers Xserve2,1, MacBook3,1, iMac7,1
Firmware Restore 1.5: Use with MacPro3,1 Model Identifier
1.3. Firmware 1.4 Restore: Use with model identifiers iMac5,1, iMac5,2, iMac6,1, MacBook2,1, MacBookPro2,1, MacBookPro2,2, MacPro1,1, MacPro2,1, Xserve1,1
If you don't see your Mac's model number listed here, you may have an Intel Mac that doesn't support firmware restoration via CD. Newer Intel Macs don't use a restore CD.
Creating the Firmware Restore CD
Before you can restore the firmware on your Mac to its original state, you must first create a Firmware Restore CD. The following steps will guide you through the process.
Download the appropriate Firmware Restoration version .
Start Disk Utility located in Applications > Utilities .
Click the Burn button on the Disk Utility toolbar or select Burn from the Pictures menu .
Navigate to the Firmware Restore file on your Mac. It's usually located in the Downloads folder . Select the file and click the Burn button .
Insert a blank CD or DVD. A CD is large enough to hold the data, so there is no need to use a DVD.
After inserting the CD, click the Burn button to create the Firmware Restore CD.
Using the Firmware Restore CD
Before you begin the restore, make sure your Mac is powered by an AC outlet. Do not attempt to restore firmware on a laptop while it is running on battery power.
If your Mac is on, shut it down.
Press and hold the Power button on your Mac until the sleep light blinks three times faster, then three times slower, then three times faster (for Macs with sleep lights), or until you hear three rapid beeps , then three slow beeps, then three fast beeps (for Macs without a sleep light).
Holding down the power button, insert the Firmware Restore CD into the Mac's optical drive. If you have a tray-loading optical drive, gently push the tray closed after inserting the CD.
Release the Power button . A long tone indicates that the restore process has started. After a short delay, you will see a progress bar.
Do not interrupt the process, turn off the power, use the mouse or keyboard, shut down or restart your Mac during the restore process. When the update is complete, your Mac will automatically restart.
Firmware restore on newer Macs
When Apple removed the CD/DVD drive from Mac models, the company realized that an alternative method of recovery from a corrupt firmware installation was needed. Apple could have provided the firmware restore system on a bootable USB flash drive, but instead, it rolled the firmware recovery process on the hidden Recovery HD partition that is included with all newer Macs.