As of Windows 10 version 1903 , it is possible with a group policy to defer Windows updates (quality updates) and feature updates (function updates) for a specified number of days , so that the corresponding Windows 10 clients are not updated immediately after the updates appear.
The responsible GPO can be found under the following group policy object
Computer Configuration / Administrative Templates / Windows Components / Windows Update
The GPO is called
Specify deadlines for automatic updates and restarts.
We have shown you this update group policy here below.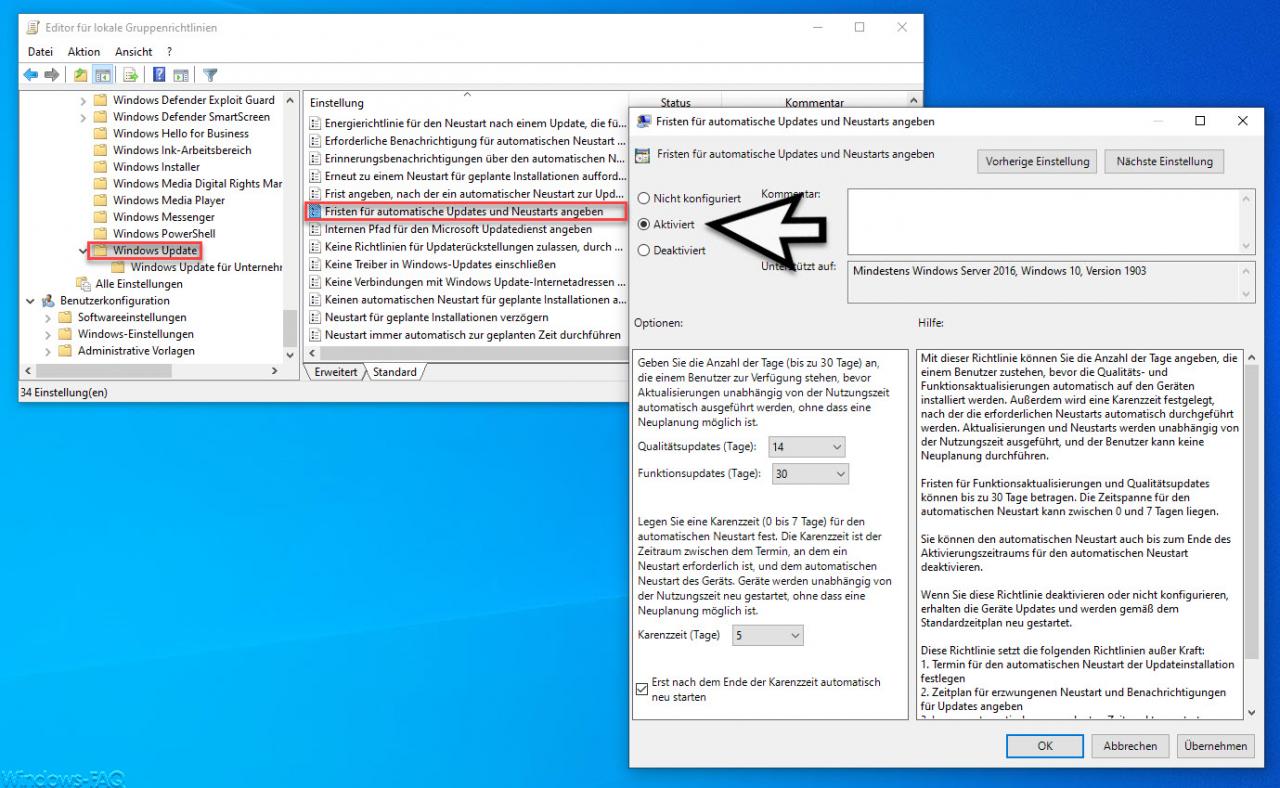 In this GPO you now have the option of specifying the number of days (up to 30 days) available to a Windows 10 user before Windows updates are carried out automatically regardless of the usage time. You can specify separate values for quality updates and function updates.
Furthermore, you can specify a waiting period (0 to 7 days) for an automatic Windows restart. This waiting period is the period between the actually required restart and the automatic restart after the update installation.
In addition, you can tick the box " Restart automatically after the end of the waiting period ".
Microsoft has explained this very extensive update GPO as follows.
This policy allows you to specify the number of days a user is entitled to before the quality and feature updates are automatically installed on the devices. A waiting period is also set, after which the necessary restarts are carried out automatically. Updates and restarts are performed regardless of usage time, and the user cannot reschedule.
Deadlines for function updates and quality updates can be up to 30 days. The time period for the automatic restart can be between 0 and 7 days.
You can also disable automatic restart until the end of the automatic restart activation period .
If you disable or do not configure this policy, the devices will receive updates and will restart according to the standard schedule.
This policy overrides the following guidelines:
1. Set the date for the automatic restart of the update installation
2. Specify the schedule for forced restart and notifications for updates
3. Always restart automatically at the scheduled time
4. No automatic restart with logged-in users for the installation scheduled automatic updates
So you can easily delay the automatic update installation with this GPO .
Below you will find more information about Windows updates.
– Download Windows updates also via clocked connections
– Shut down or restart Windows PC without installing upcoming Windows updates
– Download optional Windows components or apps from WSUS instead of Windows Update
– Delete the Catroot & Catroot2 folder in Windows update problems
– Download settings and Windows Update Upload Limit for Fall Creators Update
– Clear Windows Update History on Windows 10