The Microsoft .Net Framework is the basis for many Windows applications today. Without a working .Net framework, applications will not work properly either. We have about possible. Net Framework error messages and error codes have been reported frequently, you will find a list of our articles about them at the end of this article.
Microsoft has recognized that there are often problems with the .Net Framework installations and therefore has its own
.Net Framework Repair Tool
released. With this repair tool for .Net Framework , frequently occurring problems or damaged .Net Framework installations are recognized and the existing errors are automatically eliminated. The .Net Framework Repair Tool is a small tool with its own user interface. Here you can download the tool for free.
Download Microsoft .NET Framework Repair Tool (netfxrepairtool.exe)
If you are looking for more information about this tool directly from Microsoft, you should take a look at the website " Microsoft .NET Framework Repair Tool is available ".
The .NET Framework repair tool is extremely easy to use. After downloading the file " Netfxrepairtool.exe " simply run the file. The following start window then appears.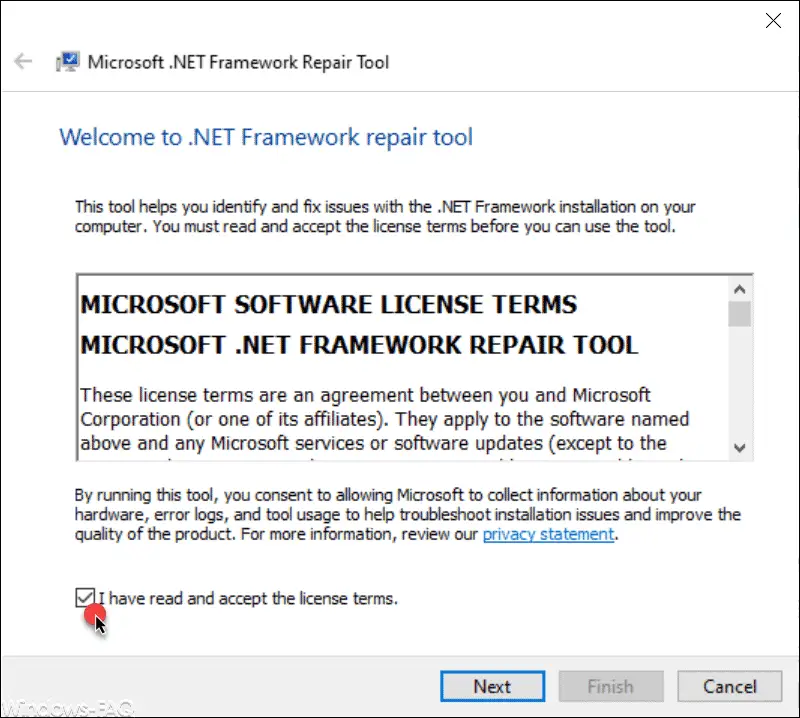 After you have approved the license terms , the program begins with the investigation of the previous .Net Framework installation . This .Net Framework scan usually only takes a few seconds.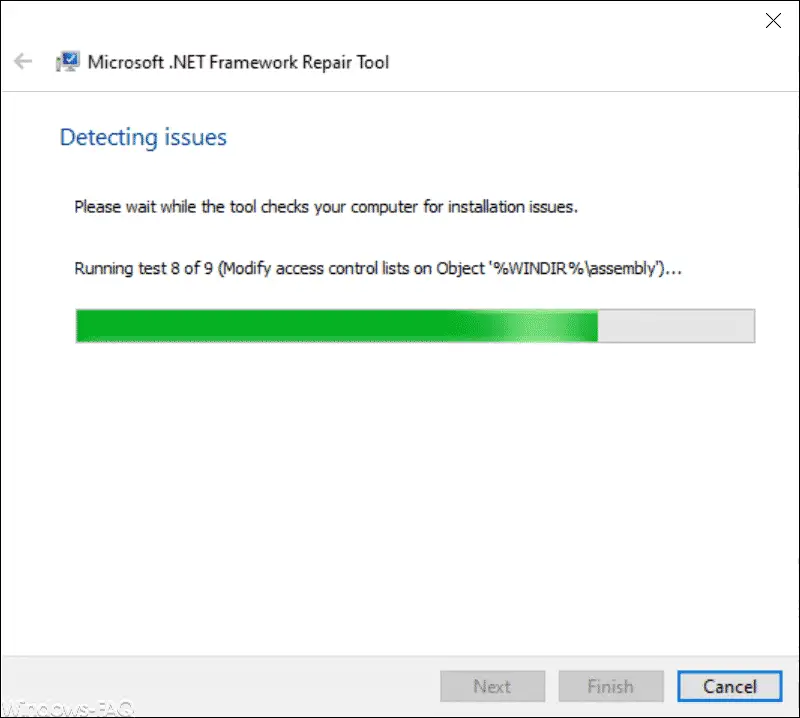 Then the problems and damage found in the .Net Framework installation are shown.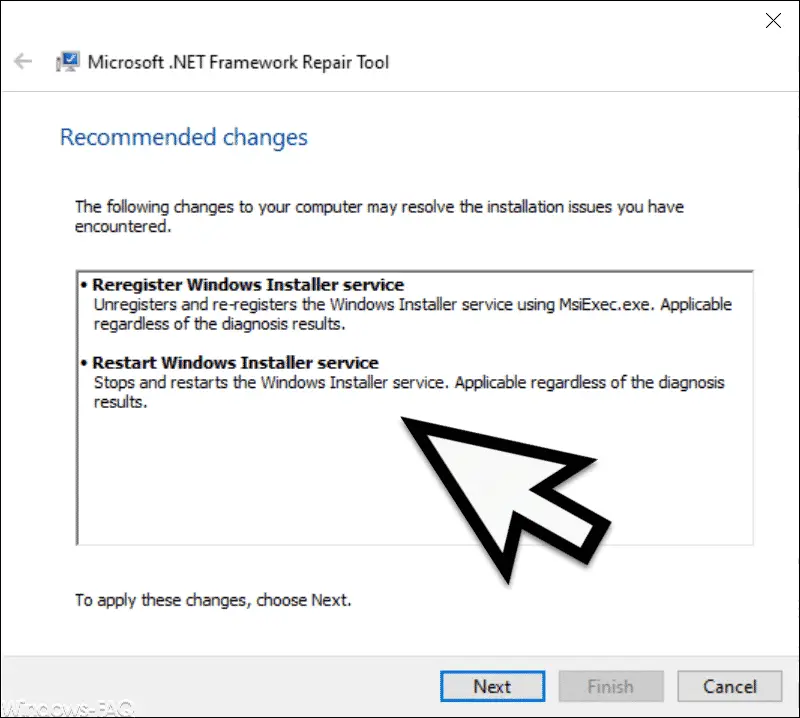 After confirming " Next ", the corrections are carried out on the .Net Framework . If the repair work on the .Net Framework is very extensive, it may be necessary for you to restart Windows after finishing the repair.
.Net Framework Repair Tool parameters
Incidentally, it is also possible to carry out the entire .Net Framework repair without the GUI and to run the program from the command line or command prompt. To do this, start a command prompt as an administrator and call the " Netfxrepairtool " program with the following parameters .
| Parameter .Net Framework Repair Tool | Task of the parameter |
| --- | --- |
| /? | Displays the help of the .Net Framework Repair Tool. |
| / q | Runs the repair tool without user input (quiet mode). |
| / p | Only the progress bar is shown (unattended mode). |
| / a | Offline repair mode. |
| / r | Specification of the .Net Framework version to be repaired. |
| / l | Specify the folder path for the log file. |
| / c | Log collection only. No repairs are carried out. |
| / n | Feedback information is not sent to Microsoft. |
The following is very much the execution of the repair tool with display of the progress bar based on the parameter "/ p" .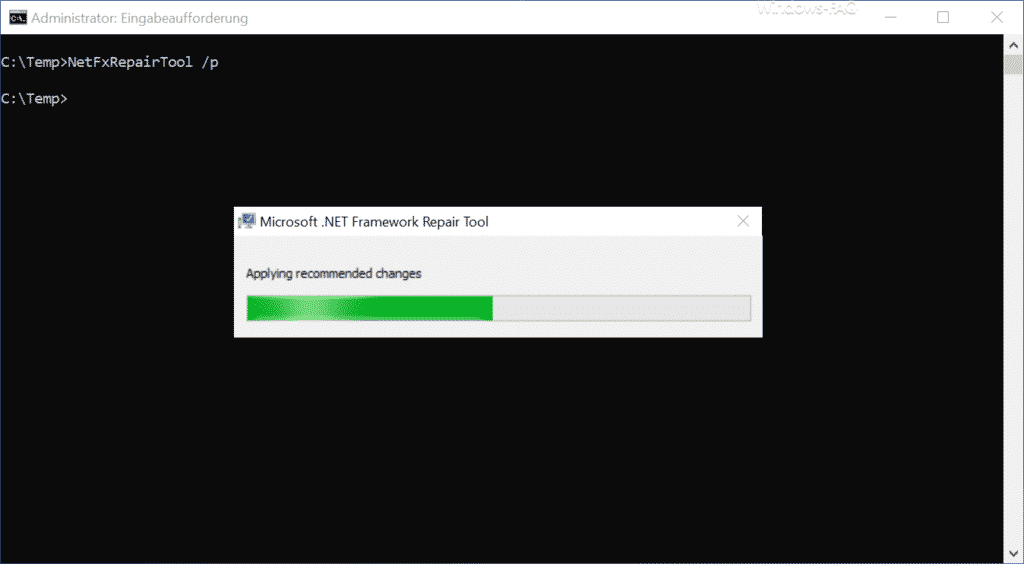 Finally, you will find further articles on the .Net framework and possible bug fixes here.
– 0x800f0805 error code when installing .Net Framework or other Windows features
– error code 0x80072EFE when installing .Net Framework 3.5
– 0x800F0954 error code when installing .Net Framework 3.5
– .Net Framework 4.7 for Windows 7, 8 and Windows 10 Version 1607 Anniversary released
– The BackupExec Management Service could not be started – .NET Framework Update error
– 0x800F0906 error .Net Framework 3.5 installation under Windows Server 2012 R2
– 0x800F0906 error code when installing the .NET Framework 3.5 under Windows 8