The fact that Windows 10 collects a lot of data is well known and goes through the media again and again. Among other things, Windows 10 determines the current location of the device if the corresponding option is set in the Windows 10 settings and saves this information in a history.
This location data is then used by various Windows services and third-party apps to provide country-specific information to the user. For example, news apps can offer local news or the weather can be offered depending on the location. Windows 10 generally stores all of this collected location data for 24 hours and can therefore be evaluated.
For this location determination, Windows 10 uses known WiFi networks near the device or GPS (Global Positioning Service) or the assigned public IP address of the Windows 10 device. As a rule, the determination of the location works very well and reliably, in the Windows 10 settings there is also a possibility to set a standard position if Windows cannot determine an exact position.
You can find all the information you need to activate or deactivate the Windows position history in our entry " Deactivating location services for Windows 10 and Windows Apps ".
Delete position history in Windows 10
However, if you want to delete the entire position history of your Windows PC for certain reasons , you can also do this via the Windows 10 Settings app. To do this, first call the Windows settings using the key combination

Windows key & "I" and then changes to the area
Data protection (location, camera, microphone, etc.)
and then in the left column in the sub-area
position
There you now have the various setting options for Windows position detection .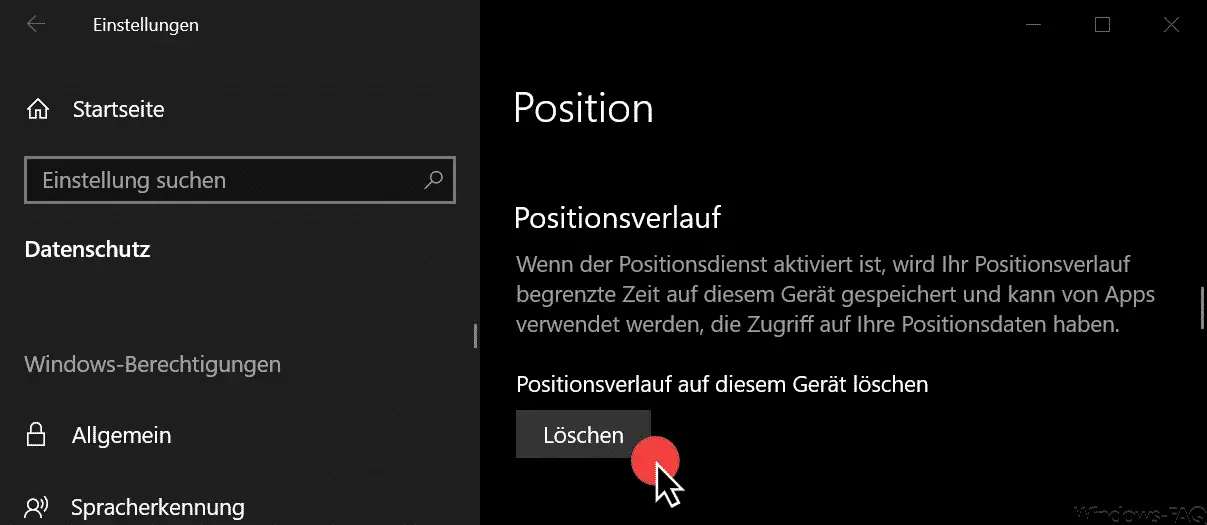 You will find the point relatively far down in the position settings
Position history
Here you have the possibility to delete this Windows position data .
Clear location history on this device
This process only takes a very short time and is marked with a tick behind the delete function as " done ". Then the previously saved device positions are deleted .
You can also find a lot more information on the subject of " Diagnostic data ", " Telemetry data " or data protection in Windows 10 here:
– Deactivate sending of telemetry data in Windows 10 completely
– Delete diagnostic data in Windows 10
– Switch off Windows 10 telemetry and diagnostic data data acquisition
– Deactivate Windows 10 advertising ID (data protection settings)