The monitoring of network printers and copying systems plays an important role for IT departments. In order to identify problems with the installed printers and multifunction devices at an early stage , the use of special software is worthwhile. Today we would like to explain to you one way how you can monitor your printing system very nicely with the PRTG Network Monitor from Paessler .
As standard, the PRTG Network Monitor has the option of monitoring printers and copier systems . For this purpose, the manufacturer provides the user with various sensors with which the IT department can permanently monitor the status of various system functions.
We use the PRTG to monitor numerous functions of all network printers . We usually create the following sensors for each device.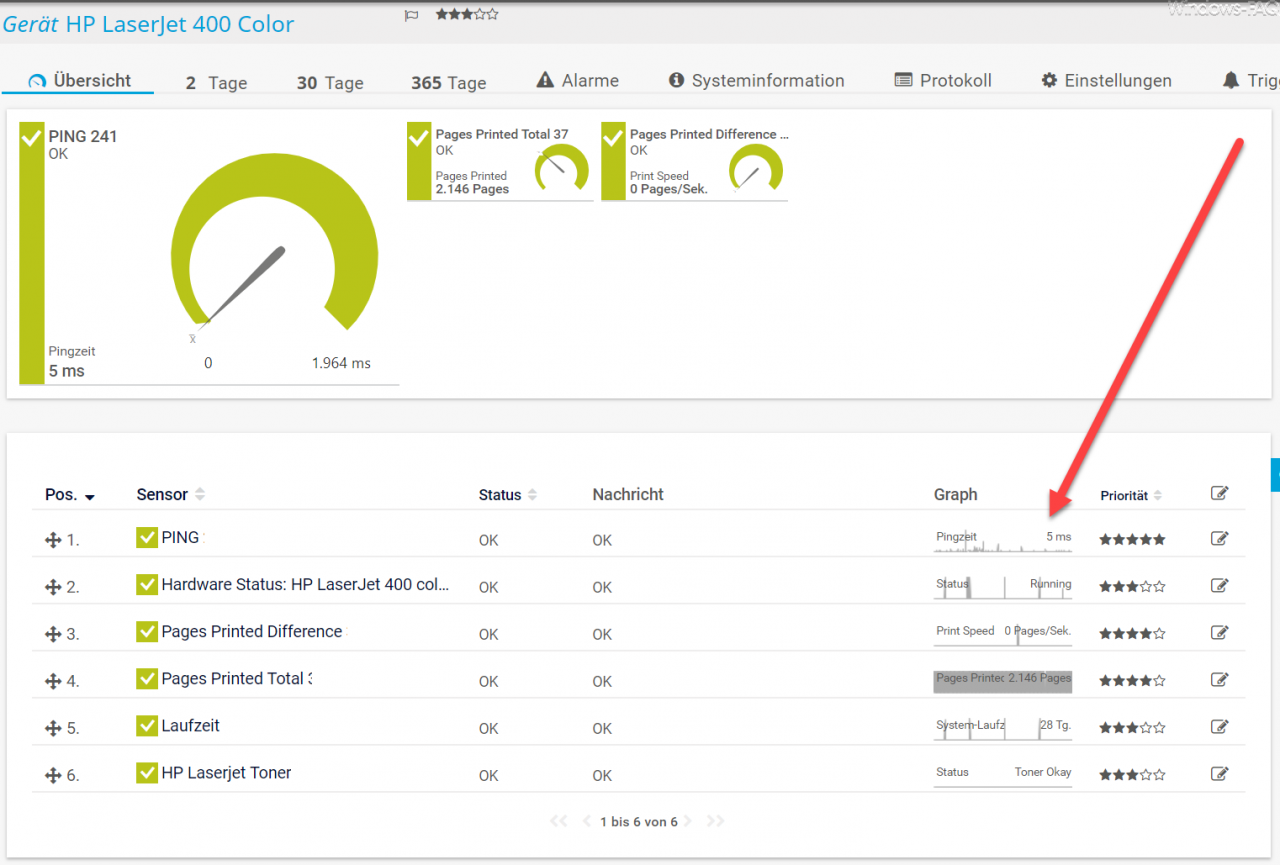 As you can see here, we monitored the following printer states :
Ping
Hardware status
Printed pages difference
Total printed pages
running time
toner
The ping monitoring plays the printer of course, only a minor role, because usually the network printers and copying systems do not run 24 hours a day, or possibly turned on only when needed. However, monitoring the printer hardware makes more sense, so that the administrator is informed in good time about any malfunctions in the printing system.
The sensor that monitors the total number of printed pages is also particularly valuable . Of course, this information is usually also stored on the web interface of the printers and copiers , but here this is done automatically at regular intervals and we are also able to track the course of the print volume over a longer period of time.

Here you can see very nicely how the entire pressure history has looked in the last 365 days . This development can then very well flow into the planning and purchase of new printers and copying systems.
But toner monitoring is also a key instrument, because we are able to monitor the installed toner precisely and can recognize at an early stage whether and which toner needs to be replaced shortly. This is interesting for the procurement of  accessories for printers such as toner cartridges or ink cartridges and continues to relieve the IT department.
Overall, the PRTG network monitor offers very interesting functions for monitoring the printing systems.  So far, printer monitoring via PowerShell and other queries have not been granted to us.
You can download a trial version of the PRTG Network Monitor here.
– Download PRTG Network Monitor trial version