One of the new features in Fall Creators Windows 10 Update (version 1709) is the display of data usage over the past 30 days. This is broken down according to network access , i.e. WLAN or LAN . These values ​​are very interesting because you can check which traffic has flowed through the possible network connections.
To call up this data usage information in Windows 10, you simply have to enter the following search term in the Windows Settings app, which you can call up with the key combination Windows key + "I" .
use of data
The following data usage mask then appears.
Here you can see in the overview how much GB have been used in the last 30 days . In our example, it is over 28GB, which raises the question of why and why we used so many GB on the Internet. But you can then display this question via the corresponding link.
Show usage details
Below we have given you an example of the list of Internet data usage .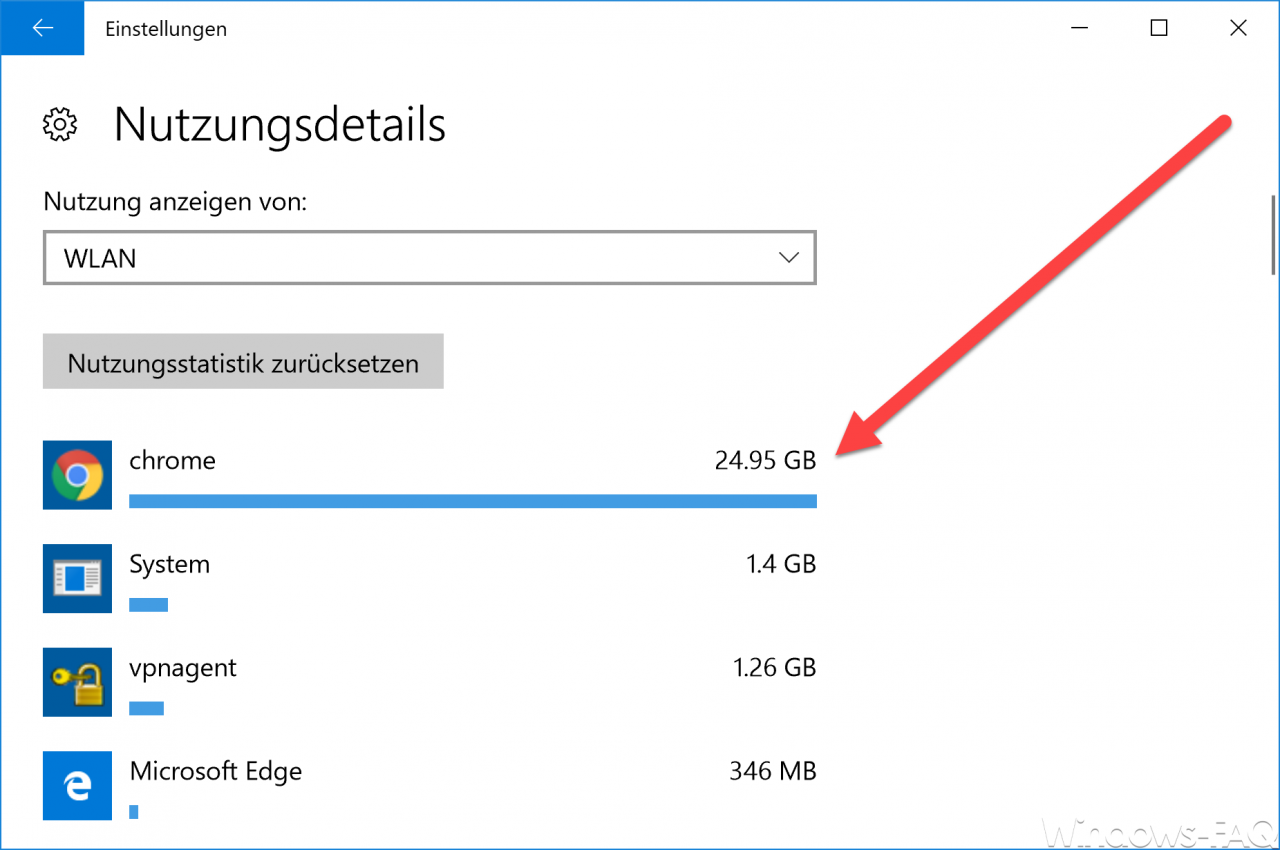 In this data usage detail view you can see exactly how many GB the individual programs have used. In our example, it is the Google Chrome browser that consumed almost 25GB of the total 28GB. Otherwise, just under 1.4 GB were used by the Windows system and this is then due to the installation of the latest Windows updates .
Furthermore, just under 1.3GB were used for VPN access and just under 350MB for the Edge Browser.
You can use the " Reset usage statistics " button to set these values ​​completely to zero and thus search specifically for programs that use the dimensions to retrieve data from the Internet.
If you are interested in other Fall Creators functions , please take a look at the following information.
– Windows 10 operating system build info (device specifications)
–
Uninstall Fall Creators Update Version 1709 – RSAT Tools for Windows 10 Fall Creatos Update for download
– Free up space in Windows 10 Fall Creators Update Version 1709
– Remote desktop settings now also in Windows 10 Settings app (Fall Creators Update 1709)
– Administrative ADMX Templates for Windows 10 Fall Creators Update 1709 – Download
– Download
Settings and Upload Limit for Windows Updates for Fall Creators Update – KB4043961 Update for Windows 10 Version 1703 Fall Creators Update Build 16299.19
– Feature Update on Windows 10 Version 1709 Fall Creators Update (Build 16299.15)