If you use Microsoft Outlook as the standard e-mail program , it may happen that you receive the following error message when sending an e-mail via " Outlook.com " .

The exact error message is:
The operation failed. An object cannot be found.
or in German " The operation failed. An object was not found ".
This error message is not specific to a specific version of Outlook, this error can certainly occur with Outlook 2007, 2010, 2013 or, in this case, with Outlook 2016. As a rule, it indicates that the mail profile that you have set up for using the Outlook.com mailbox is defective.
Now you have 2 options to solve the problem.
Repair Outlook email account
You can try to fix these Outlook profile settings . To do this, you have to call the following in Outlook 2016.
File / Account Settings / Account Settings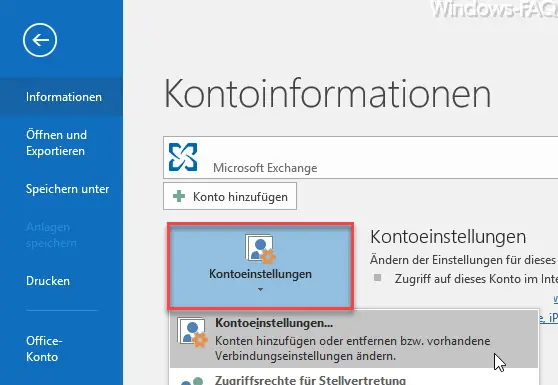 Then you select the corresponding email account and select the item repair. Outlook then tries to repair the account profile accordingly so that the error message shown above no longer occurs. If the Outlook error message still appears when sending an email, the mail profile is definitely defective and should be created again.
Create Outlook mail profile
In order to create the mail profile for Outlook again , you have to open the Windows Control Panel and select the item " Mail (Microsoft Outlook ????) ". Often the version of Outlook is simply not included, then it simply says " Mail ".
After the call you have the possibility to manage the email accounts , to edit the data files or to display the profiles. In our case we have to select " Show profiles ", as you can see here in the picture below.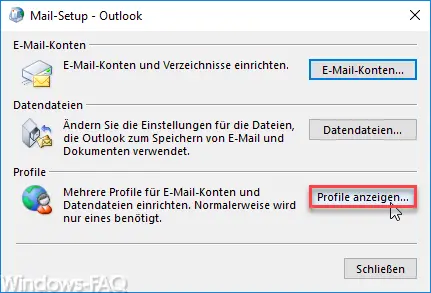 Then you have the opportunity to create another mail profile and give this one profile a meaningful profile name. Then you have to re-enter all settings regarding your mail account at Outlook.com . After that, the problem with the error message when sending Outlook in connection with Outlook.com should have disappeared.