Maybe you know the problem. I am currently writing an email in Microsoft Outlook and accidentally hit the key combination
CTRL & input . This Outlook key combination ensures that the current email is simply sent without prompting. Of course, this key combination can sometimes be very useful, but it usually does the opposite and sends unfinished email to the recipients .
Unfortunately Microsoft has activated this Outlook by default, so that every click on CTRL + ENTER sends the email immediately . In this short Outlook tutorial we will show you how to deactivate this Outlook key combination. To do this, you first call the point in Outlook
file
and subsequently
Options on. In these Outlook options you then switch to the sub-item
e-mail
which includes numerous email options. The following main points are included here.
Compose messages
Outlook areas
Message inbox
Clean up conversations
Reply and forwarding
Save messages
send messages
Email info
course
Message format
Other
You can find our Immediate Send option in the " Send messages " area, which is a little further down. This then looks like this.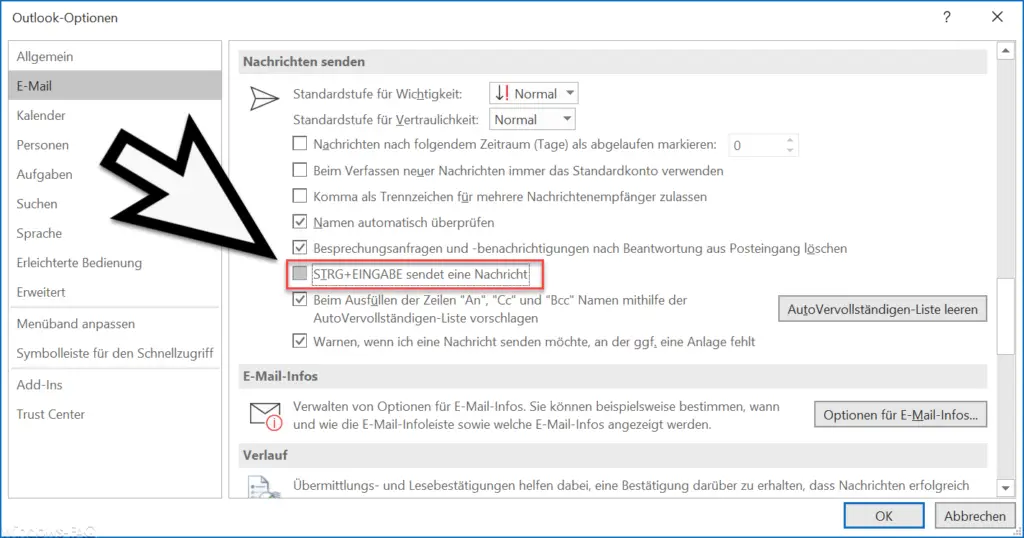 As you can see here, this is the following option
CTRL + ENTER sends a message
As already said, this option is activated by default. If you deactivate it, i.e. remove the checkmark at " CTRL + ENTER sends a message ", this key combination " CTRL + ENTER " is no longer active and you avoid that unfinished or semi-finished emails automatically by pressing the key combination and be shipped without asking .
If you are interested in other Outlook tips and tricks , we recommend the following posts here on Windows FAQ.
– Send contact as business card in Outlook
– Integrated pictures in e-mails are not displayed in Outlook
– Set up Outlook vacation messages and automatic replies
– Activate Outlook logging and creation of log files
– Automatically close original message when replying in Outlook
– Outlook, Word, Excel and PowerPoint in dark design (Dark Mode)
– clean up and create space in Outlook – mailbox cleanup
– conversion of Outlook OST files
– delay email sending
in Outlook
– retrieve sent email in Microsoft Outlook – a client process has failed – Microsoft Outlook
– reduce or compress Outlook PST file –
activate spell check in Outlook
– create backup of Outlook PST file
– convert Outlook OST file to PST file with OST2
– SCANPST – tool to repair Outlook .PST files
– Outlook error message 0x800CCC90 and 0x800CCC9 2
– Outlook error message "The Operation failed. An object cannot be found. "