The Windows taskbar is certainly one of the most important functions of everyday work. The Windows taskbar not only shows the open programs and the attached program icons , it also shows the Windows taskbar icons , also called system icons or notification area , to the left of the clock .
However, as soon as the Windows user uses multiple monitors on his PC, it can make sense to display the taskbar on a specific monitor and move it there . Here you can also separate exactly which taskbar information you want to be displayed on which monitor.
In any case, the system symbols are usually displayed on the main monitor. The notification area of ​​the taskbar looks like this or something similar.

Since this area occupies some space on the Windows taskbar, it may be desirable to move these system icons to a 2nd or 3rd monitor . This works relatively easily.
It is important that the Windows taskbar is NOT fixed . How you can deactivate this accordingly, we discussed in detail in our article " Fix taskbar in Windows 10 ". Because when the taskbar is fixed, you can not move the display of the taskbar system icons.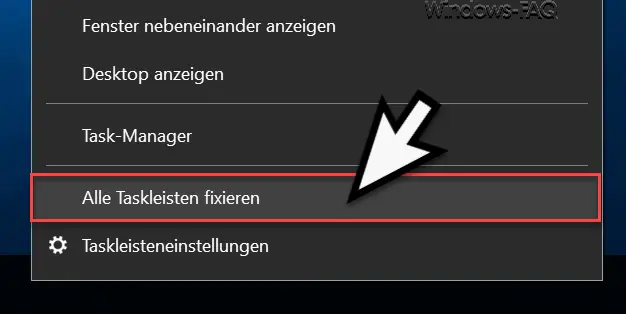 Then you simply click with the right mouse button in a free area of ​​the Windows taskbar, hold the mouse button down and then drag the taskbar precisely onto the monitor on which the taskbar icons are to be displayed in the future. There you release the mouse button and the info area of ​​the Windows 10 taskbar is moved to the desired place. The taskbar does not always have to be shown at the bottom of the monitor, you can use it to move the taskbar to the left , right or upper edge of the monitor .
You can also find many other valuable tips and tricks for the Windows taskbar here:
– Windows taskbar auto-hide or show
– task view (Timeline) from Windows 10 taskbar remove
– Contacts icon from Windows 10 Remove the taskbar
– Windows system tray icons completely show or hide
– enlarge the thumbnails (small pictures) in the Windows taskbar
– the time and date of Windows 10 Remove taskbar
– switch off the taskbar on the 2nd monitor in Windows 10
– delete the list of recently used files in Windows 10 taskbar
– display the loudspeaker symbol in Windows 10 taskbar
– remove or show the network symbol from Windows 10 taskbar
– on-screen keyboard symbol from Windows 10 Remove taskbar