The error message " The application could not be started correctly 0xc0000142 " occurs very often in connection with Microsoft Office and prevents the start of Microsoft Outlook, Word, Excel, Powerpoint or other Office components. The exact error message looks like this: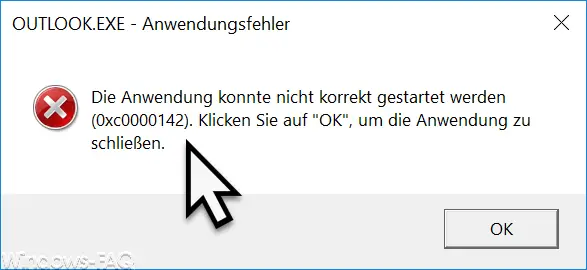 The exact error message is:
The application could not be started correctly (0xc0000142). Click OK to close the application.
You should try the following options to eliminate error code 0xc0000142 .
Office installation failed
The error 0xc0000142 usually occurs when Office determines when starting the program that components of the Office installation are missing or faulty. As a rule, only an office repair installation helps here . You can do this by calling the " Programs & Features " tool via " appwiz.cpl ".
By confirming the " Change " option , you will then enter the Office repair mode , as you can see below.
For the Office repair options, you should choose the following.
Online repair
Fixes all problems, but takes a little longer and requires an internet connection at all times. You can choose this option if you continue to experience problems after a quick repair.
Then select " Repair " and after the Office repair, the error code 0xc0000142 should no longer occur when starting Office programs.
Error 0xc0000142 with version 1803
Microsoft has announced that it may experience error code  0xc0000142 if Office is used in the monthly channel from version 1803 in the build before 9126.2116 . Since Microsoft has now patched this error, we recommend updating the Office installation to the latest version. This works in the office
File / Account / Update Options / Update Now
You can find more information on how to fix Windows error messages here:
– 0x80072AF9 Windows Update error code
– Windows Update error code 0x80200013
– Windows error code 0x80073715
– 0x80070652 error code for Windows Update
– Windows Update error code 0x80240022
– 0x1900107 Windows Update error code
– 0x80070bc2 error code for Windows Update
– Windows Update error code 0x80244007
– 0x800f081e error code for Windows
UpdatesF – 0xC0000 Boot Error Code
– 0x80245002 Windows Update
Error Code – 0x8024200D Windows Update Error Code