With Windows 10, Microsoft has firmly anchored the file hosting service "OneDrive" in the Windows operating system and advertises OneDrive relatively relatively. With OneDrive you can upload files to the Microsoft Cloud and thus work on the most different PCs, notebooks or tablets after successful authentication on the same files.
Unfortunately, there are always numerous problems when setting up the OneDrive account and also when logging in to Microsoft OneDrive. Today, too, we would like to report on a problem that is currently occurring with a large number of users. The exact error message is: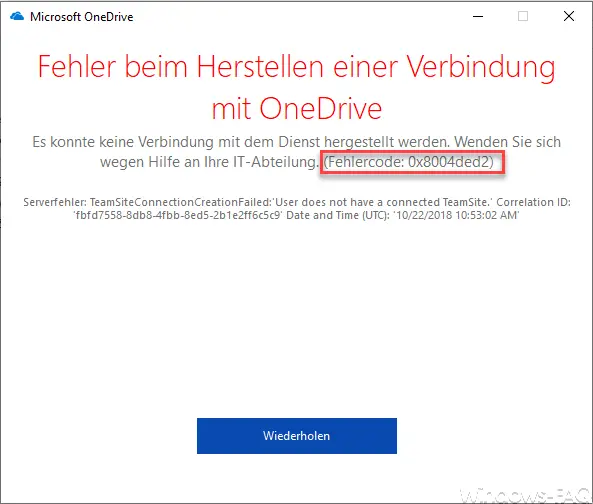 The exact error message is:
OneDrive
failed to connect to the service. Contact your IT department for help. ( Error code: 0x8004ded2 )
Server error: TeamSiteConnectionCreationFailed: User does still have a connected TeamSite. Correlation ID:
Eliminate error code 0x8004ded2
You can fix this error code relatively easily by doing the following.
ATTENTION: Please note, however, that this will re-synchronize all files synchronized with OneDrive and this may take some time depending on the size of the files.
First starts a command prompt with administrator rights and then executes the following command.
% localappdata% Microsoft OneDrive onedrive.exe / reset
This then looks like this.

After performing the OneDrive Reset , the OneDrive icon briefly disappears from the Windows taskbar and reappears after a short time. You should now be able to log on to the OneDrive without any problems and the error code 0x8004ded2 should no longer occur.
You can find more information about Microsoft OneDrive here:
– A newer version of OneDrive is installed …
– Switch off Edge and Onedrive advertising windows and notices in Windows 10
– Remove OneDrive from Windows 10 Explorer