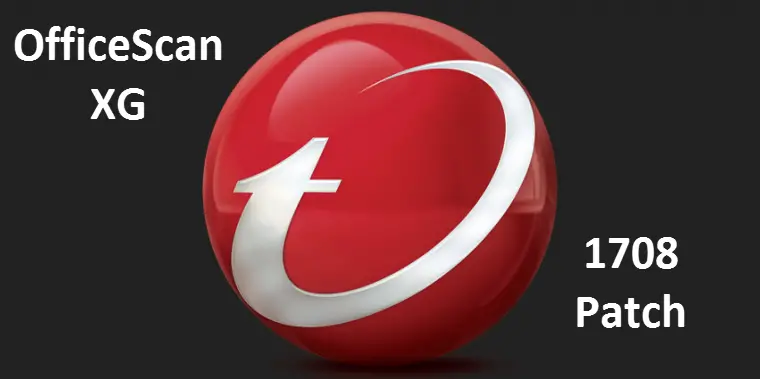 TrendMicro released another update for its "OfficeScan XG" virus scanner a few days ago . It is version 1708 , the entire version number is now  12.0.0.1708 . According to TrendMicro, this is a critical patch and the following changes have been incorporated into this additional OfficeScan XG patch.
Solved problems in the OfficeScan XG 1708
(JIRA 9298) Issue
: A sharing violation prevents Autopcc from working on computers that already have the OfficeScan agent installed.
Solution: This critical patch 1708 creates a new backup folder to prevent the sharing violation and to ensure that Autopcc normally works on OfficeScan agent computers.
(JIRA 12165) Issue
: Users encounter a sharing issue related to the ntrtscan and iexplorer processes after activating the OfficeScan Predictive Machine Learning feature in a computer that has a multi-core CPU.
Solution: This critical patch fixes the problem when opening files
(JIRA 12255)
Problem: On the Windows Server 2003 platform, the OfficeScan agents display the following message even if the program components are up to date.
"Update Now: You haven't received a new update in 1 day."
Solution: This critical patch updates the OfficeScan agent program to correct the problem.
(JIRA 11606)
Edition: OfficeScan agents receive C&C alerts for IPs in the approved list.
Solution: This critical patch fixes a file path issue to ensure that IPs in the approved list do not trigger C&C recall alarms.
(JIRA 11651) / (JIRA 3758)
Problem: The OfficeScan server cannot register with EdgeServer when TLS 1.0 is disabled.
Solution: This critical patch enables the EdgeServer to support TLS 1.1 and 1.2.
Improvements in the OfficeScan XG 1708 patch
(JIRA 9066)
This critical patch enhances behavior monitoring and predictive machine learning capabilities to better detect ransomware infections from files and improve protection against ransomware threats during outbreak situations.
(JIRA 11754)
This critical patch speeds up approved and blocked list comparison for supported web services, including Dropbox, Google Drive, Gmail, and others.
(JIRA 11495)
This critical patch adds the " Japan: Driving License Number " validator.
You can find the complete download under the following link:
– Download OfficeScan XG Patch 1708 (12.0.0.1708) osce_xg_win_en_criticalpatch_1708.exe