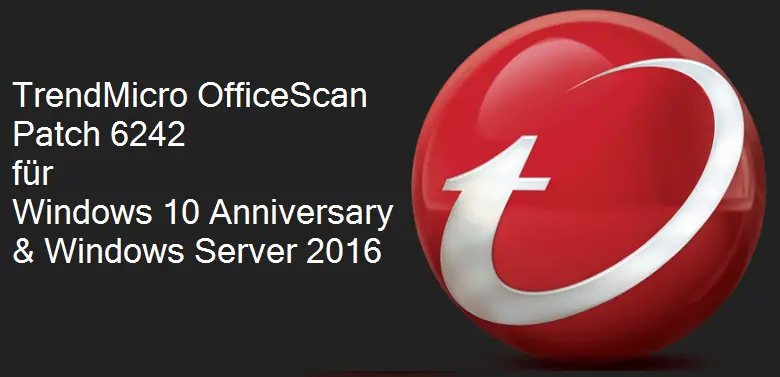 TrendMicro has finally responded and recently released OfficeScan Patch 6242 for OfficeScan 11.0 SP1 . TrendMicro OfficeScan users have been waiting for this official patch for OfficeScan 11 SP1 for months , because the previous version 11.0.6125 has serious defects with regard to Windows 10 Anniversary , especially with a Windows 10 Clean installation . About these shortcomings, we have reported several times, because among other things, came the error message when installing " A digitally signed driver is required." , And also in were event log various messages generated on event IDs 7000 and 7,001th
Furthermore, there were errors in the network protocols , for example when pinging the message " [0x7FFA528670E3] ANOMALY use of REX.w is meaningless (default operand size is 64)" appeared every time . TrendMicro has released OfficeScan Patch 6178 , at least on request , which then fixed this problem.
Why TrendMicro took so long to fix all these errors and make them available in an official patch is absolutely incomprehensible. We have among other things, in a webinar from Trend Micro demand directly, why and why Trend Micro does not respond quickly to the persistent problems were the answers to but less than satisfactory and actually without content. In general, TrendMicro's information policy seems to be in need of improvement.
OfficeScan Patch 6242
Unfortunately, TrendMicro is not very productive in its OfficeScan ReadMe files for the new patches. The following is apparent from the ReadMe for patch 6242 :
Enhancement : OfficeScan Agent Platform Support – This Patch enables the OfficeScan agent program to support Microsoft (TM) Windows (TM) Server 2016.
There are no explicit changes to Windows 10 Anniversary , but since the OfficeScan Patch 6178 already has the necessary changes, the changes should also apply to Anniversary.
We have now tested the new OfficeScan Patch 6242 in our test environment. The installation, like all OfficeScan patches , runs perfectly.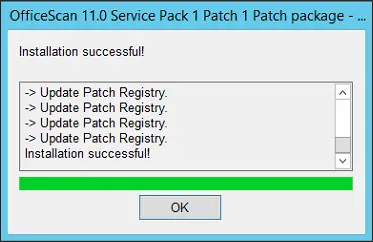 The installation took a good 10 minutes, but it was again astonishing how long the OfficeScan server ran after the update on a relatively high processor load. We waited for this, after about 5 minutes the processor performance had calmed down to a normal level and then we restarted the TrendMicro server .
After that, we first distributed the new OfficeScan client directly to the OfficeScan server using the update function , and shortly afterwards the information about the update process appeared .

The client update from TrendMicro OfficeScan does not take a few minutes and then we were able to check the client's version number on the OfficeScan server .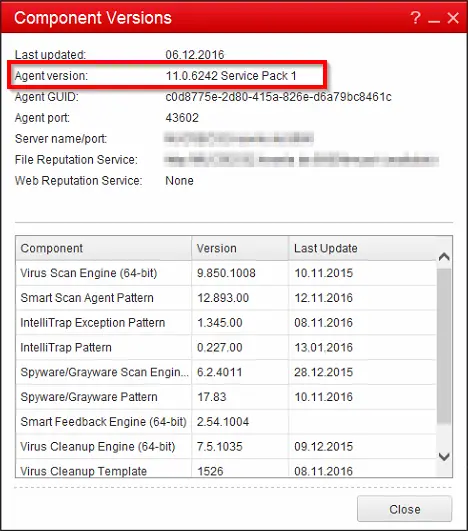 As you can see in the " Component Versions ", Agent Version 11.0.6242 Service Pack 1 is now installed. The OfficeScan server also displayed the correct version number after installing the 6242 patch .

To what extent all problems with OfficeScan and Windows 10 1607 Anniversary are really fixed, we can not say at this time. We will test it in detail and report to any problems with the new OfficeScan build at a later date .
Comment from 09.12.2016: According to Marc's advice, it really seems that TrendMicro has withdrawn patch 6242 for OfficeScan 11 SP1. It is no longer available on the TrendMicro OfficeScan download page.
Note from December 10th, 2016:  Today the OfficeScan Patch 6242 is now available in the TrendMicro download area. Why it was not available yesterday is currently still known.
Note from December 16, 2016 : TrendMicro has revised the patch 6242, which was released in early December 2016, and made it available for download in a new form. More information is available in our article " Patch 6242 for OfficeScan 11.0 SP1 Relaunched ".
Comment from February 9th, 2017:  On February 6th, 2017, Trend Micro released another patch for OfficeScan 11. The critical hotfix bears the OfficeScan build number 6285 and all necessary information can be found under the entry " Trend Micro OfficeScan 11.0 Service Pack 1 Critical Patch Build 6285 and ActiveUpdate Module Build 1180 " here in this blog. .
If you are interested in further OfficeScan articles here on Windows FAQ, we recommend the following articles.
– OfficeScan XG server installation and OfficeScan client 12.0.1222
– OfficeScan XG
– OfficeScan patch 6134 released
– KB3189866 eliminates OfficeScan problem with Windows 10
– Show version number of the OfficeScan server
– OfficeScan Critical Patch Installation 5010, 6054 and 6125
– TrendMicro OfficeScan Update 6125 for Windows 10 Anniversary
– TrendMicro OfficeScan error BA060000 after Windows 10 Anniversary Feature Update
– Roaming clients with Trend Micro OfficeScan 11.0 SP1