The Windows Update error code 0x80070003 is one of the most common Windows Update error messages . We reported a similar Windows Update error with the designation 0x80070002 some time ago and want to fix the error today
0x80070003
go into more detail. Below you can see the original error message for an English Windows 10 system.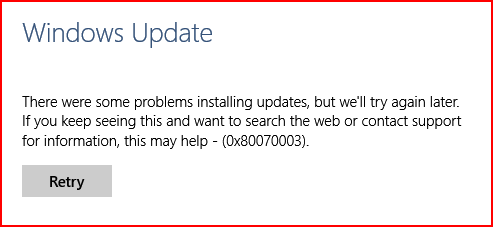 Solution for Windows Update error 0x80070003
First you should stop the Windows Update service. You can do this by stopping the "Windows Update" service via " serivces.msc " or you can open an MS-DOS command prompt with administrator rights and enter the following command.
net stop wuauserv
Rename the SoftwareDistribution folder
Now you rename the folder " SoftwareDistribution " in the directory C: Windows ". As a result, Windows or Windows 10 in this case downloads all updates again and does not use any updates that have already been partially downloaded . This should have the consequence that the missing Windows updates are installed freshly and there should no longer be an update error 0x80070003 .
If there are problems with renaming the folder, you should restart your PC, stop the Windows Update service and try the renaming again.
Start the Windows Update service
Then the Windows Update service can be started again via the Windows service management "services.msc" or via the MSDOS prompt with the following command.
net start wuauserv
Now you should be able to reinstall your missing Windows updates without the error message 0x80070003 appearing.
FixIt Tool 50202 from Microsoft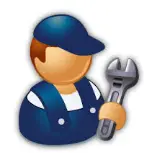 Microsoft has also released a FixIt tool about numerous Windows Update bugs. You only need to download and run the free FixIT tool 50202 directly from Microsoft and then any existing errors will be eliminated, so that it should then work again with the installation of the Windows updates .
Below we have put together some other interesting articles about Windows Update bugs .
– 0x8007045A Windows Update Error
– 0x80246003 Windows Update Error Office Validation Add-in
– Windows Update Error Code 0x80245006
– Windows Update Error Code 0x80240fff
– Update Error 0x8024a20d KB3197954
– 0x80072ee2 Windows Update Error
– 0x80070643 Windows Defender Update Error
– 0x800f0922 Windows Update Error
– Windows 10 Update Error 0x80d02002, 0x80244019 and 0xc1800118
– Windows Update Error 80246013