Microsoft Security Essentials is a free antivirus program from Microsoft and offers reliable protection against viruses, malware, spyware and rootkits for your PC. Microsoft has been developing the Security Essentials program ever since approx. 2008 and with Windows 8 it has already entered all subsequent Windows versions by default .
Thus, the Microsoft Security Essentials is already in the Windows version
Windows Vista
Windows 7
Windows 8
Windows 8.1
Windows 10 RTM
Windows 10 version 1511
Windows 10 Anniversary version 1607
contain. The MSE , as the Microsoft Security Essentials is abbreviated, was already included and installed under Windows Vista and Window 7, but was still deactivated. The user had the option to activate the antivirus at any time. Since Windows 8, it has been activated by default and the daily updates that Microsoft offers for your security software are distributed daily via the Windows Update function .
Since Windows 8, the MSE has been given a completely new name. The name " Microsoft Security Essentials " became the program " Windows Defender ", which should be known to most Windows users. The functionality has not changed much, of course, from a purely visual point of view, Security Essentials and Windows Defender have been adapted and changed again and again.
Since Microsoft Security Essentials and Windows Defender now also come as standard, it has the clear advantage that the PC already has anti-virus protection after the basic or new installation of the operating system and is therefore protected against current threats . Of course, this does not change the fact that the Windows user or the system administrator can install a virus protection program from another manufacturer, such as the OfficeScan XG from TrendMicro or other systems from Kaspersky, Symantec, etc.
However, the question then arises whether it makes sense to run the Microsoft Security Essentials or Windows Defender virus scanner simultaneously with a third-party antivirus software or to deactivate Windows Defender in this case?
At the end of this article we added the download link for Microsoft Security Essentials.
Installation Security Essentials on Windows 10
If you try to install Microsoft Security Essentials on Windows 10 , you will receive the following message: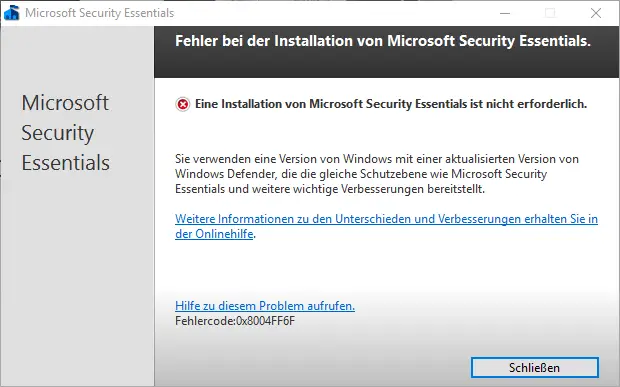 Microsoft Security Essentials installation failed
An installation of Microsoft Security Essentials is not required.
You are using a version of Windows with an updated version of Windows Defender that provides the same level of protection as Microsoft Security Essentials and other important improvements.
This clearly states that Windows Defender is the successor to the MSE.
Download offline antivirus scanner
Microsoft has developed a software called " Standalone System Sweeper " as part of the Security Essentials . It is a system that is copied to a bootable USB stick or DVD and the user concerned can then start his PC from this medium and has virtually an offline security essential . Microsoft has developed this further and the latest version of this rescue software is called " Microsoft Windows Defender Offline ".
Here you will find the appropriate downloads:
– Download Microsoft Security Essentials
– Download Microsoft Windows Defender Offline
Here are more about Microsoft Security Essentials and Windows Defender:
– Screenshots of Microsoft's anti-virus program "Morro"
– 0x80070643 Windows Defender Update Error
– Deactivate Windows Defender completely