The Windows Update error code 0x80248007   is very common and occurs especially on Windows 10. Apparently the update error 0x80248007 occurs more  and more in connection with the Windows Defender . Below we show you the original Windows 10 update error message .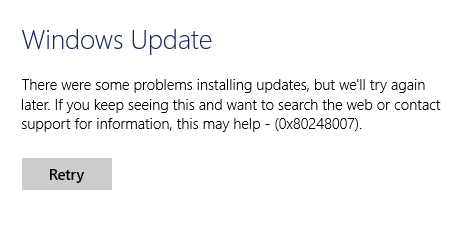 The English error message is completely:
Windows update
There were some problems installing updates, but we'll try again later. If you keep this and want to search the web or contact support for information, this map help – (0x80248007)
Here is an example of error code 0x80248007 when installing Windows updates.

Various solutions are available on the Internet and in a wide variety of Internet forums, most of which unfortunately do not show any success. We would like to show you below how we were able to eliminate the error.
Other updates are in progress
As you can see in the image below, Microsoft also gives a possible reason for the update error code 0x80248007 .
Some updates cannot be installed because other updates are in progress. Restarting your computer could help. We're still trying to install the updates.
Please restart your Windows system once and try again to install the updates. If the error 0x80248007 occurs again, continue with the next step.
Check Windows system files
Attention: Please make a backup of your PC in advance! We do not guarantee for any problems or data loss!
The error 0x80248007 apparently always occurs  when individual Windows system files are defective or missing. It is unclear why this problem can occur at all, but you can check your PC with the following command.
SFC / SCANNOW
As a result, the entire Windows 10 system files are checked for correctness and repaired if necessary. This process takes quite a few minutes and then you should definitely restart the system. A user reported that they then performed the following DISM command.
dism / online / cleanup-image / restorehealth /source:wim:DRIVE:sourcesinstall.wim:1 / limitaccess
We have already reported on this command in the article " DISM error 0x800f081f ".
Then the Windows system has to be started again and the SFC / SCANNOW has to be started again . After restarting the system, you are now trying to retrieve and install the Windows updates . Now the update error 0x80248007 should no longer occur.
If you continue to have problems, just leave a comment at the end of this post and we will try to help you.
Below we have listed other interesting articles related to Windows Update error messages :
– 0x80246003 Windows Update Error Office Validation Add-in
– Windows Update Error Code 0x80245006
– Windows Update Error Code 0x80240fff
– Update Error 0x8024a20d KB3197954
– 0x80072ee2 Windows Update Error
– 0x80070643 Windows Defender Update Error
– 0x800f0922 Windows Update Error
– Windows 10 Update Error 0x80d02002, 0x80244019 and 0xc1800118
– Windows Update Error 80246013