With all its power, Apple introduces its Mac Studio to rival the great desktops and say, "here I am to completely reimagine the segment that has always worked so well." It's all a punch on the table. A plus for those who love the power and performance of a computer. The Mac Studio, complete with its monitor, has been designed to showcase the full performance of the M1 Max and M1 Ultra chips . Few applications are capable of making it difficult for this machine.
Mac Studio, a compact design built to perform
Unlike the big desktops, Apple returns to its particular design, making it clear that it does not need a large tower, nor colorful RGB to surprise locals and strangers. Constructed from a single aluminum extrusion with a square footprint of just 7.7 inches and a height of just 3.7 inches , Mac Studio takes up very little space and fits neatly under most displays.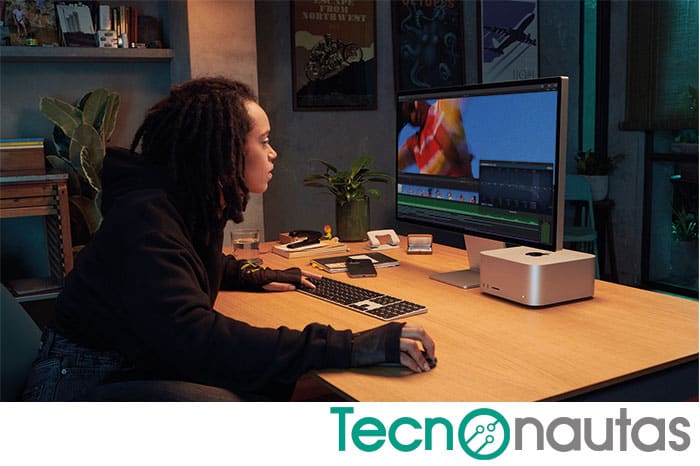 This is how this box is presented, which meets all the thermal conditions to offer simply extraordinary performance. Unique double-sided blower system, precisely placed airflow channels, and over 4,000 perforations on the back and bottom of the case guide air through internal components and help cool high-speed chips. Apple performance. And to all this we must add that the Mac Studio is incredibly quiet , even under the most intense workloads.
Two alternatives that sweep iMac performance
Equipped with M1 Max or M1 Ultra, Mac Studio is launched in these two alternatives to work at all levels. According to the data provided by Apple on these two varieties, both leave the iMac far behind in their comparison, reaching the highest level of power seen to date in a computer from the Cupertino company. These are the comparisons of the two models:
The Mac Studio with M1 Max vs. iMac and Mac Pro
Up to 2.5 times faster CPU performance than the fastest 27-inch iMac with a 10-core processor.
Up to 50 percent faster CPU performance than Mac Pro with a 16-core Xeon processor.
Graphics performance up to 3.4 times faster than the 27-inch iMac, and more than 3 times faster than Mac Pro with its most popular graphics card.
Up to 7.5 times faster than the 27-inch iMac and up to 3.7 times faster than the 16-core Mac Pro when transcoding video.
The Mac Studio powered by M1 Ultra
Up to 3.8 times faster CPU performance than the fastest 27-inch iMac with a 10-core processor.
Up to 90 percent faster CPU performance than Mac Pro with a 16-core Xeon processor.
Up to 60 percent faster CPU performance than the 28-core Mac Pro.
Graphics performance up to 4.5 times faster than the 27-inch iMac, and up to 80 percent faster than the fastest Mac graphics card currently available.
Up to 12 times faster than the 27-inch iMac and up to 5.6 times faster than the 28-core Mac Pro when transcoding video.
Connectivity: the other strong point of Mac Studio
When it comes to connectivity, Mac Studio's compact design puts a wide range of options right at your fingertips. On the back, it includes four Thunderbolt 4 ports for connecting high-performance displays and devices, a 10Gb Ethernet port, two USB-A ports, an HDMI port, and a professional audio jack for high-impedance headphones or external powered speakers. . It also incorporates Wi-Fi 6 and Bluetooth 5.0.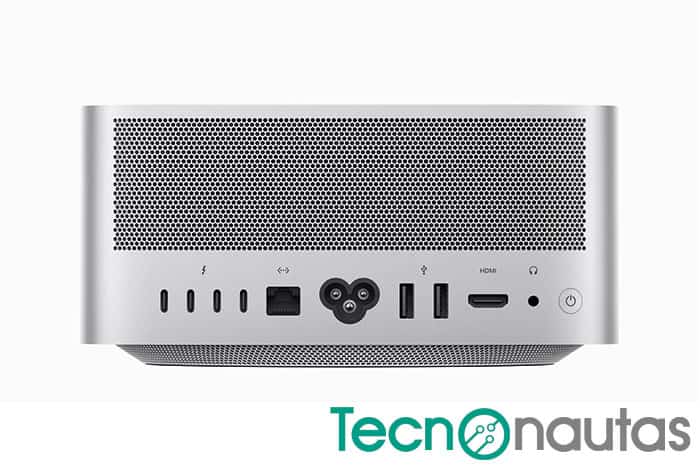 And because users frequently plug and unplug devices like portable storage, Mac Studio includes ports on the front for easy access. There are two USB-C ports, which on the M1 Max support USB 3 at 10Gb/s, and on the M1 Ultra they support Thunderbolt 4 at 40Gb/s. There's also an SD card slot on the front for easy import of photos and videos. Plus, Mac Studio offers extensive display support: up to four Pro Display XDRs, plus a 4K TV, driving nearly 90 million pixels.
A screen that fits perfectly
But in this matter of screens, Apple has also repaired, with the parallel launch of the Studio Display , the ideal complement for the Mac Studio, although it can also be linked to any other Mac. It is a monitor with a 27-inch Retina 5K screen, that incorporates, in addition to a camera, good audio options, offering that integrated experience that brand users like so much.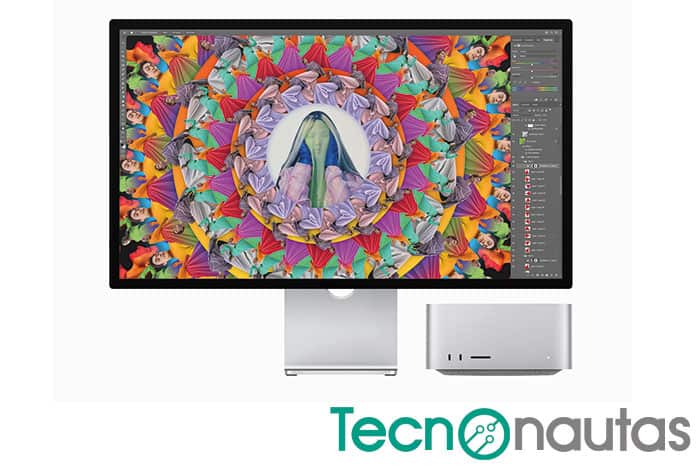 Its design is reminiscent of iMacs with narrow edges and a sleek aluminum casing that houses an advanced feature set in a slim profile. Its built-in kickstand allows the user to tilt the screen up to 30 degrees. To meet the needs of a variety of workspaces, Studio Display also offers a tilt- and height-adjustable stand option with a counterweight arm that makes the display feel weightless as it adjusts. A VESA mount adapter option is also available, supporting either landscape or portrait orientation for added flexibility.
Of course, every detail has been taken care of in the display technologies, especially if you want to combine the new monitor with Mac Studio. The monitor features True Tone technology to automatically adjust the color temperature of the screen as the environment changes for a more natural viewing experience. An industry-leading anti-reflective coating allows for incredibly low reflectivity to improve comfort and readability. And for workspaces with bright light sources, including sunlight, Studio Display offers an innovative nano-texture glass option. First introduced in Pro Display XDR, nano-texture glass scatters light to further minimize glare and deliver exceptional image quality.
Also in this device we can talk about connectivity with its three USB-C ports that offer speeds of up to 10 Gb / s to connect high-speed peripherals, storage and networks directly to the screen. A Thunderbolt port allows users to connect the Studio Display and any connected peripherals to their Mac with a single cable. The same cable also supplies 96W of power to a Mac notebook, allowing Studio Display to even fast-charge a 14-inch MacBook Pro. Plus, up to three Studio Displays can be connected to MacBook Pro to create a powerful animation or editing space.
To complete this winning team made up of Mac Studio and Studio Display, Apple complements the setup with new designs for the Magic Keyboard, Magic Trackpad and Magil Mouse.