With the update KB4340917 , Microsoft also released a cumulative update for Windows 10 Spring Creators Update Version 1803 on the 3rd Tuesday in July 2018. The update  KB4340917 can now be downloaded via Windows Update or from the Windows Update Catalog.
As with every cumulative Windows 10 update, it does not contain any new functions for Windows 10, the update KB4340917 is only intended to fix errors and increase the stability of version 1803. The Windows 10 build number changes to 17134.191 after installation.
Microsoft has released the following information about update  KB4340917 .
The update resolves an issue that causes devices in Active Directory or hybrid AADJ ++ domains to unexpectedly log off from Microsoft Intune or third-party MDM services after installing deployment package updates (PPKG). This problem occurs on devices that are subject to automatic MDM registration with AAD token group policies. If you ran the Disable-AutoEnrollMDMCSE.PS1 script as a workaround for this problem, run Enable-AutoEnrollMDMCSE.PS1 in a PowerShell window in administrator mode after you apply this update.
Addresses additional issues with updated time zone information.
It improves the ability of the Universal CRT Ctype family of functions to treat EOF as valid input.
Resolves the problem when registering with the " Push to Install " service.
Addresses an issue with roaming user profiles where the AppData Local and AppData Locallow folders are incorrectly synchronized when users log in and log out. See KB4340390 for more information.
Addresses other issues with peripheral devices that use Quality of Service (QoS) parameters for Bluetooth connections.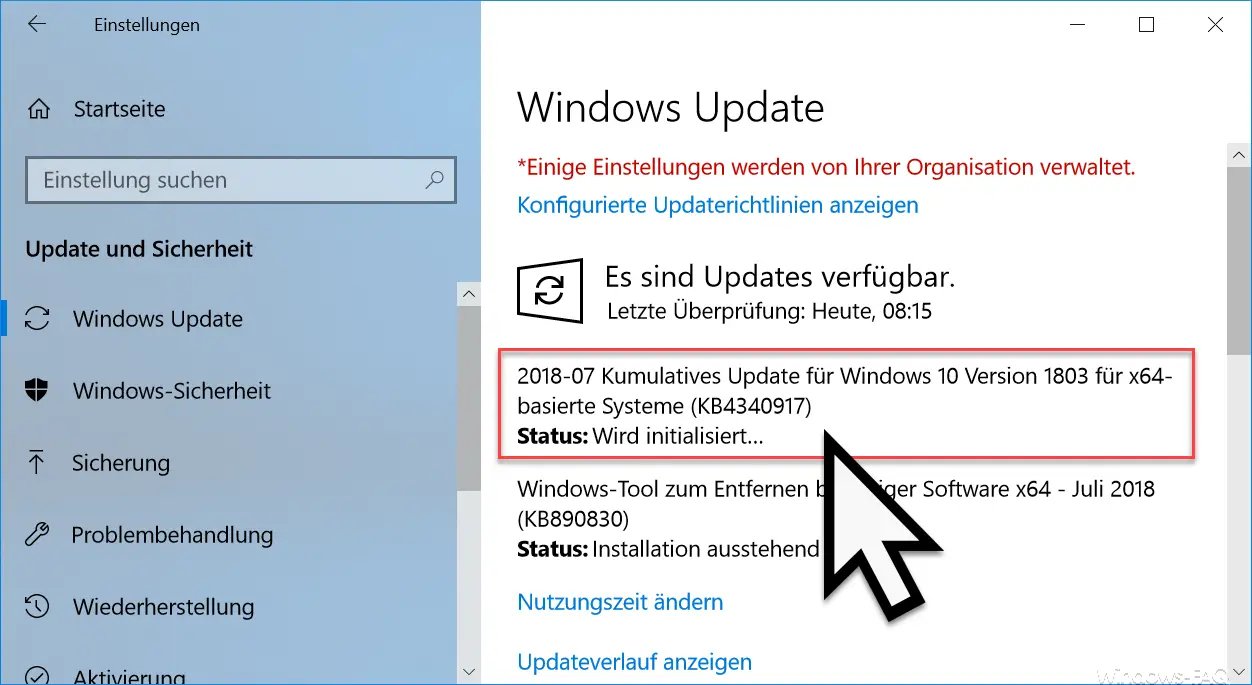 Addresses an issue in which SQL Server memory usage increases over time when encrypting data with a symmetric key using a certificate. You then run queries that open and close the symmetric key in a recursive loop.
Update KB4340917 resolves an issue in which two authentication requests are submitted with the invalid password when using an invalid password in a wireless PEAP environment that has SSO enabled. The excessive authentication requirement can result in premature account lockouts in environments with low account lockout thresholds. To activate the changes, add the new registry key DisableAuthRetry (Dword) under
HKEY_LOCAL_MACHINE SYSTEM CurrentControlSet Services RasMan PPP EAP 26
with regedit and set it to 1.
Addresses an issue that prevents OpenType fonts from printing in Win32 applications.
Resolves an issue with DNS response rate limitation that causes memory leak when activated in LogOnly mode.
Resolves the issue in a RemoteApp session that can result in a black screen when maximizing an application window on a secondary monitor.
Addresses an issue in IME that causes strings to exit unexpectedly while typing in Japanese in applications such as Microsoft Outlook.
Here you can download the update KB4340917 directly :
– 2018-07 Cumulative Update for Windows 10 Version 1803 for x64-based Systems (KB4340917)
– 2018-07 Cumulative Update for Windows 10 Version 1803 for x86-based Systems (KB4340917)
– 2018-07 Cumulative Update for Windows Server 2016 (KB4340917 )