Microsoft has just released update KB4041676   for Windows 10 Version 1703 Creators Update . As with every Microsoft Patchday on the 2nd Tuesday of the month, it's a cumulative update for Windows 10 Anniversary .
The update again does not bring any functional changes, but only stability improvements and bug fixes. The update is now available via the Windows Update function in Windows 10 and of course also via the Windows Update Catalog.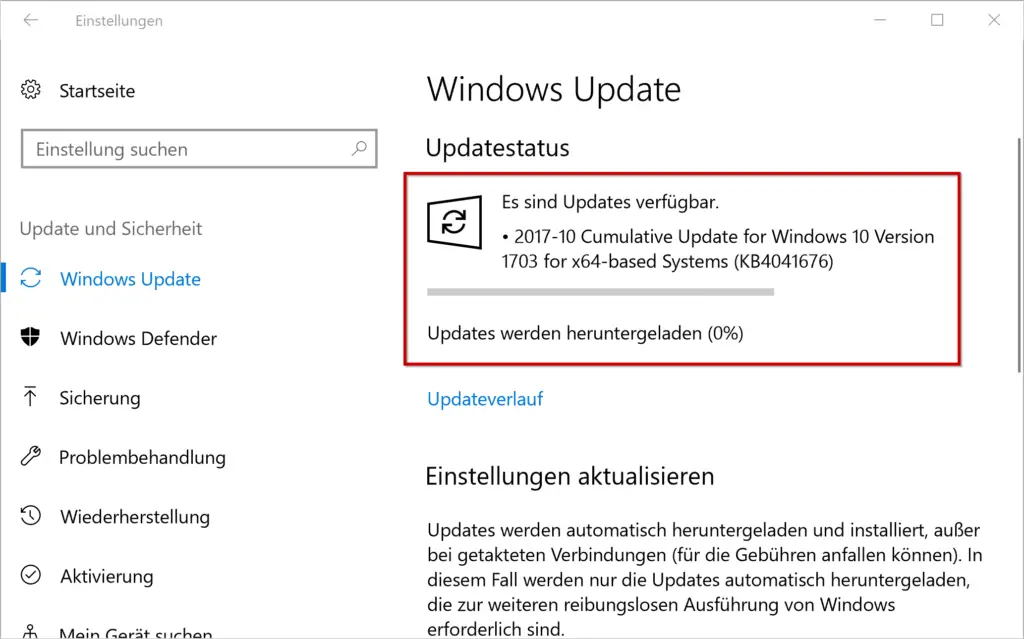 After installation, the Windows 10 build number changes as always . In this case, Windows 10 Creators Update is raised to build number 15063.674 .
The following changes have been included in this cumulative update KB4041676 .
Bugs have been fixed because some UWP and Centennial apps have a gray icon and the error message " This app cannot be opened when opening " is displayed.
The reliability when running the AppReadiness service has been increased.
Issues related to Silverlight have been resolved.
Problems with battery life have been fixed.
User adjustments that were made to the Windows tile start layout could be lost when updating to Windows 10 version 1703.
Elimination of problems with the " link.exe ".
Various bugs related to Windows bug reporting and bug reports have been fixed.
Problems with the MSMQ performance counter (MSMQ queue) when the server hosts an MSMQ cluster role.
Token issues have been resolved.
Personal Identity Verification (PIV) smart card PINs were not saved per application. This has resulted in users being able to see the PIN prompt multiple times in a short period of time. Typically, the PIN entry is only shown once.
The Cipher.exe / u Data Recovery Agent (DRA) Encryption Key Update Tool had issues unless user certification encryption is available on the computer.
Applocker issues related to certain apps have been fixed.
Numerous problems and bugs in Internet Explorer 11 have been fixed.
Fixed an issue where the Robocopy SharePoint Document Library Copy Utility mounted as a drive letter would not copy files. In this case, however, Robocopy successfully copies folders.
Problems with the MDM-USB restrictions have been fixed.
Failure to create an iSCSI session on a new operating system installation could result in an " initiator instance not present " error when trying to connect to a target .
Connections to RDS applications published using Azure App Proxy could fail. The exact error message is: "Your computer cannot connect to the Remote Desktop Gateway server. Contact your network administrator for assistance. The error can occur if the RDP cookie size limit is exceeded . This update has increased the size of the RDP cookie limit.
Fixed an issue where USBHUB.SYS happened to cause memory corruption, causing random system crashes that are extremely difficult to diagnose.
Fixed an issue that affected downloading some games from the Microsoft Store during the pre-order phase. The download fails with error code 0x80070005 and the device tries to restart the download from the beginning.
The ServerSecurityDescriptor registry value was not migrated when upgrading to Windows 10 1703. Therefore, users may not be able to add a printer using the Citrix Print Manager service. In addition, you may not be able to print to a redirected client printer, a Citrix universal printer driver, or a network printer driver using the Citrix universal printer driver.
Furthermore, numerous security updates for the Windows components Windows Search Component, Windows kernel mode drivers, the Edge Browser, Windows Authentication, TPM, WLAN, Windows Storeage and the Windows Subsystem for Linux have been integrated into the cumulative update.
Here you can download the appropriate update KB4041676 .
– 2017-10 Cumulative Update for Windows 10 Version 1703 for x64-based Systems (KB4041676)
– 2017-10 Cumulative Update for Windows 10 Version 1703 for x86-based Systems (KB4041676)