Microsoft has just released update KB4025342 for Windows 10 Version 1703 Creators Update . It is, of course, again a cumulative update because Microsoft releases these cumulative updates for Windows 10 every second Tuesday of the month on Patchday .
Update  KB4025342 is now available via the integrated Windows Update function and the Windows Update Catalog . Below you can see the update KB4025342 in the Windows Update dialog of Windows 10.
After installation, your Windows 10 version shows build number 15063.483 .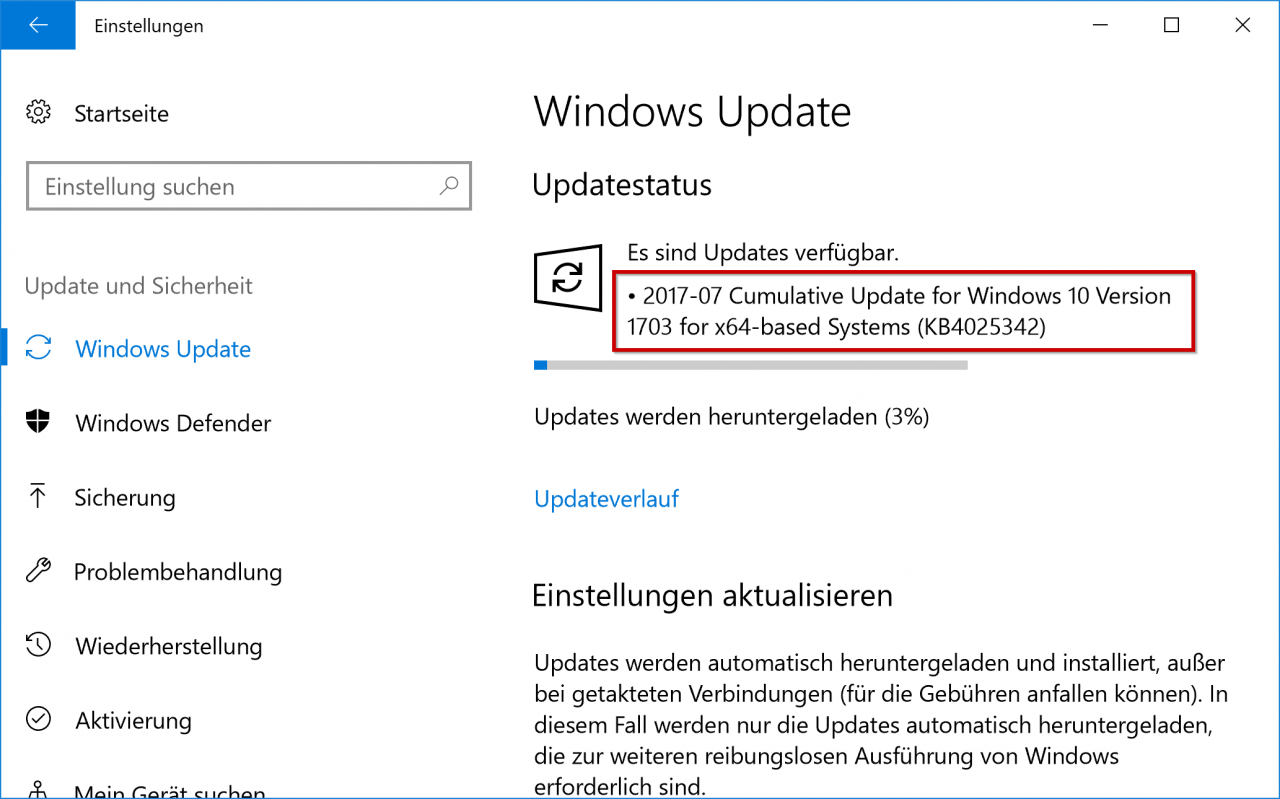 Microsoft has incorporated the following changes into this update  KB4025342 for Windows 10 Version 1703:
After installing update  KB4022716 , IE 11 could crash under certain conditions when certain websites were visited.
Improved MediaCreationTool.exe support for setup tourniquet scenarios.
Bug fixes in  CoreMessaging.dll because 32-bit apps could crash on the 64-bit version of the Windows operating system.
Visual Studio or a WPF application could crash when used on devices with Windows 10 Creators Update in conjunction with pen or touch sensitive devices.
Windows 10 could previously crash in hibernation mode when USB devices were disconnected or deactivated.
Problems with  .jpx and .jbig2 images in connection with PDF files have been fixed .
Errors with the  User Account Control (UAC) dialog when using smart cards have been fixed.
Corrected input errors with the Korean handwriting function .
Problems with the  App-V Catalog Manager have been fixed.
Furthermore, numerous security updates for the functions IE11, the Edge Browser, the Windows Search, Windows Kernel, Microsoft Scripting Engine, Windows Virtualization, Datacenter Networking, Microsoft Graphics Component, Windows Kernel Mode Driver, ASP. NET, Microsoft PowerShell and the .NET Framework.
You can   download the update KB4025342 directly here below.
– 2017-07 Cumulative Update for Windows 10 Version 1703 for x64-based Systems (KB4025342)
– 2017-07 Cumulative Update for Windows 10 Version 1703 for x86-based Systems (KB4025342)