Even if it was a few days ago, we want to report again today about the update KB4022725 for Windows 10 Version 1703 Creators Update . After installing this update with the designation KB4022725 , the build number of your Windows 10 system has increased to the version number 15063.413 or 15063.414 .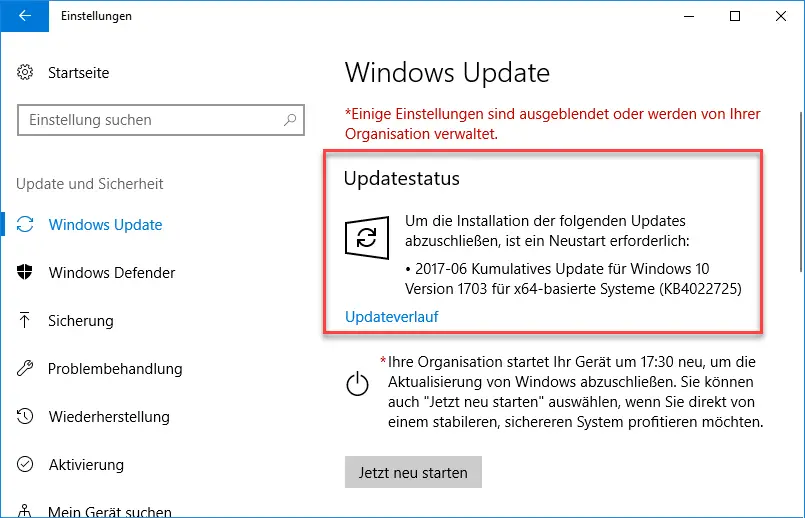 This cumulative Windows 10 update KB4022725 again brings some bug fixes in the Creators Update. Here is the most important information about this update.
Problems with the Windows 10 lock screen because some users have to press the space bar on the keyboard to close the lock screen.
Windows 10 firewall timeout issues related to Surface Hub Cleanup operations.
Wireless access point communication problems with wireless devices in local subnets have been eliminated.
Other problems with Surface Hub devices have been fixed.
Improvements in Internet Explorer 11 and Microsoft Edge Browser.
Date and time problems in the DLL file COMCTL32.DLL were eliminated as well as other time zone problems.
This update contains additional security updates for the areas of Windows Kernel, the Windows Kernel Mode Driver, Microsoft Uniscribe, Device Guard and the Windows Shell.
Below you can see the new build number 15063.413 .

In contrast to the anniversary updates, the updates are still relatively small. The 64-bit update has a size of approx. 555MB, the 32-bit update, on the other hand, only has a size of approx. 353MB.
You can download the updates KB4022725 here under the following links directly from the Microsoft Update Catalog.
– 2017-06 Cumulative Update for Windows 10 Version 1703 for x64-based Systems (KB4022725)
– 2017-06 Cumulative Update for Windows 10 Version 1703 for x86-based Systems (KB4022725)